Biography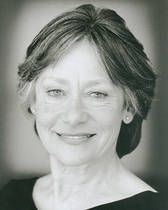 Dinah Stabb has been a professional actor since 1970, earning her living in theatre, film and TV and has performed with the National Theatre, the Royal Shakespeare Company in Stratford and at the Barbican amongst others.
Since 2007 she has combined work as an actor with directing and teaching at the Guildhall School of Music & Drama. She has worked with classical singers and instrumentalists throughout the school to enable them to feel confident and enriched as performers and to allow them to perform at their best in any situation.
She has also been involved with the development of Guildhall School's Coaching & Mentoring training since the project started in 2012. Dinah helps to create the conditions where coaching can be seen as a path to the enrichment of the teaching and feedback culture within a Conservatoire setting. At the school, Dinah has been a Mentor-Coach for Undergraduate and Post-graduate programmes across the entire school and is currently Lead Coach responsible for all students on the 3yr PACE BA. Externally, Dinah is a Coach for the British Eventing Junior Equestrian Team and works with the Equestrian Excellence Pathway developing new principles in equestrian coaching.