Biography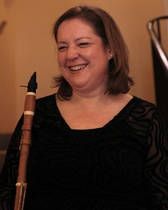 Jane Booth is a clarinettist, Executive Coach, and Coach Trainer and leads the Coaching Associates at Guildhall Innovation (GSMD). With over 17 years' leadership experience supporting artistic and career development across the education spectrum in the UK and France, Jane coaches for the National College for Teaching and Leadership (Women Leading in Education Programmes) and for Linden Learning.
As a performer, Jane held senior positions with major period-instrument orchestras in the UK, Europe and North America, touring the world for over 25 years. She continues to perform internationally, and was co-founder of Ensemble DeNOTE, receiving 5* reviews in the national musical press.
Her coaching experience is broad. Jane works with clients from a variety of backgrounds including lawyers, leaders in education and the Performing Arts, Department Heads, academics and researchers, business owners, HR Managers, Headteachers and Orchestral Conductors. She is a Senior Practitioner of the European Mentoring and Coaching Council; a Senior Fellow of the Higher Education Academy; holds an ILM Level 7 Diploma in Executive Coaching; is MBTI Certified; and has an MA in Teaching & Learning in Higher and Professional Education from University College, London. Coaching techniques inform Jane's professional relationships, teaching and musical work: they work with the essence of each person, facilitating growth of their unique and most creative strengths.
This is what her clients say:
'Jane had a wonderful ability to listen with precision and then summarise the key topics that arose. This has helped me a great deal to have better clarity on my path forwards. I admired her ability to ask excellent pertinent questions, resulting in answers from me that helped focus my mind on my priorities and strengths. I gained a great deal from the process.'
'That she could improvise with me on my imagery to move me forward in my thinking I found both comforting that she really heard me, and invigorating that by using my thoughts she made it very much my process. It was really a facilitation of my own self-discovery.'
'What really stood out was how much space and clarity I got from these sessions. Jane helped me take a step back from what was going on.'