You are viewing:
For Actors
For Actors
Taste of Guildhall – Acting workshops
Our trained workshop leaders, who are all alumni of Guildhall School, run a selection of exciting workshops that offer an insight into the training offered on the acting programme.
These sessions are offered free to eligible schools, colleges, theatre groups and youth organisations. The sessions are 3 hours as standard but can be tailored to suit your timetable and offered both on-site (at your location) or online.
Sessions on offer this year are:
Demystifying Shakespeare: Learn to have fun with verse and tackle some well-known scenes!
Monologue Masterclass: Bringing your own authentic voice to each monologue you learn & having fun with redirection
Intro to Voice & Movement: An insight into the style of voice & movement training at Guildhall
Intro to Text work: Learn different methods for getting into a new text, character analysis, and bringing yourself to the work
Self-taping: Techniques on how to prepare for self-tapes both physically & mentally, tips on how to film them, and when to say 'I'm done!'
To find out more about these workshops please read our FAQs (PDF, download below) and to book a workshop please complete this online form.
Access & Participation - Taste of Guildhall FAQs.pdf
Monologue Bootcamp
Monologue Bootcamp prepares future Acting applicants for the Guildhall School audition process, equipping them with the skills to help choose, interpret and deliver a monologue. Participants will work with experienced alumni of our Acting programme in a series of online workshops, before sharing their progress.
Eligibility criteria
Applicants must:
Be seriously considering applying to the BA Acting course for the next year of entry.
Have no more than one previous application to the School.
Be UK-domiciled.
Have no previous experience of Higher Education.
Live in a household with a gross annual income of below £33,000 or which receives means tested state benefits OR in receipt of Free School Meals OR in receipt of a 16-19 bursary via their school or college.*
Be available for all group sessions.
Applicants should also meet one of the following criteria:
Have a home postcode classed as Quintile 1 or 2 in the POLAR4 dataset
Have a home postcode classed as decile 1-4 in the IMD dataset (column 'F' in downloadable file, or email wp@gsmd.ac.uk to check)
Identify as Black, Asian or ethnically diverse.
Live in care, be a recent care leaver or care experienced within the last 5 years OR estranged from their family.*
Have a disability.*
*Relevant evidence will be required, emailed to wp@gsmd.ac.uk.
Applications to this programme will open in spring 2022. Please refer back to the page at this point for dates and information on how to apply.
Originate
Offered in collaboration with Young and Talented, Theatre Peckham, and RADA, Originate prepares young actors for Drama School and the industry via an intensive eight-month programme. Based mostly at Theatre Peckham with sessions also held at RADA and Guildhall School, the sessions train participants to perform for the stage and screen, and the project culminates in an industry showcase.
Applications for 2021/22 are open now. Find out more about Originate and apply.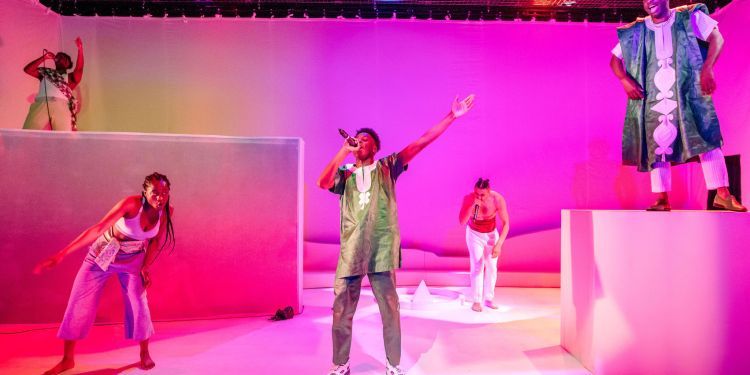 For Musicians
Guildhall Young Artists Access Bursaries
Guildhall School has extensive under-18 music provision: Junior Guildhall, taking place on a Saturday morning at our London campus; Centre for Young Musicians (CYM), which has branches in London, Norwich, Saffron Walden, Taunton and Peterborough; Young Composers Course; and Guildhall Young Artists Online.
The School contributes to sizable Access Bursaries for under 18's, that CYM and Junior Guildhall distribute to their learners to help with the cost of fees, and travel to some centres. To find out more, speak to your Head of Centre.
Guildhall Young Artists Transitions
Year 11 and 12 state-educated students in Junior Guildhall and all CYMs are invited to participate in this project, to increase their knowledge of the School, the programmes, their skill and the likelihood of them applying.
In 2021, the programme took place online, and consisted of a Q&A with the department, a 1:1 tutorial and information sessions for admissions, auditions and student finance.
Your Head of Centre will be in touch when the project launches in 2022.
Propel Pathway
Propel offers eligible, undergraduate reserve offer-holders free tuition with the department they have applied to, providing an opportunity to enhance their musicianship skills, and the chance to upgrade their offer to a firm offer. In 2021, 75% of participants secured a firm offer, as a direct result of the tuition. Reserve offer holders who might be eligible for the Propel Pathway will be contacted directly, and invited to apply. Places will then be awarded in liaison with the academic departments.
To be eligible for the Propel Pathway, participants must:
Be state-educated (or state-educated at GCSE, and in receipt of a scholarship for an independent sixth form).
Be applying for a BMus programme.
Be UK-domiciled (with UK residency not contingent on education).
Have no previous experience of higher education.
They must also meet one of the following:
Be on the Supported Application Scheme.
Have a home postcode which is Quintile 1 or 2 on the POLAR4 dataset, or Decile 1-4 on the IMD dataset.
Be care-experienced.
Have a declared disability.
Be Black, Asian or Ethnically Diverse.
Be in receipt of a scholarship for their music training, free school meals, a 16-19 bursary, or household benefits.*
*evidence will be required