Guildhall Young Artists Online Grade 5 Theory (International)
Apply for the summer term of our online Grade 5 Theory International course and fast track your way to exam success in 10 weeks. This course is timed for after-school study for those living in East and South-East Asian countries.
Apply now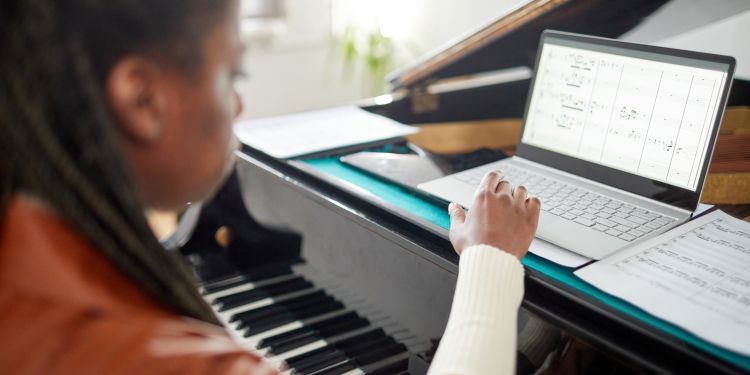 Key information:
Course dates:

4 May - 13 July (no class 1 June)

Course times:

Thursdays 10-11:30am BST / 5-6:30pm CST/HKT / 6-7:30pm JST

Age:

18 and under

Art form:

Music

Fees:

£295

Deadline:

On or before 28 April 2023

Level of study:

Short Courses & Summer Schools, Workshops & Saturday Centres (ages 4-18)

Mode of study:

Online

Contact details:
Course info
About Grade 5 Theory International
An online and speedy way to get you over the finish line for your ABRSM Grade 5 Theory examination. Study with friends, and make new ones from around the world in group lessons over 10 weeks, learning from specialist teachers from our Guildhall Young Artists network. 
This course is timed for after-school study for those living in East and South-East Asian countries.
Living in the UK or Europe? Visit our 10 week online Grade 5 Theory course or Essential Music Theory: Grade 5 course, for an in-person option over the duration of five-days. 
What can I expect? 
Dynamic group sessions led by our Guildhall Young Artists teachers will expertly guide you through the syllabus for ABRSM Theory Grades 4 & 5.
Students will interact and contribute answers online, as well as using manuscript paper and written publications to develop their understanding and musical literacy.
Past paper exam preparation and walk-throughs will be conducted, and each student will have individual feedback on an online mock examination.
Topics covered will include: alto/tenor clef reading; irregular time signatures; scales up to 6 sharps and flats; compound intervals; transposition; identifying chords and cadences; orchestral instruments. 
Who is the course for? 
For those looking to prepare for their ABRSM Grade 5 Theory exam and/or supercharge their understanding for iGCSE, HKDSE and other music examinations. Whilst the course has no formal prerequisite, we encourage participants to have a working knowledge of at least ABRSM Theory Grade 3. ABRSM provides exam preparation resources here, which you may use to to determine whether you will get the most out of this course.
The language of instruction is English and it is vital that all students have a good command of the language. 
Do I need anything for the course?
An email address
A reliable internet connection
A computer/laptop/tablet with a microphone and a camera.
Your browser fully updated to be able to use the most recent version of Zoom (if using an Apple device we recommend installing an alternative browser such as Google Chrome or Mozilla).
Manuscript paper and a pencil
You will be sent a physical copy of Eric Taylor's Grade 5 Music Theory in Practice (included in course fee)
How to apply
Follow the link below to sign up. Once you have submitted this form, we will review your application and one of the team will contact you if we are able to offer you a place. Please note that class sizes are limited, and places are secured on a first-come, first-served basis.