Stanislavsky: A Practical Introduction
This six-week evening course is a hands-on exploration of the core principles of the Stanislavsky system and how those can enrich your acting practice.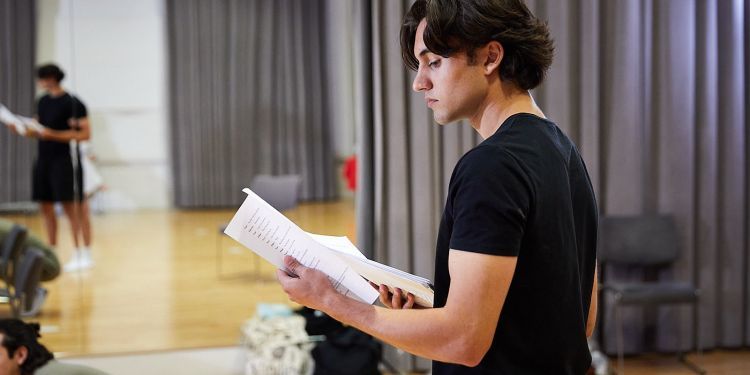 Key information:
Course dates:

Wednesday evenings, 27 September–01 November 2023

Course times:

7pm-9pm

Age:

18+

Art form:

Drama

Fees:

£275

Deadline:

5pm, Friday 22 September 2023

Level of study:

Short Courses & Summer Schools (ages 18+)

Mode of study:

In-person

Venue:

Guildhall School of Music & Drama

When:

Autumn Courses (September–November)

|

Evening Courses

Contact details:
Course info
This course is currently at capacity. Please join our waiting list and we will get in touch if a space becomes available.
Ages 18+
Course Dates & Times
Wednesday evenings on 27 September, 4, 11, 18, 25 October, 1 November 2023
7pm-9pm
About Stanislavsky: A Practical Introduction 
This six-week evening course will equip you with acting techniques set out by Konstantin Stanislavsky, considered the father of modern acting. The course, which will encourage you to build and develop character through exercises created by Stanislavsky, is designed to take the fear out of what can sometimes come across as a daunting system.
You will be encouraged to have fun through play and imagination and will leave at the end of the six weeks with a new-found confidence for how to approach a character from scratch.
Who is the course for?
Anyone who wants to learn about Stanislavsky's acting techniques and how to put them into practice.
Professional actors and passionate amateurs are equally welcome. Your level of acting is not as important as a willingness to participate and try out the exercises.
What can I expect?
This will be a very practical class and acting will be required in the room, whilst discussions will be strongly encouraged. Scenes will be set in advance.
You can expect to:
Apply Stanislavsky exercises to selected scenes
Learn about the different aspect of Stanislavsky's approach to acting
Learn about the historical context of Stanislavsky and his theatre
Learn to analyse and break down a scene using actions and events
Clarify the key differences between Stanislavsky's system and method acting.
Gain additional tools to help you build a character from the ground up
Deepen your textual analyses of plays
Exercise your imagination and your ability to play when it comes to creating a role
Build confidence in using Stanislavsky's techniques and create exercises that work for you
Attendance of all six sessions is strongly recommended to allow progression of learning and for the benefit of the group as a whole.
Do I need anything for the course?
We will be using The Seagull by Anya Reiss as a set text. You will need to source your own physical copy or an electronic format of the play to participate in the course.
Course Fee
£275
This course is currently at capacity. Please join our waiting list and we will get in touch if a space becomes available.
Eligibility
About the Course Tutors
The course is taught by Polina Kalinina and Anastasia Velikorodnaya.
Polina Kalinina trained at LAMDA and made her professional debut at the Orange Tree Theatre with Dutchman by Amiri Baraka, starring David Ajao, Paapa Essiedu and Sally Oliver. 
New plays, operatic visuals, precise anarchy, and large-scale ensembles are at the core of her practice.
Selected credits include: Anna Karenina (The Lyceum in Edinburgh and Bristol Old Vic), Smoke (Southwark Playhouse), Shakespeare in Love (Clifftown Theatre), Julius Caesar (Globe Neuss, Germany), Romeo and Juliet (Tobacco Factory & tour), The Noble Nine (Vault Festival), Islanders (Soho Theatre), Playboy of the Western World (Southwark Playhouse), Flashes (Soho Theatre), Dutchman (Orange Tree Theatre).
She was Associate Director on The Events by David Greig (Traverse, Young Vic, Guthrie, Curran, RFH).
Passionate about drama school training she has directed and taught at East 15, Guildhall School of Music & Drama, Central, Mountview, OSD, and the Ekaterinburg State Theatre Institute.
Polina is a JMK finalist, a MGC Futures Bursary recipient, and a member of the Lincoln Centre Theatre Directors Lab in New York.
Anastasia Velikorodnaya trained at Moscow Art Theatre School in Moscow, Russia. After that for 8 years she was the lead actress at Brusnikin Studio Theatre (Masterskaya Brusnikina), an independent theatre in Moscow, founded by theatre and film director Dmitry Brusnikin. She also performed as a guest actor in different theatres, including Moscow Art Theatre, Praktika Theatre, Theatre.DOC, Meyerhold Center. Her theatre credits include more than 28 theatre plays from 2012 to 2022.
She was awarded 'The Gold Leaf Award' for Best Actress in a Leading Role in the performance This is also me (Praktika Theatre) in 2015. She was cast in the Brusnikin Studio Theatre production Besy/The Devils (director Dmitry Brusnikin), which won the Grand Prix of the 'Your Chance' Theatre Festival in 2015. In 2019 theatre production Motherland with Anastasia in a lead role (director Andrey Stadnikov) at Meyerhold Center was awarded 'The Golden Mask' prize, the main theatre award in Russia. The play A Man From the Town of Podolsk Sergei Is Very Dull (director Marina Brusnikina) by Praktika Theatre with Anastasia Velikorodnaya in a leading role was awarded in 2019 the 'Theatregoer Star Award.
Anastasia has directed and taught at Moscow Art Theatre School, Crave Theatre Moscow, Moscow School of New Cinema and also created different acting courses and programs for non-actors at Gogol School, HSE School of Design, School Community of Masterskaya Brusnikina, Skillbox Online University.