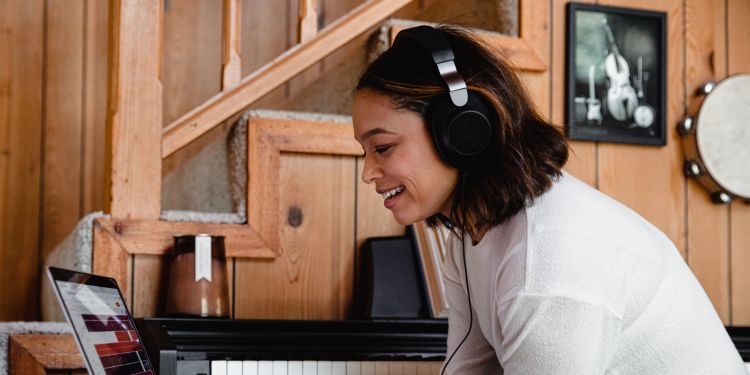 Key information:
Course dates:

Tuesday evenings, 27 September–01 November 2022

Course times:

7.15pm-8.45pm, BST (UTC+1)

Age:

18+

Art form:

Music

Fees:

£215

Deadline:

9am, Sunday 18 September 2022

Level of study:

Short Courses and Summer Schools

Mode of study:

Evening

|

Online

Venue:

Online

Contact details:
Course info
Spaces are limited so early booking is encouraged.
The deadline for bookings is 9am on Sunday 18 September 2022, or when the course reaches full capacity.
Ages 18+
Course Dates & Times
Tuesday evenings on 27 September, 04, 11, 18, 25 October, 01 November 2022
7.15pm-8.45pm, weekly
About Film Music Composition for Beginners 
This six-week online evening course will equip you with an understanding of how to write music for film. You can expect to analyse scenes from different films and explore how a particular genre of music complements a film visual.
The topics addressed will include orchestration, composing with instrument sample libraries in Logic Pro and the composition of original music to a given clip.
Who is the course for?
Anyone aged 18 or over who has a passion for cinema and film music. No prior experience of film music composition is necessary but a basic understanding of Logic Pro is needed.
What can I expect?
In this course you can expect to learn: 
How to spot a scene
What kind of music complements a particular scene
How to use instrumental sample libraries in Logic Pro 
How to write music for a given clip
You will also have a one-to-one session with the course tutor (approx. 15 minutes) outside of the course times, more information will be sent during the course.
 
Do I need anything for the course?
A Mac computer/laptop
A copy of Logic Pro software 
A MIDI-keyboard
A pair of headphones
Alternative composition software to Logic Pro can be used, but only if you are experienced at using it as the tutor will not be able to provide technical support.
Course Fee
£215
Spaces are limited so early booking is encouraged.
The deadline for bookings is 9am on Sunday 18 September 2022, or when the course reaches full capacity.
Eligibility
Online Short Courses Requirements
All sessions will take place online using Zoom. A Zoom link will be sent to you in advance of the course start date with further instructions.
To participate in online classes you will need the following:
An email address
A reliable internet connection
A laptop/tablet/desktop computer with a microphone and camera (most have these included)
Speakers/headphones (the speakers in your laptop/tablet/computer should be sufficient)
A fully updated web browser able to use the most up to date version of Zoom, or a fully updated Zoom client
If you have any questions regarding joining one of our online courses please contact us.
About the Course Tutor
This course is taught by Barbara De Biasi, Professor of Film Music in the Electronic Music Department at Guildhall School of Music & Drama. She has been teaching film music composition and keyboard skills at Guildhall since 2018. 
Barbara has worked with many film directors across the world, including New York, Los Angeles, London, Rome, Madrid, Singapore and Milan. She has written the music for three feature films, four feature length documentaries and 70 short films. Her films have been selected at Fantasia Film Festival, Venice Film Festival, Florida Film Festival, San Diego Film Festival, Big Apple Film Festival and Soho International Film Festival amongst others.