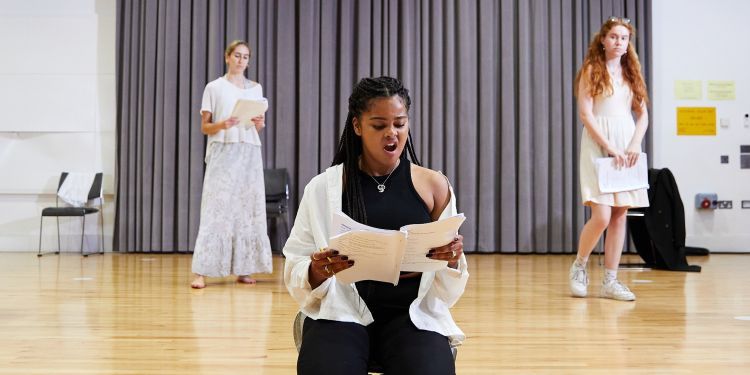 Key information:
Course dates:

Tuesday evenings, 24 January–28 February 2023

Course times:

7pm-9pm

Age:

18+

Fees:

£275

Deadline:

5pm, Friday 20 January 2023

Level of study:

Short Courses & Summer Schools (ages 18+)

Mode of study:

In-person

Venue:

Guildhall School of Music & Drama

Contact details:
Course info
Spaces are limited so early booking is encouraged.
Bookings will close at 5pm on Friday 20 January 2023 or when the course reaches full capacity.
Ages 18+
Course Dates & Times
Tuesday evenings on 24, 31 January, 07, 14, 21 and 28 February 2023
7pm-9pm, weekly
About Acting through Song
This six-week evening course will explore singing and acting through song. This practical course, which will see you delve into the world of musical theatre, pop and folk singing, will combine contemporary acting and singing techniques.
Who is the course for?
This course is for anyone with a passion for singing and acting. It is open to a wide range of levels, from beginner performers to people with more experience.
What can I expect?
The course is practical. You will be invited to workshop a song of your choice during the course, focusing on the singing or acting component introduced in the session.
You can expect to learn about:
Vocal technique
The fundamentals of breath and support
Building the recipes for vocal qualities, such as belt and speak-singing
Enhancing vocal range
Acting
Analysis of text and verse structure
Connecting to character and telling the story
How to safely explore emotional cost and release
Holistic approaches
Mindful approaches to enhancing confidence in your voice
Visualization and mental preparation for performance
Breath meditation
Do I need anything for the course?
You will need to choose a song to work on - preferably something that has a good story. The song can be familiar or something brand new you'd like to explore. The song doesn't need to be performance ready and the words do not need to be learnt by heart in advance of the course.
Copies of sheet music (more information will be sent before the course)
Course Fee
£275
Spaces are limited so early booking is encouraged.
Bookings will close at 5pm on Friday 20 January 2023 or when the course reaches full capacity.
Eligibility
About the Course Tutor
This course is taught by Aled Pedrick.
Aled Pedrick trained at Guildhall School of Music & Drama and is a professional actor, singer and theatre director.  As well as teaching at Guildhall School, he also lectures at Arts Ed, Drama Studio, Identity School of Acting, Florida State University, London Southbank University, University of Wales and other institutions across the UK.  His most recent work as an actor include: BBC Radio Cymru's Tarrytown/ Ysbrydnos, S4C's 35 Awr and Sherman Theatre's Woof (directed by Gethin Evans), and as director, his production of Saturday Night Forever for the Welsh National Theatre was on national tour earlier this year.
His acting credits include: Doctor Who (BBC); 35 Awr (S4C); Lewis (ITV); Parch (S4C); Woof (Sherman Theatr); Say It With Flowers (Sherman Theatre); The Nitcracker (Theatre Royal, Bath); Poking the Bear (Theatre 503).
As director he has worked at Finborough Theatre (The Doll Mender/Saer Doliau; The Welsh National Theatre (Nos Sadwrn O Hyd; Pan Oedd Y Bydd Yn Fach); Theatre Clwyd (My People); and a national tour with Invertago Theatre Company (The Tower).