You are viewing:
Performances, Ensembles & Masterclasses
Performances, Ensembles & Masterclasses
Whatever your instrument or specialism, Guildhall School provides a host of opportunities for you to perform, record and collaborate (and if you're a composer, to hear your own works performed).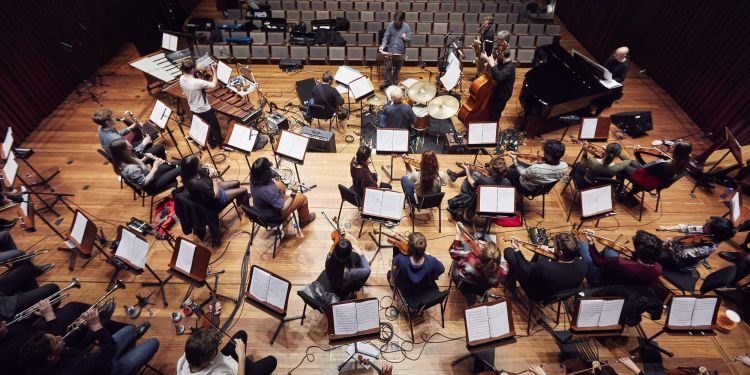 Our facilities and venues
Our Milton Court Concert Hall is the largest conservatoire concert hall in London, with state of the art acoustics and technical facilities. Solo recitals, chamber music and medium-sized orchestral performances all take place here. Opera productions are staged in the Silk Street Theatre, a large, flexible theatre space with orchestra pit, and also occasionally in Milton Court Theatre. Other venues include a smaller Music Hall, a Lecture Recital Room and a performance space in Sundial Court, especially suitable for jazz. 
As a Guildhall musician, you will have access to over 80 solo practice studios, several medium-sized ensemble rooms, electronic music studios and recording facilities. The recording studio and performance spaces are used for workshops, portfolio recordings and CD/DVD production to fully professional standards. 
Prizes, Recitals & Partners
Collaboration
Cross-arts collaborations
Collaboration is a major part of our approach. If you join us as an undergraduate, you will work with students in the Drama and Production Arts departments during the first year workshop project. And each year, our facilities are handed over to students for an entire day of collaborative showcases as part of the annual Guildhall Festival. Every undergraduate Music student at Guildhall School is also trained to work collaboratively in community settings. 
Wider performance opportunities
Our location in the heart of the City's Culture Mile, and our partnerships with the Barbican and the LSO, mean we offer exciting performance opportunities in some of the capital's finest venues. The Guildhall Symphony Orchestra and Chorus perform regularly in the 2,000-seat Barbican Hall, while chamber musicians give recitals there as part of the acclaimed LSO Platforms: Guildhall Artists series. The Barbican's Church of St Giles Cripplegate and LSO St Luke's are also regularly used for performances. We perform across London in venues such as Kings Place, Wigmore Hall and the Southbank Centre.
Further afield, we regularly perform at New York's Carnegie Hall. Additionally, students get involved in Guildhall School's extensive programme of outside engagements. These are paid events, where students perform at company and corporate functions, wedding services, receptions and family occasions, and deliver full recitals and concerto performances for music clubs and societies.