Access & Participation
Guildhall School encourages applications from students whose backgrounds are underrepresented in higher education, and at the School. We value the diversity of cultures at Guildhall and we believe in the power and duty of arts to transform lives and society. We are committed to ensuring there are no barriers to deter talented students from applying and coming to the School. We offer a wide range of free activities and bursaries to support access to performing arts training, and to support current students throughout their studies and beyond.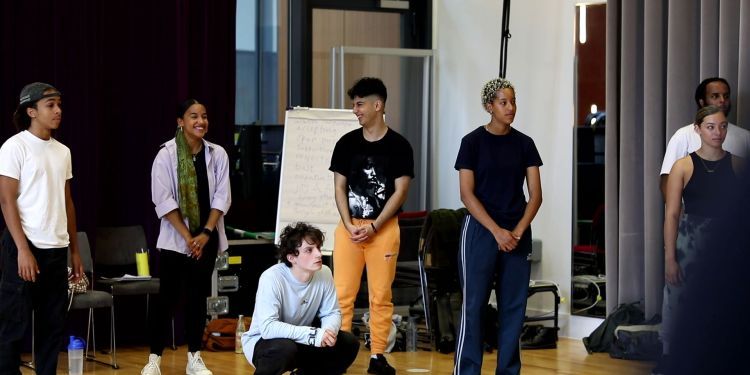 You are viewing:
About Access & Participation
Access & Participation intro
Access and Participation activity is designed to:
encourage undergraduate applications from underrepresented groups;
increase familiarity with the School and confidence with the audition and interview process;
instil a feeling of belonging in all participants;
provide skill development opportunities, raising participants' confidence in their creative abilities;
offer an insight to the Guildhall School teaching style, ensuring applicants are well equipped to make decisions about their future studies;
ensure children and young people have funded access to high-quality training, particularly in music where this can come at considerable expense to families;
support current students throughout their time at Guildhall, whether through financial support, practical guidance on learning or careers, or as a safe and friendly space for advice.
To achieve these objectives, we run a number of free schemes and projects for eligible young people, applicants and students.
You can find out more about the Access and Participation Plan which informs this work in our Executive Summary.
Access and Participation Plan Executive Summary.pdf
.
Access activities
Opportunities for children and those interested in studying at Guildhall in the future include:
Support for new and current students
In addition to significant support for children and applicants, the Access and Participation team also provide support to current undergraduate students who are underrepresented in higher education.
The Access Bursary offers eligible UK undergraduate students, with a household income of below £33k, an award of between £3-5k each year of their studies, to ensure that they have the financial support to study with confidence.
Eligible students:
are Care Leavers, or those with experience of the UK care system;
are estranged from their families, and unlikely to reconcile;
are Independent students, with confirmation of this status from the Students' Loans Company;
have a declared disability, which impacts their financial circumstances;
applied to the School from a home address in an area which has very low levels of progression to higher education (using the POLAR4 methodology).
Students must apply to the Access Bursary every year.
Access Bursary Policy_2023.pdf
Further information on Guildhall School scholarships, bursaries and financial awards can be found here.
The Access Equipment Fund is awarded to new entrants who participated in the Supported Application Scheme in the year of their successful application to the School. It is valued at £350, and students are encouraged to use this for the equipment that they need for their course and to purchase items that they require for their student accommodation, to help them settle into life at Guildhall more easily, and without financial worries.
This is offered in addition to any other Guildhall School funding.
Guildhall School has substantial support in place for students who are Care Leavers, care experienced or estranged from their family. You can find out more on our Student Affairs webpages.
Get Ready for Guildhall offers incoming students, who meet one or more access criteria, the opportunity to visit Guildhall School in the summer before they start their course, to:
Meet other new students
Meet current students
Meet the staff in the student support services, such as Student Affairs, Library, Registry and departmental support offices
Take a tour of the facilities
Get to know the local area
Prepare for student life.
Offer-holders will be invited to sign-up to this event in spring and summer 2023, and it is scheduled to take place on Tuesday 18th July 2023.
Other opportunities
Taste of Guildhall
We offer free three-hour Acting workshops to charities and theatre groups who are working closely with a group of young actors. If you would like to explore the possibility of Guildhall coming to you, please contact wp@gsmd.ac.uk. 
Want to visit the School?
We hold one Undergraduate Open Day each year, and many more which are programme specific. Our open days are a fantastic way to find out more about the course and meet current students and staff, and there is often an opportunity to participate in a workshop and/or see our students in action. Find out about our open days. If you receive Free School Meals, and you would like to attend one of our in person Open Days, please contact wp@gsmd.ac.uk to request a travel bursary.
Free tickets for shows
The best way to showcase the training that we offer is to see our current students in action. A limited number of free tickets are available for some performances at the School. If you are a teacher or youth group leader, and would be interested in organising a visit to a performance, please contact wp@gsmd.ac.uk. You can find out more about upcoming performances here.
Impact and Evaluation
Guildhall School of Music & Drama's continued success in Access and Participation relies on effective evaluation and reporting to the Office for Students.
Read our regulatory reports, containing information submitted annually to the Office for Students, and project level reports, which outline statistics, successes and next steps. Please note that this is a developing area of work for the Access and Participation team - further reports will be published in due course.
Access and Participation - Impact Report 2019-20.pdf