Music Ensembles
Find out more about ensemble opportunities at Guildhall School, available to current Guildhall students.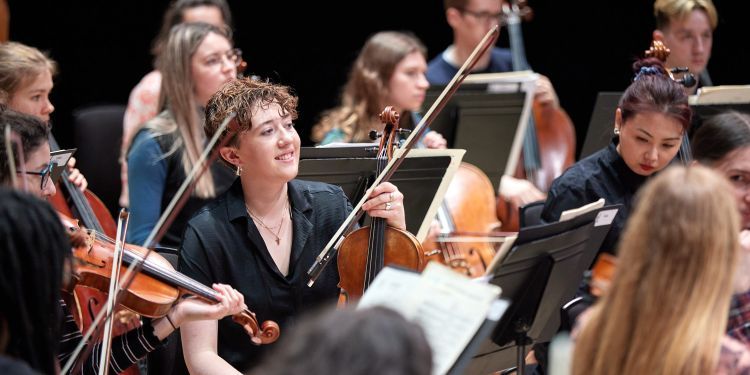 Music Ensembles
The Bauhaus Band
The Bauhaus Band plays music from the period of the Bauhaus School of Art and Design in Germany (1919-1933) and new music inspired by the ethos of the Bauhaus. It is the  interdisciplinary ensemble of Guildhall School, and includes musicians, composers and singers from every department at Guildhall. 
Chamber/String Orchestra
Every spring term a project involving a chamber or string orchestra is organised with the most advanced students to explore essential and adventurous repertoire in an intensive public performance. While some projects are conducted, most are led by staff, alumni or guests who are internationally recognised chamber and orchestral principals. 
Guildhall Baroque Orchestra
The Guildhall Baroque Orchestra draws together students from across the School to enjoy formative performances with historical instruments. The orchestra frequently works side-by-side with Barbican Associate Ensemble, Academy of Ancient Music.
Guildhall Big Band
The Guildhall Big Band concentrates on repertoire and provides a high-level ensemble training experience to its members. Rhythm sections in particular will rotate throughout the year. Sectionals, where possible, the Big Band will be joined by members of the Jazz faculty to further develop section-specific technique and interpretation.
Guildhall Cantata Project
A collaboration between postgraduate principal study students from the Historical Performance and Vocal departments, Guildhall Cantata Project performs intimate sacred and secular music from the seventeenth and eighteenth centuries.
Guildhall Consort
Under the direction of Eamonn Dougan, Associate Conductor of the Sixteen, the Guildhall Consort performs both early and contemporary choral music, often in collaboration with the Guildhall Baroque Orchestra.
Guildhall Improvisers' Workshop
Under the direction of saxophonist and composer Trish Clowes, the Improvisers' Workshop focusses on creative jazz improvisation, approaching the jazz ensemble as a malleable vehicle for contemporary composition.
Guildhall Jazz Orchestra (GJO) & Guildhall Jazz Singers
Two of the department's flagship ensembles are the Guildhall Jazz Orchestra and Guildhall Jazz Singers. Personnel for the Jazz Orchestra (particularly rhythm section players) will rotate throughout the academic year. Sectionals, where possible, the Jazz Orchestra, will be joined by members of the Jazz faculty to further develop section-specific technique and interpretation.
Guildhall Studio Orchestra
The Guildhall Studio Orchestra is one of the School's flagship ensembles and the only one of its kind in a UK Conservatoire. A 54-piece, genre-fluid ensemble playing commissioned material with international soloists. The orchestra operates on a side-by-side principle whereby first call players will sit amongst students, nurturing connections both musically and professionally.
The Impossibilities
The Impossibilities ensemble evoke space, time and motion with their fusion of jazz, global groove and restless energy. Together, they offer an alternate musical view of the times we live in, beyond the reductive and the commercialised and which emanate from voices that compel you to listen. The band is populated by students from all Guildhall's music courses and offers paid placements for students interested in leading workshops with the band's Satellite Collective with young musicians in East London. 
Integrated Combos and Instrumental/Vocal Ensembles 
Combos are directed by various members of Jazz Department staff and provide a broad range of stylistic approaches to small ensemble playing. Participation in Integrated Combos and Instrumental/Vocal Ensembles provides singers and instrumentalists with core teaching and ensemble coaching leading to performances and/or recordings. Involvement in ensemble projects provides composition and arranging students with experience and exposure at a professional level.
Jazz Choir
The Jazz Choir focuses on learning music by ear, great grooves and great vibes while improving aural and ensemble skills. With several people to each part, this has traditionally been the largest of the three vocal ensembles.
Recorder Consort
The Guildhall Recorder Consort performs music spanning from Medieval to modern works on recorders from six inches to six feet long. Rehearsals are on a weekly basis and employ the School's three consorts of instruments made by Tim Cranmore, Yamaha and Tom Prescott. 
String Ensemble
String Ensemble is organised primarily for first year undergraduate students to explore essential string ensemble repertoire and to promote collaborative skills and cohort solidarity in two-hour reading sessions once or twice a term. While some sessions are conducted, most are led or coached by internationally recognised chamber and orchestral musicians on staff. 
The Messengers
The Messengers is a 30-piece band of strings, wind, brass, vocals and rhythm section. With all original music, this unique band takes you on a journey of heart-warming, soulful songs about life and love, laced with cinematic grooves and lyrics that need to be heard. The band is made up of students and graduates from Guildhall School and people with lived experience of homelessness, seeking support from London based homeless charities. 
Vocal Jazz Ensemble
The Jazz Vocal Ensemble combines learning by ear and working from charts to build both reading and aural skills. There will usually be just 2 people to a part, working on arrangements with a 4-8 (or sometimes more) part split.
Composers' Workshop Ensembles
Various ensembles are created to workshop student composers' ideas and works in progress. These groups are designed to further general musicianship, to gain experience in and understanding of the performance of new music as well as its creation, to learn skills of creative collaboration in the workshopping of each other's material, and to explore experimental and non-conventional paradigms of ensemble music making.
Opera Orchestra
The Guildhall School's award-winning Opera Department presents four fully staged opera productions with orchestra every year; two with full orchestra and two with chamber ensemble. You will be conducted by either the Head of Opera Studies or a guest of similarly international operatic standing on a schedule which reflects a standard UK professional opera schedule, with the addition of sectionals at the start of the process.