Music Therapy Outreach Service
The Music Therapy Outreach service at Guildhall School of Music & Drama is a Music Therapy provision working primarily across the London Borough of Islington, the City and  beyond. Established in 2011, the service has continue to grow successful partnerships within the City of London and across London.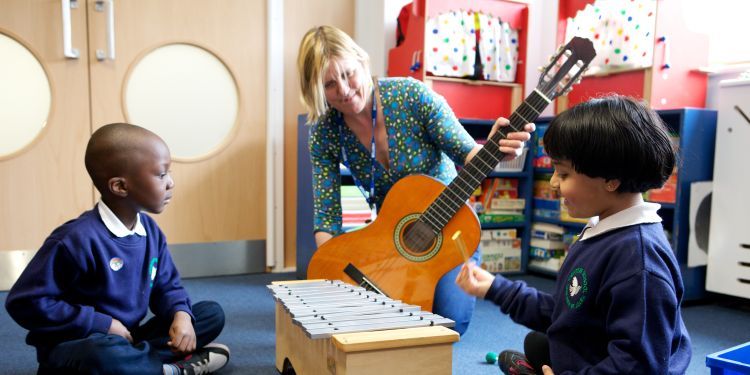 Guildhall Music Therapy Outreach Service
The Music Therapy Outreach has a team of highly skilled and are Health and Care Professions Council (HCPC) registered Music Therapists. Our team delivers therapy session with people of all ages and backgrounds seeking therapy for a range of concerns or conditions.
What is Music Therapy?
Music therapy is a psychological therapy. It uses musical interventions to support people of all ages with psychological, emotional, cognitive, physical, communicative and/or social needs. Individuals and groups accessing Music Therapy use a combination of music making and verbal intervention as part of their therapy.
Music Therapy is recommended in the NHS NICE guidelines as an evidence based effective treatment for conditions including Depression, Schizophrenia and Dementia. There is also a growing evidence base working with many other groups and Music Therapy can support people without diagnosis.
How can it help?
Music Therapy can support adults, children, and young people with:
Increased self-confidence and self-esteem
Communication needs (such as speech and language delay or selective mutism)
Mental Health Needs (such as anxiety, depression, low mood)
Increased interpersonal interaction
Increase emotional awareness, regulation, and expression
Physiological aims in collaboration with physiotherapists or other healthcare professionals
Our Music Therapists
Guildhall School music therapists are highly qualified health professionals. All hold enhanced DBS checks. Our therapists are all registered with the Health and Care Professions Council (HCPC) and agree to be bound by their Standards of Conduct, Performance and Ethics.
Many of our Music Therapists are graduates from Guildhall School of Music & Drama's MA in Music Therapy, the oldest UK based training course, and the only training course to take place in the conservatoire environment.  This unique training balances musical excellence, intellectual rigour and professional expertise, and balance is embedded in our therapeutic work.  
Guildhall School music therapists use a blend of musical and verbal intervention to connect with adults and children accessing our sessions. This offers individuals accessing Music Therapy an opportunity to be truly seen and heard in the music and in the room.
Using a range of instruments and their voice, participants are supported to communicate, express themselves and explore their deepest feelings through Music Therapy techniques.  Our therapists do not teach participants to play instruments, and there is no requirement to be "musical" or have musical training to take part in Music Therapy. Anyone can participate!
Where we work
Our Music Therapists work in a range of settings across London, including in
Schools (Primary, Secondary, alternative provisions, and Special Schools)
Day care centres
Residential care settings
Community Centres
A small number of sessions are also available on-site at Guildhall School's internal Music Therapy Outreach Services. The nearest stations are: Barbican, Moorgate ad Farringdon Tube stations.  If you are interested in accessing Music Therapy from Guildhall Music Therapy Outreach Services, please click here musictherapyoutreach@gsmd.ac.uk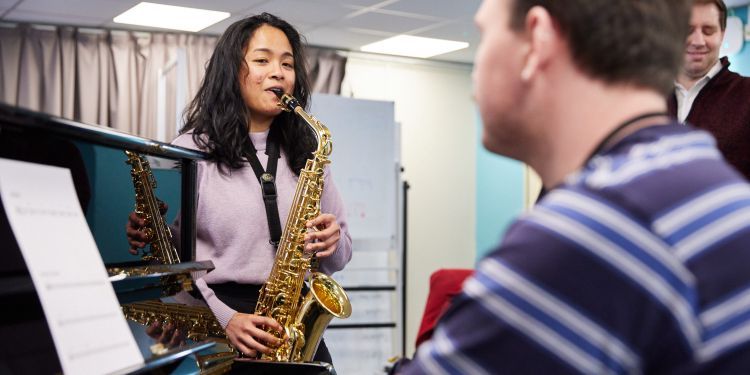 Our Services
Work with children
Music Therapy has been recognised by Ofsted as addressing educational and pastoral needs of young people (ofsted.gov.uk/resources).  The work uses music as a tool for communication, connection, and expression. Making connections through music can have a positive impact on:
· self-esteem
· sense of identity
· communication and social skills
· general social and emotional well-being
Music Therapy supports children to increase the capacity to learn and relate to others through addressing the above challenges. Music therapy can identify and support young people who have difficulties and who may be at risk of developing mental health issues later in life. It can also offer a healthy attachment model for young people who experience disruptive familial relationships or a history of disorganised attachments with their early caregivers.
Music Education Islington Partnership (MEI) 
The Music Therapy Outreach has a long established Partnership with Music Education Islington. Music Therapy can be considered as an option for children and young people through the MEI programme. 
A key priority for the Music Therapy Outreach service with MEI is to ensure that music engagement can be accessed by all young persons. Music Therapy can support children and young people to access a form of musical engagement where they may be experiencing additional needs or challenges in the school setting.
Work with adults
Music Therapy has been recognised by NICE as an effective treatment intervention for people with mental health needs and dementia. The work uses music as the tool for communication, connection, and expression. Engagement in Music Therapy can have positive impact on:
Increased self-confidence and motivation
Managing anxiety
Stimulating Creativity
Improved Communication and social skills
Emotional and general well-being.
Adults interested in engaging in Music Therapy or wishing to referrer to the Music Therapy Outreach service at Guildhall School are encouraged to get in touch with our team. The team will support you to discuss how Music Therapy session may be a helpful form of therapy for your needs.
Testimonials
"The children loved their sessions and it developed their confidence and self-esteem"
–
SENDCO teacher (Primary School).
"Love it all"
–
Feedback from Primary school Child asked what they liked about Music Therapy.
"It helps me forget my problems when I am there"

"It helps to take your mind away to find peace"

"The sessions and music motivate him to move much more than he does in physiotherapy. We are really happy with his progress!"
–
Parents of a child participant.
Get Music Therapy for your organisation
If you are an Educational, Health Care or Community provision in the North, Central or East London area, Guildhall School can provide an Outreach Music Therapist for you. We offer both individual and group Music Therapy over a time-limited or open-ended format.