The Gold Medal
Guildhall School's premier music prize was founded and endowed by Sir H. Dixon Kimber in 1915 and since the 1950s it has been open to singers and instrumentalists in alternate years.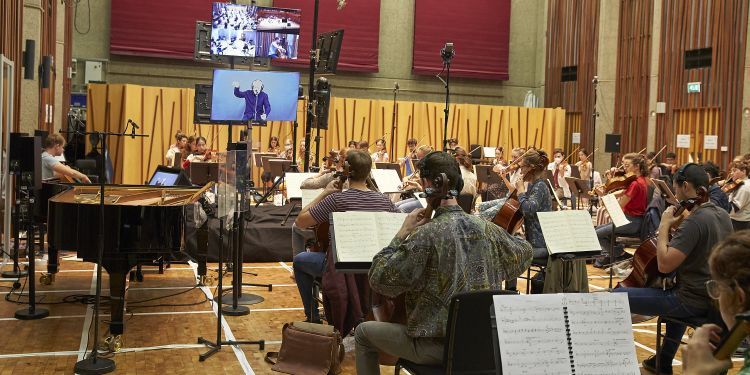 The Gold Medal
The Guildhall School's premier music prize was founded and endowed by Sir H. Dixon Kimber in 1915 and since the 1950s it has been open to singers and instrumentalists in alternate years. The final traditionally takes place in May each year in a sold-out Barbican Hall.
Previous winners include Jacqueline du Pré (1960), Tasmin Little (1986), and Bryn Terfel (1989).
Recent Winners
In recent years, the Gold Medal has been won by:
Greek mezzo-soprano Alexandra Achillea Pouta is currently studying on the Guildhall School Opera Course, under the tutelage of Samantha Malk. Performance credits include Sister Helen in Dead Man Walking (Guildhall School of Music & Drama), performances of Messiaen's Harawi with pianist Élisabeth Pion and world premieres of multimedia projects with the Idrîsî Ensemble. She is also a member of this year's Glyndebourne Chorus. Alexandra's studies are generously supported by the Guildhall School Trust, Help Musicians Sybil Tutton Opera Award, The Jane Ades Ingenuity Scholarship, the Athena Scholarship, and the Dow Clewer Foundation Scholarship. Her work with the Idrîsî Ensemble is supported by the Arts Council England and PRS Foundation.
Alexandra's winning performance of two works from Messiaen's Harawi, Santoliquido's L'assiolo canta, Varèse's Un grand sommeil noir and Ligeti's A csendes dalokból with pianist William Bracken, and two pieces from Ravel's Cinq mélodies populaires grecques, Bellini's Se Romeo t'uccise un figlio… La tremenda ultrice spada, and Szymanowski's Hafiz' tomb with Guildhall Symphony Orchestra impressed the audience as well as the judges. Alexandra's choice of repertoire showcased five languages, including Greek, Hungarian and Polish. A total of seven languages were included in last night's celebration of vocal talent across thirty-two pieces of repertoire, featuring also Japanese, French, Italian, German and English.  Finalists Miku, Michael and Lorna gave brilliant performances of works by composers including Mozart, Korngold and Wagner respectively.
Alexandra says: "I am really humbled to be receiving this honour, and to have the opportunity to share the stage with my very dear friends and fellow finalists, Miku, Michael and Lorna. It was a wonderful evening that I'll never forget. I am thankful to my pianist William Bracken, whose brilliance is truly inspiring, and the musicians in the Guildhall Symphony Orchestra who provided such excellent playing and musicianship."
Pianist Stephanie Tang, a native of Los Angeles, has performed as a soloist and chamber musician worldwide. At the age of 12, she performed in Carnegie Hall's Weill Recital Hall and at sixteen, made her orchestral solo debut with the West Covina Symphony Orchestra. She has since then performed solo recitals in Los Angeles, Shenzhen, Shanghai, Sendai, the Netherlands, Banff, Ottawa, Toronto and Gijon. In 2017, she competed in the Sendai International Piano Competition and was a finalist in the Heida Hermanns International Piano Competition. In 2021, she was a semi-finalist in the Montreal International Piano Competition and performed in Brussels at the Queen Elisabeth International Piano Competition.
Over the years, Stephanie has worked with many prominent artists including Richard Goode, Robert Levin, Jonathan Biss, Robert McDonald, Matti Raekallio, Jean-Yves Thibaudet, Menahem Pressler, and Leon Fleisher. An avid chamber musician, she has performed and collaborated with John Adams, András Diaz, Esa-Pekka Salonen, and coached with members of the Ébène, Guarneri, and Tokyo Quartets. She is a member of the London-based Paddington Trio, which recently won second prize and a special prize for the best interpretation of an Estonian work at the Tallinn 2021 International Piano Chamber Music Competition.
Stephanie began her professional studies with Zhaoyi Dan at the Shenzhen Arts School in China. She completed her Bachelor of Music at the Colburn Conservatory of Music with John Perry and Master of Music at the Yale School of Music with Peter Serkin and Boris Slutsky. She is currently in her second year of Artist Diploma studies with Ronan O'Hora at Guildhall School of Music & Drama.
Baritone Thomas Mole studied with John Evans on the Opera Course at Guildhall, where he also gained a BMus (Hons) in Vocal Studies.
Thomas' roles at Guildhall include Gil Il segreto di Susanna, Aeneas Dido and Aeneas, Sprecher Die Zauberflöte, Barone di Trombonok Il Viaggio a Rheims and Hotel Manager Powder Her Face; other roles he studied and performed at Guildhall include Snug A Midsummer Night's Dream, Pluto Orpheus in the Underworld and he appeared in several chorus ensembles including Così fan Tutte. 
On the concert platform, Thomas sang Duruflé's Requiem with St Mary Magdalene Music Society and later with the East London Chorus before joining Dorking Choral Society for a performance of the Brahms Requiem; he traveled to Dorchester Abbey for performances of the Messiah. Tom appeared as soloist in Haydn's Creation, Fauré's Requiem and Handel's Messiah with orchestras and choral societies across the country.
Thomas' other successes include the roles of Madhouse Innkeeper/Nick Shadow (c) The Rake's Progress, Dr Pangloss Candide and Alidoro La Cenerentola all with British Youth Opera. He also made his Opera Holland Park debut in the Young Artist's performance of Un Ballo in Maschera in the role of Count Horn. 
Other recent highlights include the roles of Bartolo and Antonio Le Nozze di Figaro at Goodenough College, and at Piggots Festival he appeared as Frank Hubbard Doctor Atomic and as Angelotti Tosca in concert. He also sang the roles of Mountararat and Private Willis Iolanthe with East Surrey Choral Society.
Future engagements include his debut as Kuligin Kát'a Kabanová at Glyndebourne Festival, where he is a Jerwood Young Artist.
Soohong Park was educated in Jeju, South Korea and then in Detmold, Germany. He completed both his Bachelor and Masters degrees at the Hochschule für Musik, Detmold, where he studied with Dina Ugorskaja, Alfredo Perl and Peter Orth. He won third prize at the Wiesbaden International Piano Competition in 2009 and during his studies in Germany, Soohong won first prize with his trio at the Auryn Chamber Music Competition in both 2015 and 2016.
He completed his Artist Masters at Guildhall School and undertook the Artist Diploma in 2019-20 under the direction of Ronan O'Hora. He was the winner of the Glass Sellers' Beethoven Piano Prize at Guildhall in 2016 and second prize winner of the Beethoven Piano Society of Europe Intercollegiate Competition in 2017. In 2019, he was finalist at the Isang Yun International Competition in Tongyeong, South Korea and semi-finalist at the seventh Sendai International Music Competition in Japan. He has attended masterclasses with Bernd Götzke, Günter Ludwig, Richard Goode, Jonathan Biss, Ferenc Rados and Murray Perahia.
As a soloist, Soohong has performed at the Carl Loewe Festival in Lübejün (where his performance was broadcasted by MDR) and has given a recital at the Philharmonic Hall in Vilnius. His concerto performances include Rachmaninov's Piano Concerto No 2 in C minor Op 18 and Mozart's Piano Concerto in D minor KV466 with the Verler Vier-Jahreszeiten-Orchester in Verl-Kaunitz, Germany; Mozart's Piano Concerto in C major with the Guildhall Chamber Orchestra and Beethoven's Triple Concerto with the Orchestra of the Paderborn University Orchestra. In 2019, he performed Beethoven's Piano Concerto No 3 in C minor Op 37 with the Sendai Philharmonic and Tongyeong Festival Orchestra.
His studies at Guildhall School were supported by The Sophie Satin Sergei Rachmaninov Award.
Samantha Clarke is an Australian/British soprano studying with Yvonne Kenny in her second year on the Opera Course at Guildhall School as a Baroness de Turckheim Scholar, Help Musicians, Tait Memorial and Countess of Munster Trust Scholar.
Clarke completed an Advanced Postgraduate Diploma and Intensive Masters of Music at the Royal Northern College of Music (RNCM), as a Sir John Fisher Foundation and Independent Opera Scholar, under the tutelage of Mary Plazas.
Clarke is the recipient of numerous awards, including the Leverhulme Royal Northern College of Music Award, the Dame Eva Turner Award and the Michael and Joyce Kennedy Award for the singing of Strauss. She was awarded a 2017 RNCM Gold Medal and the Nora Goodridge Developing Artist Award through the Australian Music Foundation for 2017/18 and 2018/19, and is also privileged to be a Samling Institute scholar.
Clarke is very keen to explore more of the recital platform and has performed in venues such as Wigmore Hall and the Foundling Museum. Operatic roles include: Helena A Midsummer Night's Dream (Guildhall), Fiordiligi Così fan tutte (Guildhall), Anne Trulove The Rake's Progress (British Youth Opera), Anna Gomez The Consul – Menotti (Guildhall), Theodora Theodora (RNCM), Donna Elvira Don Giovanni (British Youth Opera), Fiordilgi Così fan tutte (RNCM), Pamina Die Zauberflöte (Longborough Festival Opera), First Lady Die Zauberflöte (LFO), Countess Cover Le Nozze di Figaro (LFO), Beth Little Women by Mark Adamo (Western Australian Academy of Performing Arts). Upcoming engagements include Georgiana Georgiana (Buxton International Festival) and Musetta La Bohème (Opera North).
Joon Yoon made his solo recital debut in Korea at the age of 12 and his concerto debut in the U.S. a year later. He is an avid solo and chamber musician and performs a wide range of repertoire from Bach to Brahms to Carter. 
Yoon gained his Bachelor and Master of Music at the Juilliard School and the Yale School of Music with full tuition scholarships. His teachers there included Yong Hi Moon, Robert McDonald, Melvin Chen and Hung-Kuan Chen, and are his greatest musical influences. He is currently studying with Ronan O'Hora on the Artist Diploma course at the Guildhall School, where he is supported by the Eduard and Marianna Loeser Award.
He has won top prizes at competitions such as the Piano Texas Concerto Competition, the Liszt-Garrison Piano Competition and the Fite Family Young Artist Piano Competition, as well as winning awards at the Peabody Preparatory in Baltimore and the Campillos International Piano Competition in Spain. He was the 2017 winner of the Glass Sellers' Beethoven Piano Prize at the Guildhall School.
Yoon has performed in prestigious venues across Japan, Korea, Spain and the U.S., including Alice Tully Hall, Carnegie Hall, Petit Palau of Palau de la Música, Seoul Arts Center, and Sejong Center for the Performing Arts. He has made concerto appearances with the Peabody Sinfonietta, Fort Worth Symphony Orchestra, and Connecticut Virtuosi Chamber Orchestra. He has been a fellow of prestigious music festivals such as the Music Academy of the West, the Bowdoin International Music Festival's Kaplan Fellowship program, where he collaborated with Amir Eldan, Kurt Muroki, Ayano Ninoyama, the members of the Ying Quartet, and New York Philharmonic concertmaster Frank Huang. As a chamber musician, he has worked with Peter Wiley of the Guarneri Quartet, Joel Smirnoff of the Juilliard Quartet. Yoon has also worked with Richard Goode, Yoheved Kaplinsky, Jerome Lowenthal, John O'Conor, Matti Raekallio, and Arie Vardi in masterclasses and festivals.
Born in Barcelona, baritone Josep-Ramon Olivé studied at the Escola Superior de Musica de Catalunya, followed by the Guildhall School's Opera Course. He is currently on the Artist Diploma programme under Professor Rudolf Piernay and is a recipient of the Harry Rolfe Award.
His operatic roles include Il Conte in Mozart's Le Nozze di Figaro, Tarquinius in Britten's The Rape of Lucretia, Orfeo in Monteverdi's L'Orfeo, Lesbo in Handel's Agrippina, Aeneas in Purcell's Dido & Aeneas, Frank in Strauss' Die Fledermaus, Pantalone in Wolf-Ferrari's Le donne curiose, Thésée in Martinů's Ariane and Uberto in Pergolesi's La Serva Padrona. His Oratorio repertoire includes Brahms Ein Deutches Requiem, Fauré Requiem, Duruflé Requiem, Mozart Requiem, Orff Carmina Burana, Handel Messiah and Bach B minor Mass, Magnificat.
He has performed with the London Handel Orchestra, Les Concert des Nations, Hespérion XXI, Barcelona Symphony Orchestra, Orchestra of the Age of Enlightenment. He has performed all around the world in venues including: Palau de la Música Catalana, Shanghai Grand Theatre, Konzerthaus Vienna, Philharmonie de Paris, and the Barbican Hall. He has collaborated with Jordi Savall, Kazushi Ono, Laurence Cummings and Sigiswald, Kujken and has recorded for Alia-Vox, Columna Música, Phaedra, Discmedi and Musièpoca labels. He is currently a member of the Capaella Reial de Catalunya, conducted by Jordi Savall.
Josep-Ramon was awarded First Prize, as well as the Audience Prize, at the 2015 Handel Singing Competition; Second Prize at the 2013 International Singing Competition 'Symphonies d'Autômne' (Mâcon); Second Prize at the 2013 International Singing Competition 'Germans Pla' (Balaguer) and Second Prize at the 2011 Concurso Permanente of Juventudes Musicales de España. In 2015 he was nominated for 'Oxford Lieder Young Artist', together with pianist Ben-San Lau.
His future plans include The Count in Le nozze di Figaro with Clonter Opera; and Le Jardin des Voix Academy with William Christie and Paul Agnew.
Harpist Oliver Wass (Harp 2016) is in his first year of a Masters degree at the Guildhall School, for which he was awarded a full scholarship to study with Imogen Barford. He graduated from the University of York with a First Class Honours degree, achieving the highest mark ever awarded for a final recital, and winning the Blake Music Prize.
He has performed numerous concertos and has directed the Handel Harp Concerto in the Barbican Hall in 2011. He has also performed concertos at the London Handel Festival, the City of London Festival, with the Oxford Sinfonia, and with the World Chamber Orchestra.
He is a Tillett Trust Young Artist and will make his Wigmore Hall debut in November 2016. He is also a 2016 St John's Smith Square Young Artist, and will be giving recitals throughout the 2016/17 season.
Wass recently won 1st prize in the British Harp Chamber Music Competition with his flute-viola-harp trio, and they have upcoming concerts at St John's Smith Square, the Two Moors Festival, and for the United Kingdom Harp Association. An experienced soloist, Wass competed in and won music festivals throughout his childhood. He studied with Charlotte Seale at the Junior department of the Guildhall School, where he became the only harpist to have been a prize-winner in the prestigious Lutine competition, and he was Principal Harp in the National Youth Orchestra.
Jennifer Witton
Jennifer Witton (Opera 2015) studied at Bishop Luffa School and Chichester College before completing undergraduate and postgraduate courses at the Guildhall School. She currently studies on the Opera Course at the Guildhall School under the tutelage of Sarah Pring. Jennifer recently won a Miriam Licette award at the 2015 Maggie Teyte Competition. In 2014 she won first prize in the Rosenblatt Recital Prize in the North London music festival and first prize in the Guildhall School Aria Prize, and in 2013 she won the Dvořák society Song Prize at the Emmy Destinn Awards, and the Winchester consort prize at the Hampshire Singing Competition. Jennifer has worked with Opera North, Wexford Festival Opera, Raymond Gubbay ltd, Opera di Peroni, Glyndebourne Festival Opera, Royal Opera and has performed at venues including St Martin-in-the-fields, Royal Albert Hall and the Wigmore Hall. In the 2014-15 season she covered the role of La Musica/Euridice in Monteverdi's Orfeo for the Royal Opera House.
Marta Fontanals-Simmons
Marta Fontanals-Simmons (Opera 2015) is from Castle Cary, Somerset and attended St Antony's Leweston School in Sherborne, Dorset. She is on the Guildhall School Artist Diploma programme studying with Marilyn Rees, having completed the postgraduate Vocal Studies programme and the Opera Course. A finalist in the 2014 Kathleen Ferrier Awards, Marta is winner of the Maureen Lehane Vocal Awards 2011, the Odette Sansom Award for English Song at the Guildhall School, Runner-Up in the Thelma King Award, and finalist in the Hampshire Singing Competition. She was awarded the Principal's Prize in 2014 and is a Jerwood Young Artist for 2015. Marta made her Wigmore Hall recital debut in June 2014 as a Tillett Trust Artist and will be joining the Glyndebourne Festival chorus this year.
Gold Medal Winners since 1980
2023, Alexandra Achillea Pouta (Mezzo-Soprano)
2022, Stephanie Tang (Piano)
2021, Tom Mole (baritone)
2020, Soohong Park (piano)
2019, Samantha Clarke (soprano)
2018, Joon Yoon (piano)
2017, Josep-Ramon Olivé (baritone)
2016, Oliver Wass (harp)
2015, Jennifer Witton (soprano) & Marta Fontanals-Simmons (mezzo-soprano)
2014, Michael Petrov (cello)
2013, Magdalena Malendowska
2012, Ashley Fripp (piano)
2011, Natalya Romaniw
2010, Martyna Jatkauskaite
2009, Gary Griffiths
2008, Sasha Grynyuk
2007, Katherine Broderick
2006, Anna-Liisa Bezrodny
2005, Anna Stephany
2004, Boris Brovtsyn
2003, Susanna Andersson 
2002, David Cohen 
2001, Sarah Redgwick 
2000, Maxim Rysanov 
1999, Natasha Jouhl 
1998, Alexander Somov 
1997, Konrad Jarnot 
1996, Stephen de Pledge 
1995, Jane Stevenson 
1994, Richard Jenkinson 
1993, Nathan Berg 
1992, Katherine Gowers 
1991, William Dazeley 
1990, Eryl Lloyd-Williams 
1989, Bryn Terfel 
1998, Simon Smith 
1987, Juliet Booth 
1986, Tasmin Little 
1985, Peter Rose 
1984, Kyoko Kimura 
1983, Carol Smith 
1982, Simon Emes 
1981, Susan Bickley 
1980, Julian Tear