Composition
Guildhall offers some of the most stimulating and creative training for composers available in the UK. Our guiding principle is that composers should develop in collaboration with technically-proficient, sympathetic instrumentalists under the expert guidance of experienced practitioners.
Apply now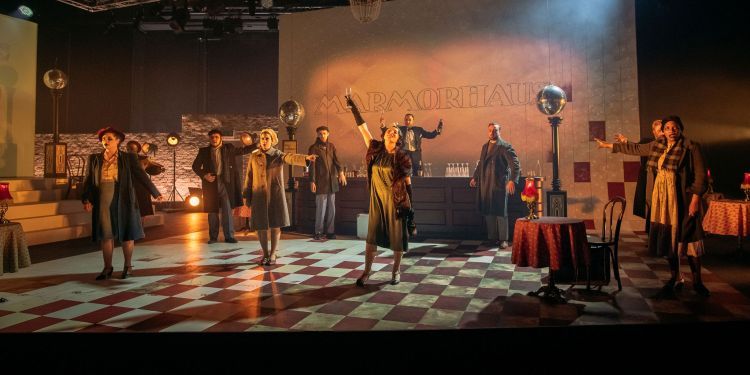 You are viewing:
About Composition at Guildhall
About Composition at Guildhall
Individual Lessons and Masterclasses | Workshops | Techniques of Composition | Orchestration | Electronic Music | Analysis | Aesthetics
Guildhall offers some of the most stimulating and creative training for composers available in the UK. Our guiding principle is that composers should develop in collaboration with technically-proficient, sympathetic instrumentalists under the expert guidance of experienced practitioners. Our commitment to developing your unique voice as a composer means that we will workshop every composition that you write. 
By studying at a conservatoire you will benefit from a range of unique opportunities. These include access to performers, an outstanding faculty of professional composers distinguished in a wide-ranging field of compositional activity, specialism and artistic approach, and a host of external partners. You will be based in a lively arts complex, and our focus on innovation and collaboration will help you take full advantage of Guildhall's multidisciplinary environment, working within a constant cross-departmental flow of ideas, skills and creativity.
Watch the video
Find out more about Composition training at Guildhall from our students and staff in the video below.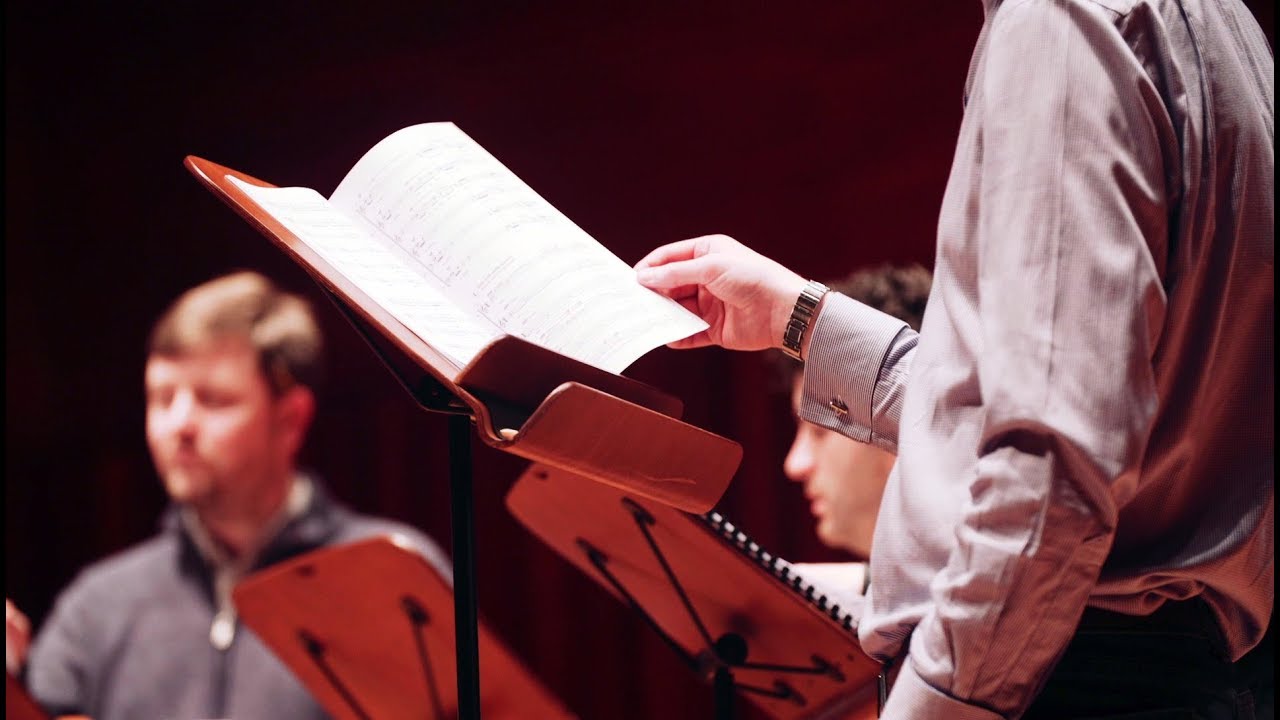 Composition contact details
Brendan Macdonald & James Long, Composition Department Managers
Tel: 020 7382 6159
composition@gsmd.ac.uk
Undergraduate study
Guildhall School's undergraduate Composition pathway is intended to support your creative development as a composer, whatever your interests or sources of inspiration. There is no 'house style'; we are not looking for one kind of composer. Consequently, our community of student composers is very diverse, but with a shared sense of commitment, purpose and mutual respect.
The BMus Composition programme is built on two complementary strands of academic activity: Original Composition and Techniques. Original Composition activity follows a four-year trajectory that builds from small-scale chamber projects in Year 1 (monody, duo, voice and instrument, percussion ensemble), through the more ambitious demands of working with wind quintet, string quartet and 14-piece ensemble. The programme culminates in Year 4 with works for full orchestra, vocal ensemble and live sounds and electronics. All compositions are workshopped either by your fellow students in the School or by professional, world-renowned visiting ensembles and soloists.
The Techniques strand is intended to equip you with a high level of skill and expertise in the craft and technique of musical composition. In the first two years, topics range from Harmony and Counterpoint to Pastiche Composition; 20th Century Materials explores core concepts in 20th and 21st century harmonic and rhythmic practice and provides practical experience of working with percussion. In addition, a Creative Ensemble element will challenge you to collaborate in a performing ensemble, offering a chance to engage with ideas and possibilities of experimental, and often transmedial, practice. Topics in Years 3 and 4 range more widely and include Aesthetics, Workshop Skills and Orchestration. In all four years of Techniques work, you will also take classes in Electronic Music and Analysis. 
Workshopping your work
At the heart of the programme is the workshop process. We make a commitment to workshop every piece that you write, from your first exercises for one or two instruments, to full ensemble and orchestral pieces in your third and fourth year. This programme thrives on close partnerships with other Guildhall School departments, and all undergraduate composers are encouraged to develop their skills and experience by working collaboratively as creative artists.
Read more about the broader BMus programme structure.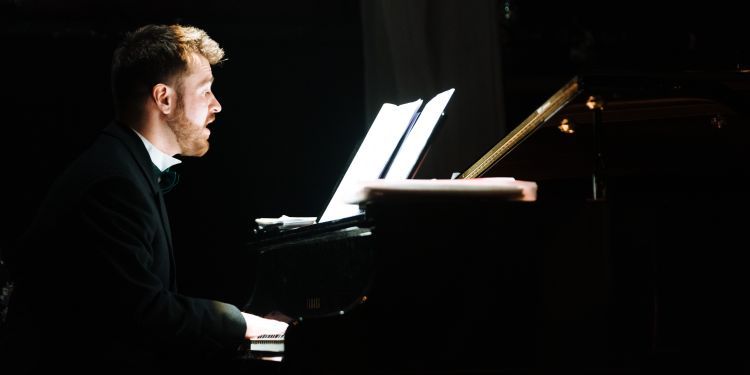 Activities and Ensembles
Individual lessons – 30 hours a year for BMus and MMus/MComp students; 20 hours a year for MA in Opera Making and Writing students (plus production classes and mentoring)
Open Sessions – a series of weekly presentations given by both staff and distinguished visiting composers, to discuss current concerns, ideas and aesthetic questions relating to contemporary music
Workshops – all student compositions are performed and rehearsed in formal workshops, providing composers with a broad range of feedback and response and a richer perception of their creative ideas in real time
Departmental classes and seminars – the undergraduate programme includes a substantial series of departmental classes, while postgraduate and doctoral students take part in seminars
Creative Ensemble – made up of BMus years 1 and 2 student composers who are encouraged and supported to work experimentally using their own cohort of composers as a performing ensemble
Guildhall New Music Ensemble, which presents a concert each term curated by a Guildhall School composition professor or visiting composer
Work placements for undergraduate composers via the Professional Studies module
City Chamber Choir Composer-in-Association – each year, one Guildhall School composer is appointed as Composer-in-Association to the City Chamber Choir, an association which offers creative development and a London premiere of an a cappella choral work
London Symphony Orchestra/London Philharmonic Orchestras – the Department has good connections with both institutions and supports its student composers to apply for either the London Symphony Orchestra's Panufnik Young Composers Scheme or the London Philharmonic Orchestras's Young Composer programme
Owing to the School's location within an international arts venue, distinguished visiting composers pass through our doors regularly, giving masterclasses, seminars and individual lessons to our students. The department enjoys close working relationships with a number of external partners including the Royal Philharmonic Society, Royal Opera House, London Contemporary Dance School and the Wigmore Hall, organisations such as Sound and Music, new music ensembles such as Exaudi or Chroma, orchestras such as the BBC Symphony, London Symphony or Aurora orchestras, and festivals such as Spitalfields Festival.
Highlights, Successes & Alumni
The department has a longstanding partnership with EXAUDI and PlusMinus, and composers work with both ensembles as first-year Masters students 
Q&As with visiting composers, including recent Q&As with Sir Harrison Birtwistle, John Adams, Louis Andriessen, Michel van der Aa, Steve Reich, Helmut Lachenmann, Tristan Murail and Judith Weir 
Each year, Composition students work with writers from the Opera Making and Writing course on Voiceworks, a collaborative writer/composer/singer project culminating in vocal works performed at Wigmore Hall 
The Composition Department has a major partnership in place with the Royal Opera House for the development of contemporary opera. Every two years, the Royal Opera House stages a new opera by a Guildhall School/Royal Opera House Composer in Residence, while students on the MA in Opera Making and Writing programme (see page 36) enjoy formative creative opportunities at the Royal Opera House 
Each year, MMus students collaborate with choreographers at London Contemporary Dance School to develop new works which receive two public performances at The Place, the UK's premiere centre for contemporary dance 
Na'ama Zisser (Guildhall School/Royal Opera House Composer-in-Residence 2015-18)
In 2015, Na'ama Zisser was appointed as Philip Venables' successor as Guildhall School/Royal Opera House Composer-in-Residence. Her new opera, Mamzer Bastard, exploring the relationship between Jewish Kantorial singing and traditional operatic singing, was staged by the Royal Opera House at Hackney Empire in June 2018.
Philip Venables (Guildhall School/Royal Opera House Composer-in-Residence 2013-16)
Philip Venables' new operatic version of Sarah Kane's 4.48 Psychosis received its world premiere at the Lyric Hammersmith in May 2016, in a new production staged by the Royal Opera House, and went on to win the UK Theatre Award for Achievement in Opera, the Royal Philharmonic Society Award for Large-Scale Composition, and a British Composer Award. Venables' latest work, The Gender Agenda, premiered at the re-opening of the Queen Elizabeth Hall, before performances across Europe.
LSO Panufnik Composers Scheme
In recent years, Guildhall School graduate composers featured in this scheme have included Gonçalo Gato, James Hoyle, Daniel Kidane, Jack Sheen, Donghoon Shin, Michael Taplin and Alex Tay.
Oliver Leith (Composition 2014)
Oliver Leith has had works performed by the Philharmonia Orchestra, the Orchestra of Opera North, and London Sinfonietta. He is a participant in Sound and Music's Next Wave scheme and a member of the LSO Soundhub scheme. In 2014 he was awarded a Royal Philharmonic Society Composition Prize, and in 2016 won a British Composer Award.
Raymond Yiu (Composition 2014)
Raymond Yiu's work includes The London Citizen Exceedingly Injured, written for the BBC Symphony Orchestra, and The World Was Once All Miracle, which was premiered by Roderick Williams, the BBC Symphony Orchestra and Sir Andrew Davis in 2018. His piece Symphony was premiered by the BBC Symphony Orchestra at the 2015 BBC Proms season. Northwest Wind, written for and premiered by Lontano, won a British Composer Award in 2010.
Edmund Finnis (Composition 2013)
Edmund Finnis has enjoyed particularly close associations with the London Sinfonietta, who have variously performed, toured and recorded six of his works, and the London Contemporary Orchestra, with whom he was Composer-in-Association from 2013 to 2016. In 2017, his orchestral work The Air, Turning received its premiere by the BBC National Orchestra of Scotland, conducted by Ilan Volkov. Finnis received a Paul Hamlyn Foundation Award for Artists in 2012, and was Composer-in-Residence at the 2013 Chelsea Music Festival in New York City.
Mark Simpson (Composition 2012)
Mark Simpson is Composer in Association of the BBC Philharmonic. His oratorio The Immortal was premiered by the BBC Philharmonic at the 2015 Manchester International Festival to immediate critical acclaim. Other works with orchestra include Israfel, premiered by the BBC Scottish Symphony Orchestra, sparks commissioned for the 2012 Last Night of the Proms and A mirror-fragment… written for the Royal Liverpool Philharmonic Orchestra. His first opera Pleasure was commissioned by Opera North, the Royal Opera and Aldeburgh Music and premiered in 2016. His music is published by Boosey & Hawkes.
Francisco Coll (Composition 2011)
Francisco Coll made his BBC Proms debut in 2016 with Four Iberian Miniatures for violin and chamber orchestra by Augustin Hadelich and the Britten Sinfonia under Thomas Adès. The same year saw the premiere of Mural by the Orchestre Philharmonique Luxembourg under Gustavo Gimeno, and a new Harpsichord Concerto for Mahan Esfahani and Britten Sinfonia. Coll's opera Café Kafka received its London premiere at the Royal Opera House in 2014. His music is published by Faber Music.
Matthew Kaner (Composition 2010)
Matthew Kaner was BBC Radio 3's Embedded Composer in 3 during their 70th anniversary season in 2016; his residency involved the writing of over ten new works, which were premiered on air throughout the period. His orchestral work Encounters was premiered at the Lucerne Festival in 2017 with Jeffrey Means and the Festival Academy Orchestra. Matthew was the recipient of a Roche Young Commission from 2015-17, and won the Royal Philharmonic Society Composition Prize in 2013. He is a professor of composition at Guildhall School.
Bushra El Turk (Composition 2006)
Selected by the BBC as one of the most inspiring 100 Women of Today, Bushra has written various works for the concert hall, dance, theatre and multi-media, performed and broadcast on radio and television worldwide. Her pieces have been performed by ensembles including the London Symphony Orchestra, BBC Symphony Orchestra, BBC Scottish Symphony Orchestra, Royal Opera House, London Sinfonietta, Birmingham Contemporary Music Group, Manchester Camerata, and more. Her music is published by Composers Edition.
Christina Athinodorou (Composition 2005)
Christina Athinodorou's work has been featured in festivals worldwide, including the Biennale di Venezia, Grafenegg Festival, MITO SettembreMusica, ISCM World New Music Days-Wien Modern, Salle Pleyel, Onassis Cultural Center, Music Biennale Zagreb, Festival d'Aix-en-Provence, deFilharmonie Chamber Series. She won the Prix de Jury and the Coup de Coeur du Publique in the composition competition Île de Créations in 2013 for her orchestral work, Interméde pour une mer jamais vue, which is published by Éditions Durand.
Mica Levi
Oliver Leith
Philip Venables
Jack Sheen
Bushra El-Turk
Daniel Kidane
Raymond Yiu
Edmund Finnis
Mark Simpson
Sylvia Lim
Na'ama Zisser
Francisco Coll
Lara Agar
Matthew Kaner
Christina Athinodorou