You are viewing:
About the Production Arts Course
Key information:
Course dates:

Saturday term time

Age:

14+

Fees:

£320 per term (£32 per week)

Level of study:

Short Courses & Summer Schools, Workshops & Saturday Centres (ages 4-18)

Venue:

Elizabeth Garrett Anderson School

Contact details:
About the Production Arts Course
Our production arts course for ages 14–18, is perfect for those who enjoy providing creative solutions, working as a team and bringing ideas to life. 
 
The course will explore the many different creative positions within production arts and the process involved within each of these —from brainstorming ideas to thematic research, mood-boarding, visualising and pitching the concept. 
 
There are so many roles within production arts to learn about, which include: producer; creative director; live-action director; set, costume, sound, lighting and video designer; technician; set builder; prop maker; stage and production manager, to name a few. With the expertise of Steve Boyd, you will discover how each area of responsibility contributes to putting on a show. 
 
Skills required for a career in production arts include heaps of creativity, good organisation and communication skills, time management and enjoyment of teamwork.  
 
Whether you simply want to spend a couple of hours immersing yourself in a purely creative environment, while learning new skills and some clever show-business hacks, or are considering a backstage career in the creative industries, you can be sure to unleash your creativity and have lots of fun, whilst learning from top practitioners and industry professionals.
Production arts students will come together with drama and music students to create innovative performances. These will be staged at the centre or other arts venues. Visits from Guildhall School production arts students and tutors will give students the opportunity to further develop their skills and ask any questions they might have. 
Fees 
£320 per term (£32 per week) 
Payment schedule
The course or courses signed up for will be charged for the term. The number of sessions that will need to be paid for will depend on the number of sessions left in the term. Please see our term dates for information. 
We view the first four-weeks as a trial period* for all new students, after which, if you decide not to return to Guildhall Young Artists King's Cross, a refund will be given for the remaining sessions left within the term. 
After the first term has finished, half a term's notice must be given to cancel. See more information on our finance and funding page. 
 
Please view our terms and conditions below for the four-week trial period:
*The four week trial can only be redeemed when signing up to Guildhall Young Artists King's Cross in the first four weeks of the term. If notice is not given after the first four weeks of attendance, we will not be able to refund the remaining term.
Saturday 5 November
Saturday 12 November
Saturday 19 November
Saturday 26 November
Saturday 03 December
Saturday 10 December
Spring Term
Saturday 07 January
Saturday 14 January
Saturday 21 January
Saturday 28 January
Saturday 04 February
Half Term - no classes on 11 and 18 February
Saturday 25 February
Saturday 04 March
Saturday 11 March
Saturday 18 March
Saturday 25 March
Summer Term
Saturday 22 April
Saturday 29 April
Saturday 06 May
Saturday 13 May
Saturday 20 May
Half Term - no classes on 27 May and 03 June
Saturday 10 June
Saturday 17 June
Saturday 24 June
Saturday 01 July
Saturday 08 July 
We regret it is not possible to give refunds in the event of absence as the Centre has to continue paying professional tutors and overheads. GYA King's Cross expects as close to 100% attendance as possible, to ensure you develop and get the most out of your attendance.
Half a term's notice is required to stop attending (except in exceptional circumstances). This notice period is required to fulfil obligations to the professional tutors, pay for facilities and to encourage you to be fully committed to the courses chosen.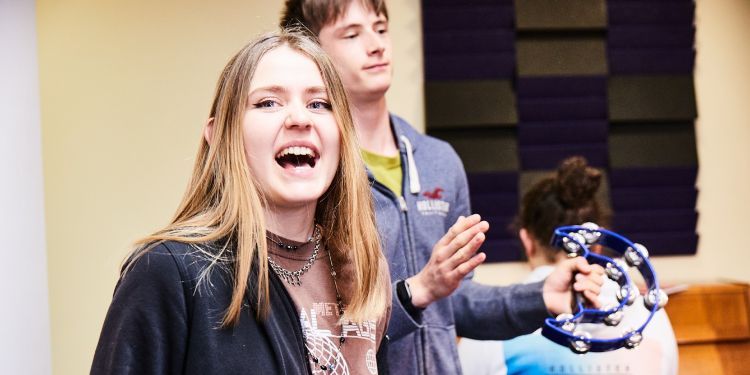 Benefit from Guildhall Young Artists membership
When you attend Guildhall Young Artists King's Cross, you will become a Guildhall Young Artists member. This means that you will be able to benefit from exclusive opportunities, performances and workshops, including competitions, invites to concerts, gigs and performances from students at Guildhall School.
By becoming a part of a national network, members will be able to connect and collaborate with like-minded individuals across the country.