You are viewing:
About Creativity Starts Here
Key information:
Course dates:

Saturday term time

Course times:

9am–10am

Age:

5–7

Fees:

£150 per term (£15 per week)

Level of study:

Short Courses & Summer Schools, Workshops & Saturday Centres (ages 4-18)

Venue:

Elizabeth Garrett Anderson School

Contact details:
About Creativity Starts Here
Our music and drama beginners course for ages 5-7, will introduce children to the joy of music making and the arts through weekly classes consisting of games, exercises, and plenty of creativity.
Through 60 minutes of group play each Saturday, children will explore their musicality and movement, develop communication skills, grow in confidence and increase their ability to express themselves in a supportive and safe environment. 
Fees 
£150 per term (£15 per week)
Payment schedule
The course or courses signed up for will be charged for the term. The number of sessions that will need to be paid for will depend on the number of sessions left in the term. Please see our term dates for information. 
We view the first four-weeks as a trial period* for all new students, after which, if you decide not to return to Guildhall Young Artists King's Cross, a refund will be given for the remaining sessions left within the term. 
After the first term has finished, half a term's notice must be given to cancel. See more information on our finance and funding page. 
 
Please view our terms and conditions below for the four-week trial period:
*The four week trial can only be redeemed when signing up to Guildhall Young Artists King's Cross in the first four weeks of the term. If notice is not given after the first four weeks of attendance, we will not be able to refund the remaining term.
 
Autumn Term
Launch Day – Saturday 24 September
Saturday 01 October
Saturday 08 October
Saturday 13 October
Saturday 22 October
Half Term - no classes on 29 October
Saturday 5 November
Saturday 12 November
Saturday 19 November
Saturday 26 November
Saturday 03 December
Saturday 10 December
Spring Term
Saturday 07 January
Saturday 14 January
Saturday 21 January
Saturday 28 January
Saturday 04 February
Half Term - no classes on 11 and 18 February
Saturday 25 February
Saturday 04 March
Saturday 11 March
Saturday 18 March
Saturday 25 March
Summer Term
Saturday 22 April
Saturday 29 April
Saturday 06 May
Saturday 13 May
Saturday 20 May
Half Term - no classes on 27 May and 03 June
Saturday 10 June
Saturday 17 June
Saturday 24 June
Saturday 01 July
Saturday 08 July 
We regret it is not possible to give refunds in the event of absence as the Centre has to continue paying professional tutors and overheads. GYA King's Cross expects as close to 100% attendance as possible, to ensure you develop and get the most out of your attendance.
Half a term's notice is required to stop attending (except in exceptional circumstances). This notice period is required to fulfil obligations to the professional tutors, pay for facilities and to encourage you to be fully committed to the courses chosen.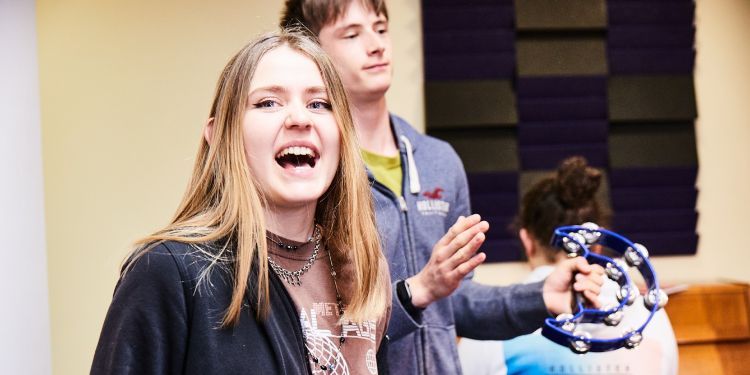 Benefit from Guildhall Young Artists membership
When you attend Guildhall Young Artists King's Cross, you will become a Guildhall Young Artists member. This means that you will be able to benefit from exclusive opportunities, performances and workshops, including competitions, invites to concerts, gigs and performances from students at Guildhall School.
By becoming a part of a national network, members will be able to connect and collaborate with like-minded individuals across the country.