Vocal Studies in Detail
Songs at Six: Vocal Repertoire Elective
Our 6pm rush-hour vocal series featuring senior singers and pianists in a wide range of themed concerts throughout the season. Venues range from the School's intimate Lecture Recital Room to the internationally acclaimed Milton Court Concert Hall.
The Songs at Six series is open to a wide range of senior students, either for extra-curricular performance opportunity or in Guildhall Artist Masters Part 1 as the Vocal Repertoire Elective module. This elective involves study of vocal repertoire in small groups with specialist tutors, leading to public performance. The elective aims to offer you a broad range of repertoire specialisms to choose from, in the fields of art song, new music, musical theatre and concert repertoire. 
Recent projects have included programmes themed around climate change and forced migration, contemporary settings of Shakespeare, Russian song and Songs from Childhood, as well as the American Songbook (performed by our resident American Songbook Company). Composer-focussed projects have included surveys of Clara Schumann, Hugo Wolf, Henri Duparc, Claude Debussy, Judith Weir and Jonathan Dove. These projects are led by faculty members such as Eugene Asti, Dr Bretton Brown, Iain Burnside, Julius Drake, Pamela Lidiard, Samantha Malk and Lada Valešová, or by visiting artists like recent guests Austrian soprano Birgid Steinberger, Bavarian State Opera Studio Director Tobias Truniger and renowned British baritone Roderick Williams.
Scenes at Six: Opera & Theatre Elective
Our programme of staged public opera scenes, performed at 6pm to draw in young people and audiences escaping the rush-hour, held throughout the academic year in venues that include our Milton Court Studio Theatre, the magnificent Milton Court Concert Hall, the School's Music Hall and in other spaces on site and around London.
This elective is open to you in Guildhall Artist Masters Part 1, undergraduate year 4 and, if appropriate, in the Graduate Certificate year, and builds on the skills covered in Introduction to Opera. You are involved in all relevant processes of opera rehearsal and performance: role preparation, music coaching, musical ensemble work, drama and movement. Our public opera performances throughout the year (Scenes at Six) mark the culmination of Opera & Theatre Elective projects, while opportunities also exist within this elective to perform small roles and gain chorus experience in the Opera Department's full-scale productions, or to understudy larger roles in those productions.
Our team of directors and music directors for opera scenes has recently included Dafydd Hall-Williams, Simon Iorio, Ella Marchment, Elizabeth Marcus, Victoria Newlyn, John Ramster, Zeynep Rattle, Linnhe Robertson and Alex Ingram, who also work regularly with the major opera companies, young artist programmes and with established professional singers. Opera Department productions are conducted and directed by Head of Opera Dominic Wheeler, resident producer Martin Lloyd-Evans and invited industry figures.
Many Guildhall singers, both undergraduate and postgraduate, are successful in securing work with professional festival companies, including Glyndebourne, Garsington, Grange, Holland Park, Verbier Festival and Aix-en-Provence. At postgraduate level, you can gain academic credit within the Opera & Theatre Elective for this professional work.
Introduction to Opera
Introduction to Opera (primarily for year 3 undergraduates and some postgraduates in the Graduate Certificate year) is designed to give you a first experience of performing opera on stage. You work in an expanded form over several months on the layered process of preparing, rehearsing and performing operatic work. This includes music rehearsal, character study, movement work, production rehearsals and public performance. You are challenged to make your own choices while integrating ideas from colleagues, to take instruction from coaches, music directors, stage directors and choreographers, and to begin developing the combination of musical, dramatic and collaborative skills that are essential for success on the professional operatic stage.
Recent Introduction to Opera projects have been directed by Associate Head of Vocal Studies John Ramster and have included reduced versions of Monteverdi's The Coronation of Poppea, Mozart's The Magic Flute, Poulenc's Dialogues of the Carmelites and Janáček's The Cunning Little Vixen. Music direction has been by the Department's Artistic Consultant Linnhe Robertson.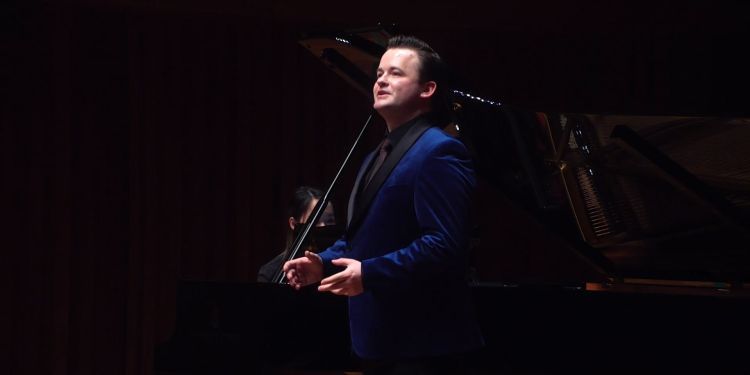 Vocal Studies in Detail - continued
Performance Platforms
Performance Platforms are informal performance spaces, offering you opportunities to present material in a non-public concert setting, often as practice for external events, auditions, recitals or examinations. All students have access to Performance Platforms regularly throughout the year and perform before an audience consisting of fellow students and professors.
You receive feedback through group discussion led by Vocal Studies staff, who will also provide you with written notes on your performance. In undergraduate years participation is compulsory; for postgraduate students, Platform performance is by sign-up.
Performance Projects
Performance activities are central to our courses and are a significant part of your experience at Guildhall. At postgraduate level, this includes the possibility of using summer opera festival work with the likes of Glyndebourne, Garsington, Grange, Holland Park, Aix-en-Provence and other recognised companies for academic credit.
In addition, there are opportunities to enhance your training by participating in projects alongside the core curriculum when you reach the appropriate level. These can involve performances with our partner organisations, the London Symphony Orchestra which is resident at the Barbican Centre (our neighbour), the Royal Opera, Wigmore Hall and the BBC.
Vocal Studies students therefore appear regularly as soloists with the LSO and conductors such as Sir Simon Rattle and Sir Mark Elder, and directors as renowned as Peter Sellars and Dominic Dromgoole, in semi-staged opera and in oratorio. Students also perform solo work on BBC Radio in the  'Total Immersion' series, give song recitals in the Barbican Hall, in LSO St Luke's, and at Milton Court Concert Hall, perform song alongside our Associate Artists Alisdair Hogarth/The Prince Consort at Wigmore Hall in our annual Side-by-Side scheme, work on developing new operas with the joint Guidhall/Royal Opera House 'Opera Maker's' programme, and take small roles or covers with the Royal Opera.
Projects aligned with Guildhall School's commitment to the Artist in Society are also flourishing. Creative Minds in Song sees student singers and composers collaborating with mental health service users to produce and perform new work; cross-departmental projects connect singers and music therapy students; our opera scenes are presented to children and young people in open rehearsals and performance; and students engage with our visiting artists on themes of social justice.
You can also audition for the Guildhall's 'Outside Engagement' scheme, which offers concert opportunities with external promoters in oratorio, after-dinner engagements, opera and song.
Professional & Performance Skills / Masterclasses
This is a series of masterclasses, workshops and 'in conversation' encounters with industry figures. Visitors include: eminent singers for conversations about what you can expect of professional life; artistic entrepreneurs; socially-engaged artists; artist agents, directors of Young Artist Programmes and Casting Directors from the UK, Europe and North America to talk about what they expect of you, often including mock-auditions; specialists in Marketing, Publicity and Media for advice on promoting yourself and your projects. Presentations also cover crucial themes such as Vocal Health and Vocal Physiology, career routes in vocal performance and arts management, and differences between the markets for singers around the world.
Recent guests include Renée Fleming, Jonas Kaufmann, Joyce DiDonato, Sir Willard White, Michael Fabiano, Kamal Khan, Julia Bullock, Karina Gauvin, Jordan de Souza, Ann Murray DBE, Jean Denes and Judith Weir.
Song Guild
The Song Guild is a team of Guildhall singers and pianists, brought together each year to perform song repertoire under the leadership of Professor Graham Johnson, one of the world's foremost song pianists. Participation in these concerts is by invitation if you show particular professional strengths and exceptional potential in song repertoire.
Voiceworks
By selecting Voiceworks as part of your elective package as a postgraduate singer, you build on your experience of new music and contribute to the landscape of contemporary vocal repertoire. Options include projects based on music by established composers and others on new work, like Wigmore Voiceworks, our unique joint venture with Wigmore Hall, in which you collaborate with Guildhall composers and writers on the creation of new songs for performance at our annual Wigmore Hall concert.
Recent Voiceworks projects have been led by sopranos Marie Vassiliou and the late Jane Manning, composers Paul Newland, Julian Philips and Judith Weir, and librettist Stephen Plaice.
Wigmore-Prince Consort Side-by-Side
Award-winning voice & piano collective The Prince Consort, directed by Alisdair Hogarth, are Associate Artists of Guildhall's Vocal Department. In this capacity they have developed a highly successful Side-by-Side project with our singers, pianists and Wigmore Hall. If you are selected following audition for this project, you work towards a joint Wigmore Hall concert of solo and chamber song, and receive bespoke career mentoring with Alisdair Hogarth and The Prince Consort.
Guildhall Consort
The Guildhall Consort, in collaboration with The Sixteen and the Historical Performance Department, is the School's advanced vocal ensemble. Covering repertoire from the Renaissance to the 21st century, the Consort performs regularly throughout the year, either a cappella or with ensembles such as the Baroque Orchestra, offering you the opportunity to develop high-level consort-singing skills. Recent highlights have been a BBC-broadcast concert of works by Arvo Pärt, Bach Motets at St. Bartholomew the Great, Smithfield, a performance at St-Martin-in-the-Fields, and pre-concert events for The Sixteen at the Barbican Centre and Southbank Centre. Graduates of the Guildhall Consort are achieving success in a number of specialist vocal ensembles.