You are viewing:
Career opportunities
Career opportunities
Students from Guildhall School Production Arts programmes have a very good record of employment and former students can be found in a wide variety of theatre and opera occupations.
Stage Management positions: West End, national and international tours including School of Rock, Rock of Ages and Grease
Assistant Stage Manager, Wicked International Tour
Deputy Stage Manager, Opera Holland Park
Assistant Company Manager, Opera Holland Park
Deputy Stage Manager, English National Opera
Designer, Lowestoft Festival
Assistant Production Manager, Imagination Events
Event Manager, Jack Morton Associates
Runner, Star Wars movie
Hire Manager, White Light Group
Sound Technician, War Horse
Lighting Department, National Theatre
Display Technician, London Dungeon
Scenic Artist, Factory Settings
Scenic Artist, National Theatre
Scenic Artist, Secret Cinema
Scenic Artist, Souvenir
Scenic Artist, Boo Productions
Scenic Artist, Royal Opera House
Scenic Carpenter, National Theatre
Propmaker, Pinewood Studios
Prop maker, MDM
Prop Maker, London Dungeons
Props and puppet maintenance, Disney Cruise Lines
Prosthetics maker, Millenium FX
Designer, Bristol Old Vic Theatre School
Video Engineer, Bat Out of Hell, the Musical
Sound No 2, Wonderland, National Tour
Lighting Control department, National Theatre
Costume Supervisor, Sweet Charity Nottingham Playhouse
Costume Supervisor, Flashdance International tour
Costume Assistant, Rip it Off, West End production
Costume Assistant, Cosprops
Dyeing & Breaking down Artist, English National Opera
Electrician, world tour of Swan Lake on Ice
Assistant Prop Maker, English National Opera
Assistant Stage Manager, Glyndebourne Opera
Head of Lighting and Video, Viva Forever
Production Co-ordinator, The Voice, ITV
Production Manager, Smyle Event Company
Junior Production Manager, Imagination Automotive Department
Stage Manger, Young Vic Theatre
Technical Manager, La Jolla Playhouse San Diego
Previous Guildhall graduates have progressed to senior positions:
Company Manager, Les Misérables
Company Manager, National Theatre
Deputy Head of Stage, International Tour,  Matthew Bourne's Swan Lake
Stage Manager, Royal Shakespeare Company
Sound Designer, Autograph
Senior Technical Show Manager, Royal Albert Hall
Senior Production Manager, Imagination
Head of Events, White Light
Freelance Lighting Designer
Freelance Sound Designer
Theatre Designer
Students may go on to work in related roles such as administrators or agents in industries such as film, television, events, conferences and exhibitions. For example:
Assistant Director in the film industry
TV Researcher
TV Location Manager
Theatre Agent
TV Presenters' Agent
Costume daily in films/TV
Props / Costume Buyer
Theatre Chief Executive
Theatre Producer
Event / Concert Producer
Theatre Promoter
Theatre Marketing
Documentary Film Maker
Head of Projects, Tussauds Group
TV Sound Supervisor
Chief Executive, Shakespeare's Globe
Interested in finding out more about a career in Production Arts?
There are a number of books and websites which will give you further information about working in production arts. We would suggest that you read some of these, so that you are sure that this is the career for you.
Several publishers produce a series of books about stage management and production arts, among them Crowood Press and Phaidon Press.
Many of these books can be obtained from the Royal National Theatre Bookshop.
There are also a number of good websites to explore; try these as a start:
Transferable skills
As well as equipping you with the skills and knowledge to enter the theatre and entertainment industries, the Production Arts programmes provide you with a range of transferable skills which are valuable to any employer. These include:
Team working
Verbal and written communication skills
Problem solving
Time management
Managing financial resources
Practical application of IT
Research skills
People management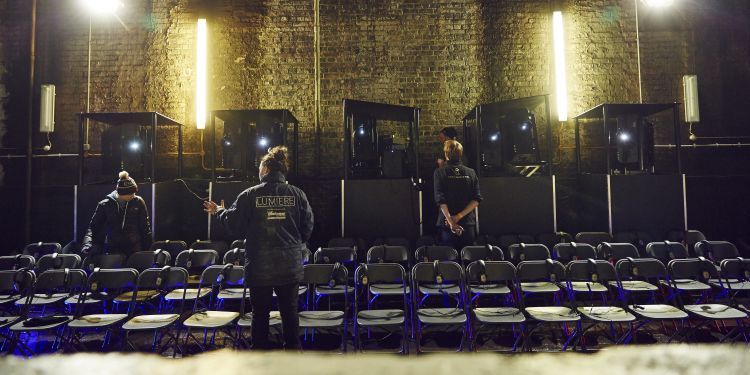 Alumni & Graduates
On successful completion of your studies you will be equipped with the standards, skills, knowledge, experience and contacts to enter the professional theatre. You will receive lectures and advice on what being freelance means and how to go about getting work. Our graduates have had a near 100% employment rate.
Additionally, students who have a right to work in the UK will automatically gain full membership to British Actors' Equity once they finish the programme. This can be as a permanent employee of a theatre or company, or initially on a freelance basis.