Jazz
The Jazz Department at Guildhall School is one of the most renowned and established of its kind. Our core focus is the teaching of musics around the jazz tradition, including Studio and World specialisms, and preparing improvising musicians for high profile careers in the music industry.
Apply now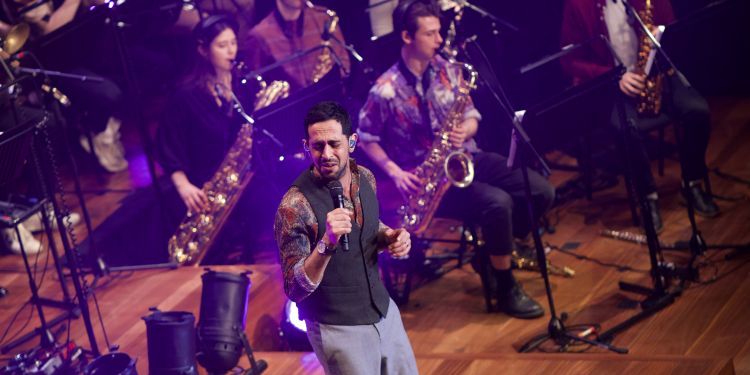 You are viewing:
About Jazz at Guildhall
About Jazz at Guildhall
Voice | Composition & Arranging | Clarinet | Double Bass | Drums | Electric Bass | Flute | Guitar | Percussion | Piano | Saxophone | Trombone (Tenor) | Trombone (Bass)| Trumpet | Tuba | Violin
The Jazz Department at Guildhall School is one of the most renowned and established of its kind. Now in its fourth decade, the Department comprises an inspirational team of professors, led by Malcolm Edmonstone, who are uniquely placed to oversee the development of creative jazz musicians. Our core focus is the teaching of musics around the jazz tradition, including Studio and World specialisms, and preparing improvising musicians for high profile careers in the music industry.
As a Jazz student you will work within a dynamic and innovative curriculum in a supportive and creative environment, gaining the tools you need to thrive as an artist of the future. The Department provides a comprehensive programme of musicianship tailored for improvisers, including classes in aural, transcription and keyboard skills. The curriculum is broad in both style and discipline, and the Department celebrates the diversity of skill and experience needed to build a fulfilling musical life and career as an improviser.
Classes in Harmony, Improvisation, Jazz Rhythm, World Rhythm, and Style and Lineage support weekly tutored ensemble work in combos, to give you a creative outlet and build your collaborative skills. The comprehensive programme of musicianship is tailored for improvisers, including classes in aural, transcription and keyboard skills to develop your core musicianship.
Notational output is nourished in a wide-ranging programme of composition and arranging classes, from skills-based writing to small group composition, scoring for jazz orchestra and for strings and woodwinds.
The Guildhall Studio Orchestra is a permanent ensemble, combining rhythm section, big band, strings, orchestral woodwind and percussion, which facilitates collaboration between departments and guest soloists and conductors. Our annual Jazz Festival and the award-winning Guildhall Jazz Orchestra, Guildhall Jazz Band and a project-based Ellington Band give diverse opportunities for jazz performance.
The study of Jazz Vocals has long been a beacon of the Department's work. In addition to bespoke classes in songwriting, four vocal ensembles exist for Jazz students: Guildhall Jazz Singers, Guildhall Voice Ensemble, Guildhall Jazz Choir and an a cappella group, the Guildhall Conchords.
Watch the video
Find out more about Jazz training at Guildhall from our students and staff in the video below.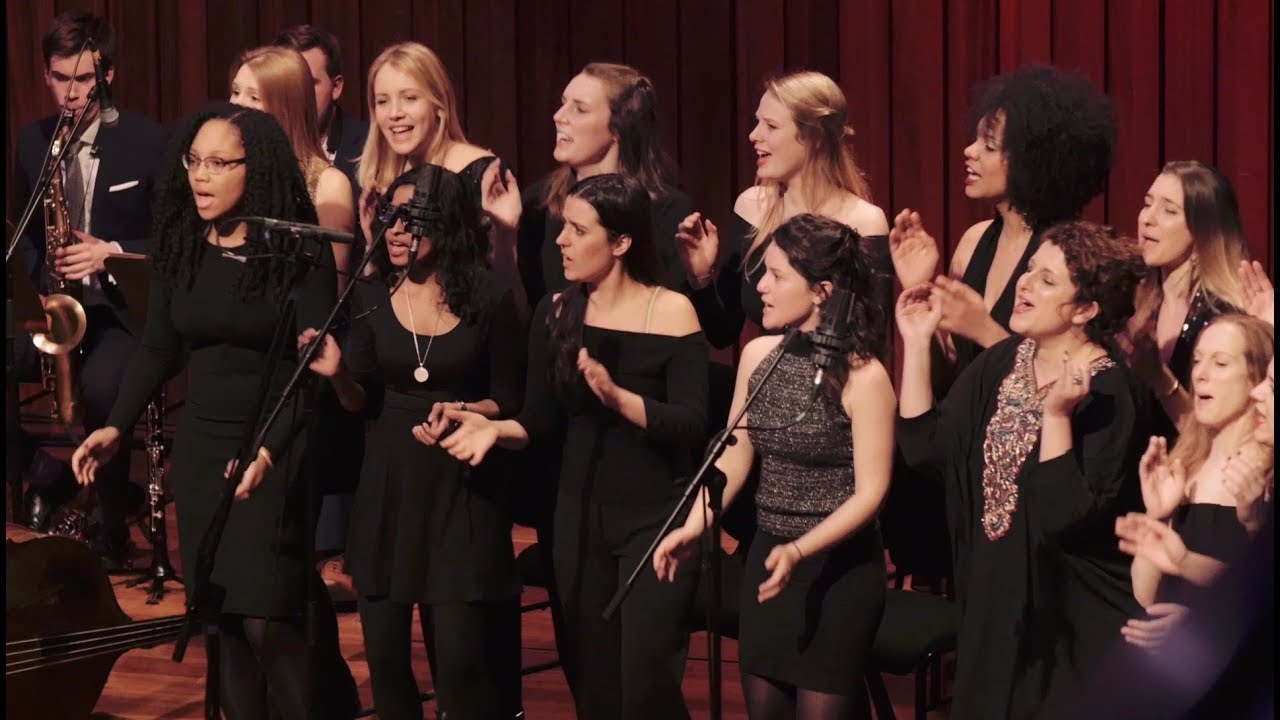 Jazz contact details
Corinna Sanett, Jazz Department Manager
Tel: 020 7382 7180
jazz@gsmd.ac.uk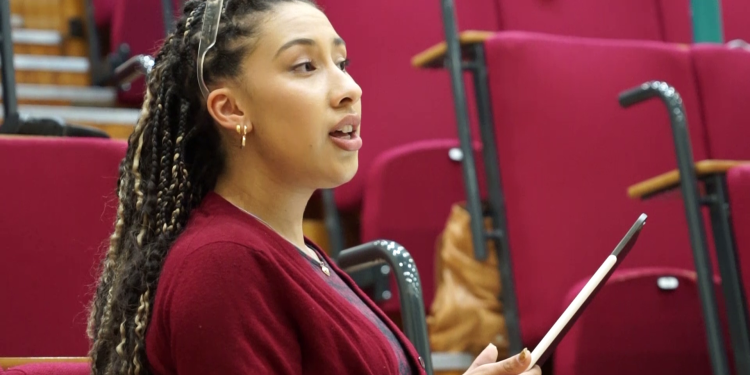 New York Voices & Guildhall Jazz
The Guildhall Jazz department has no fewer than four vocal ensembles running throughout the academic year and featuring both vocal students and instrumentalists.
COVID-19 restrictions meant fewer opportunities for these vocal ensembles to get together and sing, but that didn't stop them wanting to make music together. Instead, the Jazz department invited the internationally renowned vocal group New York Voices to collaborate from across the Atlantic on a recording project.
Undergraduate study
As a student on the BMus Jazz pathway, you join a long and illustrious list of some of Europe's finest improvising musicians. At Guildhall School we place your specialism front and centre as we support both your core discipline and wider musicianship.
Principal Study lessons provide core instrumental and improvisational training and are tailored to your individual needs. In addition to specific jazz training, you will choose an additional study pathway of either Classical or Commercial music. These are designed to support instrumental and technical development, as well as specific notational and interpretative instrumental requirements.
Within the BMus syllabus, you will receive the following specialist training:
Principal Study one-to-one jazz tuition
Jazz musical awareness/improvisation workshops
Jazz small bands
Jazz repertoire class
Jazz aural class
Big Band
Jazz Singers
Jazz keyboard skills
Jazz arranging class
Jazz history class
Jazz performance platforms
Rhythm class
Vintage jazz workshops
Contemporary jazz workshops
Jazz masterclasses with international visiting artists
Performance and communication skills are an essential part of the Jazz option. Individual artistic development is as important as the learning of the skills taught within the course.
Read more about the broader BMus programme structure.
Guildhall School promotes a holistic approach to music education and recognises that students who specialise in jazz may also have considerable skill in other genres.
 
For the first two years, your Principal Study one-to-one lessons will be divided between Jazz and Supporting Study. Traditionally, BMus Jazz students have studied with classical professors for their first two years. This hugely successful pathway remains available under the title Supporting Study (Classical). In 2015, the Jazz Department successfully trialled an additional pathway, Supporting Study (Commercial), which is now fully available to all BMus 1 and 2 students.
 
The purpose of the Commercial pathway is to allow students whose background is not in the Western classical tradition to support their core jazz studies with instrument-specific tuition, stylistically encompassing other 20th Century American popular musics, including gospel, funk, R&B and commercial session playing.
 
Places for Jazz Principal Study are awarded on the strength of the overall musicianship displayed at audition and successful candidates will have the opportunity to decide, in conjunction with the Head of Jazz, as to the most appropriate pathway for Supporting Study upon their commencement of studies at the Guildhall School.
Read more about the BMus programme structure.
Postgraduate study
The MMus/MPerf programme is an innovative and highly personalised training arena for musicians at an advanced level. The programme is designed to elevate a student's core discipline within a wider context of enhanced musicianship, providing preparation for a career as a contemporary musician. Applications are welcome from both performers and composer/arrangers, and Principal Study lessons may be split between disciplines.
The programme encourages a holistic approach to musicianship, offering training in the processes and styles most relevant to the 21st century improvising musician. Intake is based entirely on candidate suitability; the Department does not run an instrumental quota.
In addition to core classes, discipline-specific provision ensures regular, intensive contact with the appropriate professorial team.
These include:
Guildhall Jazz Band – a large ensemble which performs regularly, tours and leads workshops. Five-times winner of the BBC Radio 2 Big Band Competition with four albums recorded
Guildhall Jazz Singers – a close-harmony vocal group with accompanying band
Small jazz groups – regular mixed groups led by course tutors and visiting performers
Improvisation – a comprehensive course emphasising fundamental techniques for improvisation and creative development
Harmony/ear training – a course in recognising, understanding and responding to harmony
Composition/arranging – a practical course in composition, arranging and orchestration for jazz ensembles
Jazz history and listening – a comprehensive study of the jazz tradition
Rhythm classes – a practical course developing time and rhythm skills
Studio and recording workshops – courses in recording/production techniques, sequencing and using computers.
Principal Study Jazz Composition and Arranging allows musicians to follow the department's jazz curriculum alongside performers in order to develop and refine craft in contemporary writing.
Following the same assessment structure, Composition and Arranging students will present exams and recitals showing their skill (mid-year) and artistry (end of year) in which material, content, compositional structure and professional standards in presentation will be taken into account. Jazz Composition and Arranging students receive the same allocation of hours and may choose to split them between members of the jazz faculty with a considerable output in this field.
Student & Graduate Successes
Guest artists including Rufus Reid, Liane Carroll, Dave Arch, Tim Garland, Joe Stilgoe, Iain Ballamy, Julian Joseph, Yazz Ahmed, Jovino Santos Neto, Larry Grenadier, Women in Jazz, Alvin Chea and Drew Gress 
Masterclasses with members of Jazz at Lincoln Center Orchestra during their bi-annual residence through our unique partnership with the Barbican Centre
Masterclasses with Louis Cole, Jerry Bergonzi, Elliot Mason, Katherine Windfeld, Jeff Tain Watts, Kenny Werner, Genevieve Artadi, Eric Harland, Gerard Presencer, Peter Bernstein, Eric Alexander, Phronesis, Mike Lindup, Steve Arguelles, Dick Oatts, Mark Mondesir, Katie Thiroux, Pablo Held and the Tim Berne/Matt Mitchell Duo 
Guildhall Studio Orchestra performances with Joe Stilgoe, Mark Lockheart, Dave Arch and Liane Carroll
Guildhall Jazz Band projects with Marvin Stamm, Stan Sulzman, Nikki Iles, Laurence Cottle, Gareth Lockrane, Iain Ballamy
Guildhall Jazz Singers with Martin Speake, Mike Outram, Paul Clarvis, John Ashton Thomas
Performances by Peter Bernstein, Julian Siegel Quartet, Interchange, Bobo Stenson, Malija
NAO (Jazz Voice 2012)
Natalie Williams (Jazz Voice 2001)
Stacey Kent (Jazz Voice 1991) 
Jason Rebello (Jazz Piano 1989) 
Cleveland Watkiss (Jazz Voice 1988)
Recent performances & projects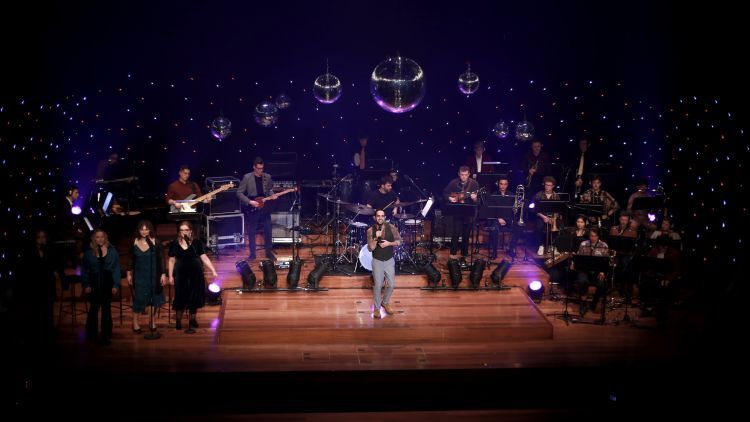 Guildhall Studio Orchestra Celebrates Motown (photo by Em Davis)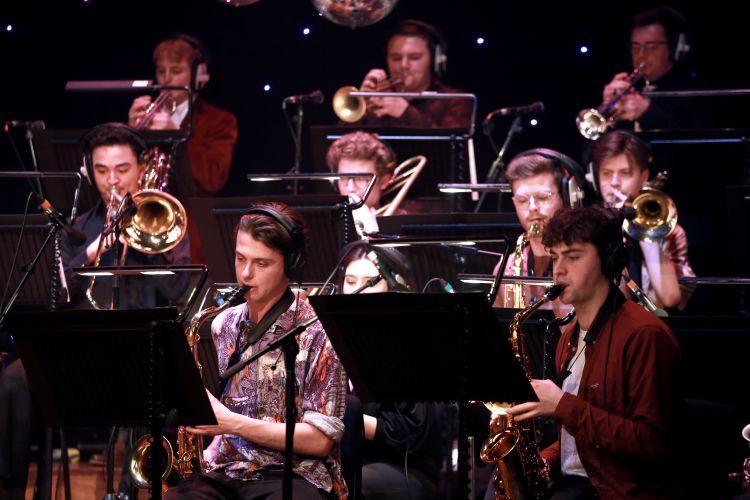 Guildhall Studio Orchestra Celebrates Motown (photo by Em Davis)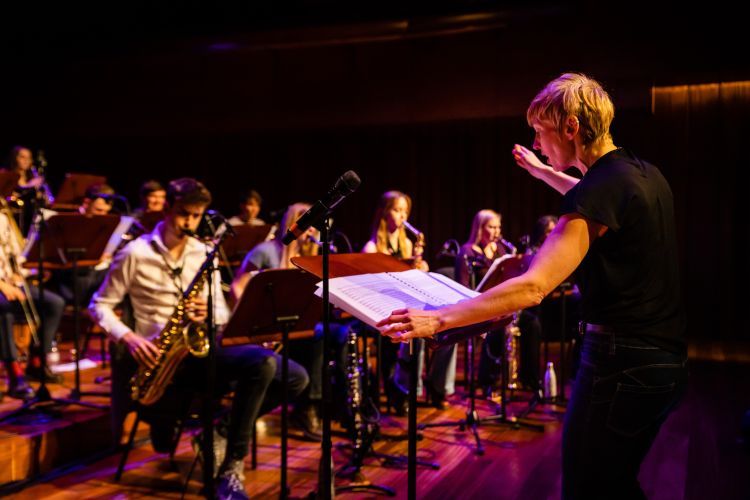 Guildhall Big Band with Josephine Davies (photo by Matthew Ferguson, FG Studios)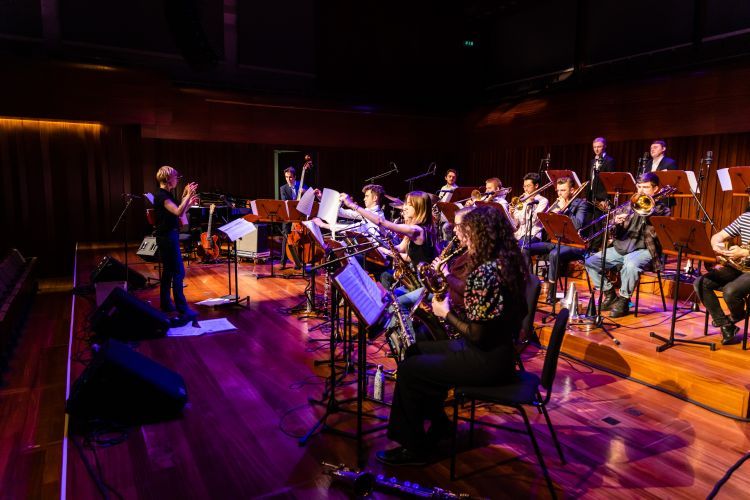 Guildhall Big Band with Josephine Davies (photo by Matthew Ferguson, FG Studios)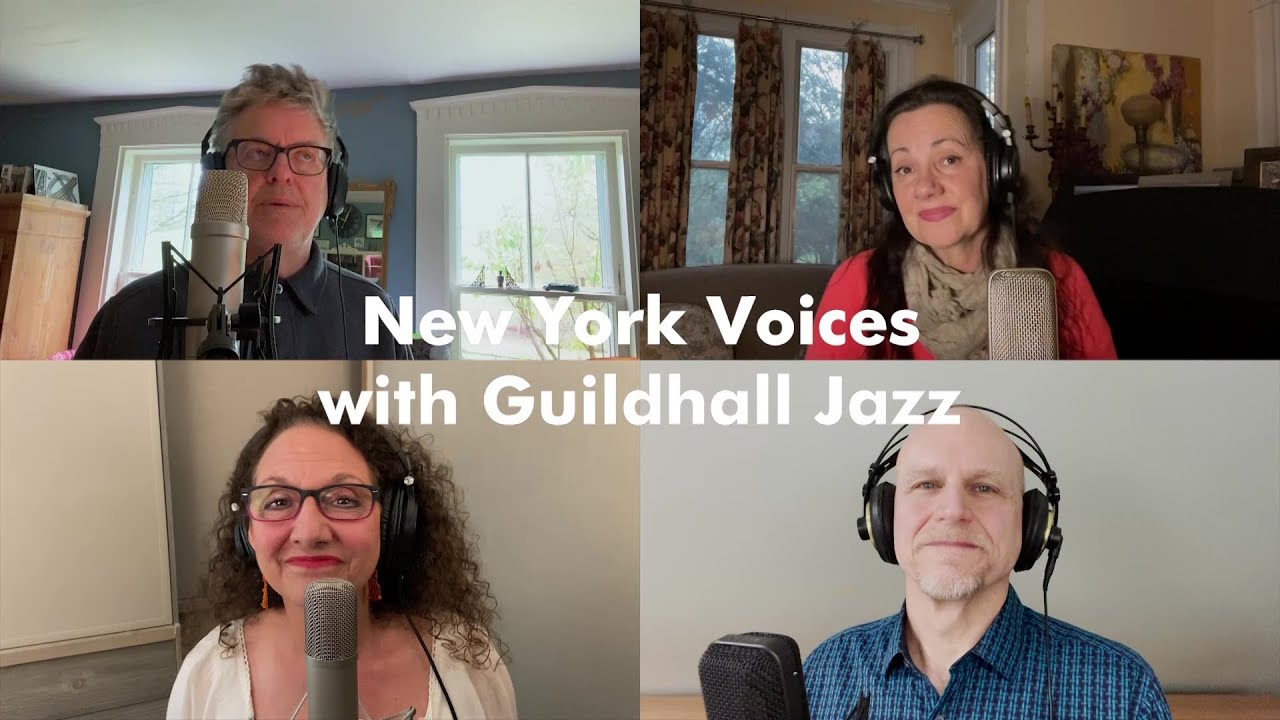 The World Keeps You Waiting - New York Voices & Guildhall Jazz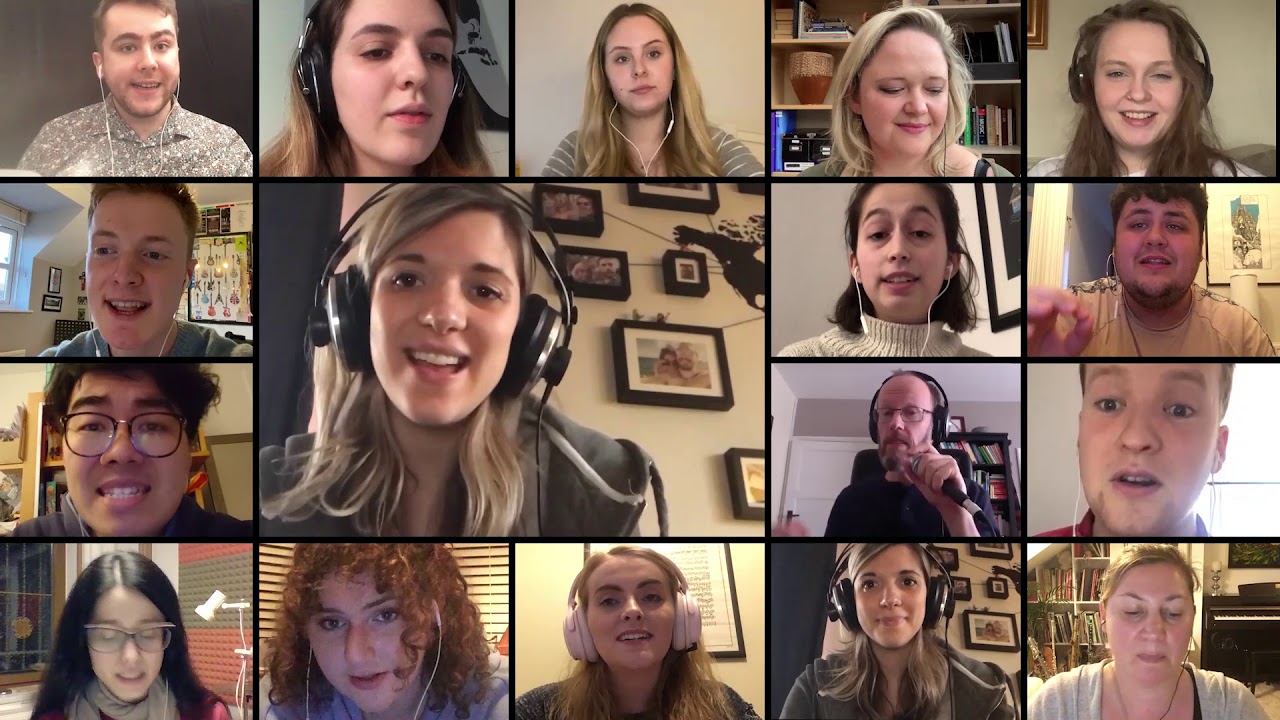 'What is Hip' performed by Guildhall Jazz Musicians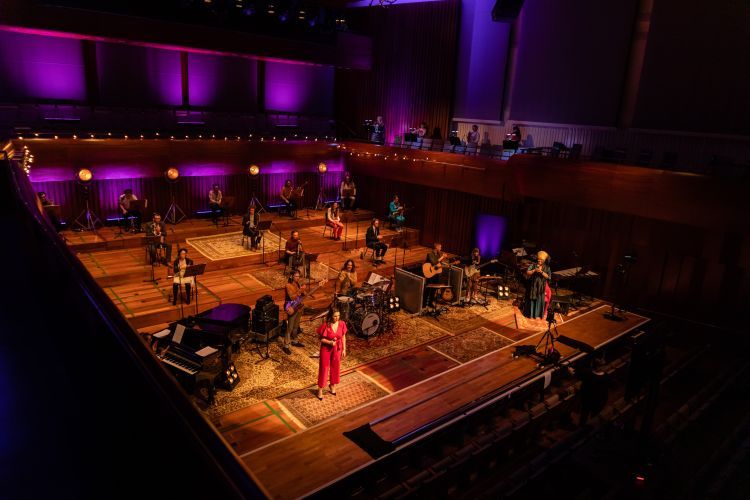 The Great British Songbook – The Beatles Reimagined (photo by Matthew Ferguson, FG Studios)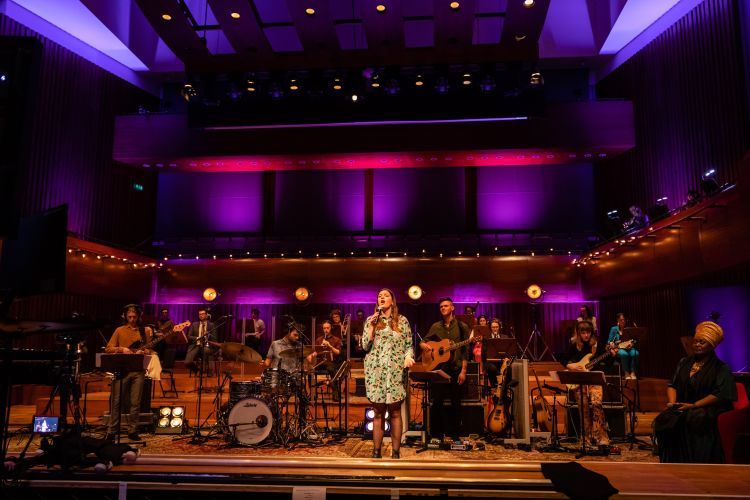 The Great British Songbook – The Beatles Reimagined (photo by Matthew Ferguson, FG Studios)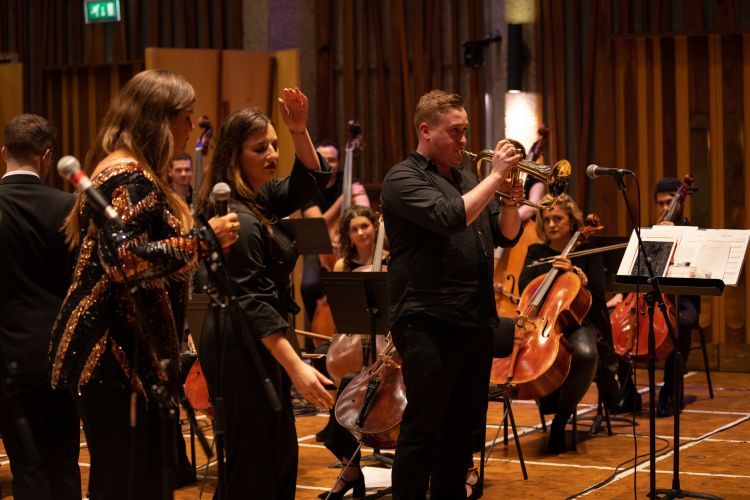 Guildhall Jazz Festival: Spotlight On Female Songwriters (photo by Sam Dye)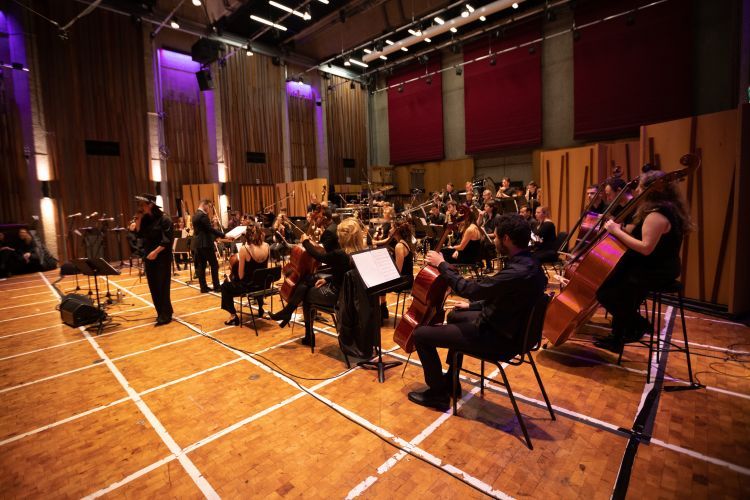 Guildhall Jazz Festival: Spotlight On Female Songwriters (photo by Sam Dye)