Guildhall Young Artists Online Young Composers
A unique opportunity for composers aged 14-18 to receive one-to-one tutoring, undertake workshops and hear their own composition performed by staff and students from Junior Guildhall and Guildhall School.
Apply by 22 September 2023 for entry in late September 2023. Late applications will be considered if spaces are available. Please get in touch if you have missed the deadline.
Apply Now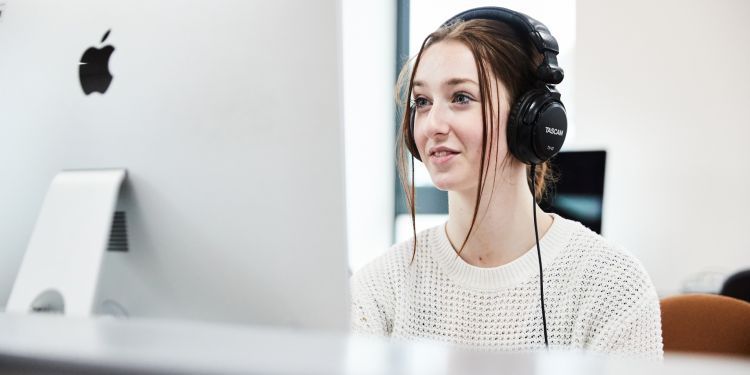 Key information:
Course dates:

Wednesday evenings (across three terms)

Course times:

5.30pm–7.00pm

Age:

14–18

Art form:

Music

Fees:

£1,395 for three terms

Level of study:

Short Courses & Summer Schools, Workshops & Saturday Centres (ages 4-18)

Mode of study:

Online

Contact details:
Course info
About Young Composers 
This is a unique opportunity for composers aged 14–18 to receive one-to-one tutoring, undertake workshops and hear their own composition performed by staff and students from Junior Guildhall and Guildhall School.
Who is it for?
Students aged 14–18 working towards GCSE or A Level Music and/or students hoping to enhance their composition skills outside of an exam environment.
Please be aware that the course is not GCSE/A-Level exam board specific. 
What can I expect? 
You will work with an experienced composition teacher on a one-to-one basis, in addition to taking part in an introductory and closing workshop led by esteemed Guildhall staff. The final workshop will include an opportunity for course tutors to explore and perform student compositions and offer valuable feedback.
Course Outline 
Term one
You will begin to develop your own writing style by composing for two instruments. Previous years have seen students writing for instruments such as flute and harp duo. 
Term two
You will continue to develop as a composer through working with lyrics and setting text to music by writing for solo voice and piano.  
Term three
You will conclude the year by culminating your skills by writing for small ensemble. Previous years have seen students write for horn, clarinet and violin.  
Please note that class content could be subject to change.
About the Course Tutors
The course leader is Paul Whitmarsh and the workshop leader is Jeffery Wilson.
Individual composition tutors will be from Junior Guildhall and greater GYA network.
Jeffery Wilson
Jeffery is Coordinator and Professor of Composition at Junior Guildhall, Professor of Saxophone at the Royal Military School of Music and an examiner for the music faculty at Cambridge University.  
He was a principal examiner in Jazz for Guildhall School for many years and is now adviser and examiner for Trinity College London.  
He studied at the RCM, Cambridge and Paris and numbers among his teachers John Lambert, Herbert Howells, Gordon Jacob, Aladar Majorossy and Olivier Messiaen. His performances and recordings range from jazz to classical and contemporary and he performs regularly with 'Saxology', 'Triptych' and for his own project 'The Reduced History of Jazz'. 
Of his more than 200 works in the repertoire, about half are published.  
Paul Whitmarsh
Paul teaches in the composition and academic music department at Guildhall School, and composition at Wells Cathedral School.
Paul read music at Clare College, Cambridge, before studying composition with Julian Anderson at the Royal College of Music. Music education is a huge passion, one that has its roots in three years as Composer-in-Residence at Bedford School between 2002 and 2005, and three subsequent years as Maingot Trust Fellow in New Music at The Warehouse, London.
Paul Whitmarsh's music has been performed at many festivals throughout the UK, including Aldeburgh, Spitalfields, Cheltenham, Deal, Hampstead and Highgate, Tête à Tête, the bmic Cutting Edge series, and the Park Lane Group New Year Series. Recent commissions include Lullaby for Choir and Organ magazine, premiered by the Joyful Company of Singers in 2010; Pealing Out, premiered by the Galliard Ensemble in 2009; and Berceuse in a Box for the 2007 Cheltenham Festival.
His compositions have also been performed by, amongst others, Elizabeth Watts, Huw Watkins, David Campbell, Alexandra Wood, Daniel Becker, Chroma, and the Warehouse Ensemble.
Do I need anything?
The means to notate your music and share it with teachers and instrumentalists. This can be done with notation software (such as Sibelius, Dorico or Musescore), or on manuscript paper that is scanned and uploaded (www.camscanner.com may assist).
A reliable internet connection
A computer/laptop/tablet with a microphone and a camera.
Your browser fully updated to be able to use the most recent version of Zoom (if using an Apple device we recommend installing an alternative browser such as Google Chrome or Mozilla).
Please ensure you are able to work in a well-lit and quiet environment so that your tutor is able to fully assess your work and performance.
Course information
Please see information about our course fees, term dates, absences and notice period below. 
Course Fee: £1,395 for three terms
By signing up to this class, you agree to sign up for three terms (September 2023–May 2024). Means-tested bursaries are available View our Finance and Funding page for more information. 
Autumn Term Dates 2023 (10 weeks) 
Classes will run from Tuesday 26 September – Saturday 9 December
Half term – no classes week of 23 October
Spring Term Dates 2024 (11 weeks) 
Classes will run from Tuesday 9 Jan – Saturday 30 March
Half term – no classes week of 12 February
Summer Term Dates 2024 (9 weeks)
Classes will run from Tuesday 23 April – Saturday 29 June
Half term – no classes week of 27 May
We regret it is not possible to give refunds in the event of absence as the Centre has to continue paying professional tutors and overheads. GYA Online expects as close to 100% attendance as possible, to ensure you develop and get the most out of your membership. Please refer to the Parent/Carer Agreement for the full terms and conditions.
In the event of authorised absences, students will be able to access recordings of classes.
GYA Online - Parent Carer Agreement - 2023-24.pdf
By signing up to the Music and Drama Course and Music Classes, you agree to sign up for three terms (September 2023–May 2024). If you wish to end the course early, half a term's notice must be given. 
This notice period is required to fulfil obligations to the professional tutors, pay for facilities and to encourage you to be fully committed to the courses chosen. 
Benefit from Guildhall Young Artists membership
As a member of GYA Online, you can expect exclusive opportunities, performances and workshops, including competitions, invites to concerts and gigs and performances from students at Guildhall School.