Guildhall Young Artists Norwich Music Course
Unleash your creativity with our Music Course for ages 8–18. Our most popular music programme will see you take part in a variety of weekly classes, tailored to your experience and interests. 
Sign up or take part in a free taster session
You are viewing:
About the Music Course
Key information:
Course dates:

Saturday term time

Course times:

9.00am–3.00pm (dependent upon class timetable)

Age:

8–18

Art form:

Music

Fees:

£270 per term (£27 per week)

Level of study:

Short Courses & Summer Schools, Workshops & Saturday Centres (ages 4-18)

Mode of study:

In-person

Venue:

City of Norwich School, Norwich

Contact details:
Intro text
Whether you simply want to spend a few hours making music with likeminded friends or are thinking about taking your passion for music a step further, you can be sure to ignite your creativity and have lots of fun, whilst learning from top practitioners and industry professionals.
You will be put into a group depending on the interests stated in your application form to ensure that sessions are tailored to your experience. Sessions will cover multiple genres and styles, including classical, jazz, rock & pop and singing. 
Timings for the Music Course are subject to the classes chosen. Most students following the Music Course attend from 9.30am – 2.30pm each Saturday.
Want to take part in both Music and Drama Classes? No problem! 
Students on our Music Courses are invited to access classes from our Drama Course at no extra cost. Please view our Drama Course page to see the list of classes on offer.
Looking for private tuition with one of our expert tutors? Book a 30-minute instrumental or vocal lesson*, to be taken alongside one of our courses.
Register your interest when signing up for a course. 
Our Ensemble Only Course is a good option for those who are unable to commit to a whole morning. Choose one group classes (45 minutes) from the Classes and Ensembles listed below. 
Fees
£270 per term (£27 per week) 
With one-to-one lesson
Add an individual 30-minute instrumental or vocal lesson (subject to availability) for an additional £23 per Saturday + the cost of the Music Course
Payment Schedule
We ask you to pay termly and once you've settled in we ask for half a term's notice if you decide not to continue. 
Four Week Trial 
All new students will be given a four-week trial period (payable) if they have joined Guildhall Young Artists Norwich in the first five weeks of the term. Please see full terms and conditions on our finance and funding page.  
Bursaries
We offer a large number of bursaries to attend GYA Norwich, including travel to our centre.  Please don't hesitate to get in touch and ask about these – it's entirely confidential and we keep the application process as simple and quick as possible.
Autumn Term
Saturday 16 September – Week 1
Saturday 23 September – Week 2
Saturday 30 September – Week 3
Saturday 07 October  –     Week 4
Saturday 14 October –      Week 5
Half-term – (no sessions on Saturday 21, 28 October & 4 November)
Saturday 11 November  – Week 6
Saturday 18 November – Week 7
Saturday 25 November – Week 8
Saturday 02 December – Week 9
Saturday 09 December – Week 10 (GYAN Junior & Intermediate Concert)
Spring Term
Saturday 06 January – Week 11
Saturday 13 January – Week 12
Saturday 20 January – Week 13
Saturday 27 January – Week 14
Saturday 03 February – Week 15
Saturday 10 February – Week 16
Half-term – (no sessions on Saturday 17 & 24 February)
Saturday 02 March – Week 17
Saturday 09 March – Week 18
Saturday 16 March – Week 19
Saturday 23 March – Week 20
Summer Term
Saturday 20 April – Week 21
Saturday 27 April – Week 22
Saturday 04 May – Week 23
Saturday 11 May – Week 24
Saturday 18 May – Week 25
Half-term – (no sessions on Saturday 25 May & 1 June)
Saturday 08 June – Week 26
Saturday 15 June – Week 27
Saturday 22 June – Week 28 (No session Saturday 29 June)
Saturday 06 July –  Week 29 
Saturday 13 July –  Week 30  
We regret it is not possible to give refunds in the event of absence as the Centre has to continue paying professional tutors and overheads. GYA Norwich expects as close to 100% attendance as possible, to ensure you develop and get the most out of your membership.
Half a term's notice is required to stop attending (except in exceptional circumstances). This notice period is required to fulfil obligations to the professional tutors, pay for facilities and to encourage you to be fully committed to the courses chosen.  
Classes and Ensembles
You will be given a tailor-made timetable before your start date, which will be based on your interests and experience. This will be updated as you progress and develop your musical interests. 
Classes and ensembles are offered in the following:
Aural Skills - Polly Fenn
Put simply Aural Training is 'ear training': a set of exercises designed to develop and improve listening skills. It broadens a student's overall musical awareness, but it is also of particular use when the student is preparing for an exam (usually at least one term ahead of an exam is recommended, according to need: more for higher grade exams). The session is led by the tutor from the piano and involves the student responding verbally to set questions put by the tutor, after having listened to extracts of music (they won't need to play their instrument for these exercises).
Beginner Brass & Wind
Info to follow......
Intermediate Brass with Tom Carr
A brass group for young players to try out some fun pieces whilst developing the skills needed to play together to produce a great band sound.  All Brass instruments are welcome.
Advanced Brass with Tom Carr
Info to follow......
Brass Quintet with Tom Carr
This is a more advanced group for 5 players and entrance is by audition.
GYA Norwich String Quartets and String Chamber Music are coached by Emily Sheldrake, who has performed, recorded and toured Europe with many of the country's leading baroque orchestras including the Academy of Ancient Music, Gabrieli Consort and players, Hanover Band and Fiori Musicali.
Choir with Laura Morgan
The emphasis for GYA Norwich choir is on having fun whilst students develop their vocal skills, covering a range of repertoire and styles and learning to sing together in harmony and different parts. It is also the perfect opportunity to mix with other students from outside their own instrumental groups.
Chamber Choir with Laura Morgan
Aimed at more experienced singers, Chamber Choir offers students the opportunity to receive high quality vocal training. Repertoire is varied and during rehearsals students are encouraged to develop part singing and sight-reading skills.
Musical Theatre Choir with Laura Morgan
Info to follow.....
The Composition classes are run by David Stowell, a classically trained award-winning composer that now spends most of his time writing for TV and Film. This includes the 2021 chart-topping film Ashens and the Polybius Heist, for which he composed the music score. He has won awards in Spain, Canada, Japan, France and South Korea as well as the UK.
Opportunities for composition can be difficult to find for young musicians so we have highlighted this as an area for development at GYA Norwich.
David Stowell offers both individual and group sessions, and composition students have the luxury of over 100 instrumentalists and singers to work with, giving them the opportunity to hear their works both in progress and final performance!
Guildhall also supports young composers through the Guildhall Young Artists scholarship and strong links with the composition department.
Fusion Band with GYAN Tutor Simon Limbrick provides an opportunity for music-making that combines many different disciplines, musical styles and genres. The repertoire includes the creative use of musical ideas from music found in other cultures, and includes a wider view of Western music, such as classic Progressive Rock, Electronic Pop, and experimental scores that incorporate music technologies. The musical activity is not dominated by the need to read notation, and players use guitar-tab and other graphic methods when necessary.
The instrumental line-up can include most kinds of instrument from different musical contexts, and is an opportunity for musicians develop their skills on instruments such as electric guitar, synthesiser, laptop-based software, as well as instruments such as the ukulele and Indian tabla.
So far, the Fusion Band has performed music by the Mahavishnu Orchestra, Alan Holdsworth, Herbie Hancock, Gary Numan and Jean-Michel Jarre, with other pieces composed and improvised by the participants. The choice of repertoire is influenced by the ideas of the performers and their enthusiasm and interests guide the artistic direction of the band sessions.
The Fusion Band provides and opportunity for musicians, with a broad range of musical skills, to create and perform contemporary musical repertoire using classical, non-classical and music technologies.
Guitar Group with Kit Cecconi
Guitar Group is open to Guitarists of around grade 2+ standard.  It is a great opportunity to meet and play with other Guitar players in a group to perform a range of music from Dowland to Bowie!
Improvisation with Simon Limbrick
GYA Norwich offers a great opportunity for musicians to develop their ability to improvise and compose their own music. Under the direction of Simon Limbrick  students develop composition and collaborative skills working together to produce an improvised performance using their chosen instrument/voice.
Beginner - Intermediate Jazz with Geraldine Evans & Ewan Duffus
Intermediate - Advanced Jazz with Geraldine Evans & Ewan Duffus
Advanced Jazz Band with Ewan Duffus
A chance for our more advanced players (Grade 5+)  to play a wide range of music in a smaller group.
GCSE/A Level Support 
Music Theory 
Music Appreciation with Ewan Duffus
Music Exam/Mock/Audition Prep/HE Applications Coaching with Geraldine Evans
These classes are designed to support students who would like to find out more about music history and styles.  They may be taking exams at school or perhaps GCSE/A level classes are not available to them.  The emphasis is on working with local schools and individual students to establish where extra tuition would be beneficial and then supporting young musicians to improve their knowledge and grades.
Music Discovery with Stella Calver
Using age-appropriate songs and games, slightly older children will explore more advanced elements of musicianship, leadership and collaborative music making skills that they can also take into ensemble playing.  This class works particularly well when taken along with our Music Workshops and for those joining our Choirs, Beginner Ensembles and starting 1:1 tuition in an instrument.
Musician Workshops with Annely Viigipuu
This is an active workshop that is ideal for those aged 9 – 13 to gain a solid grounding in musicianship and knowledge whilst having lots of fun.  Learn, for example, about notation, theory, composition and dynamics through fun, practical tasks with lots of creativity, group work and lively discussions.  It is a great way to make new friends and is recommended for new joiners because it is so interactive.
GYA Norwich has a dedicated pathway which supports students from a young age as they develop the skills necessary to reach the concert platform.
Intermediate & Advanced Concert Orchestra with David Stowell
Saturdays 12:45 – 1:45pm
Concert Orchestra meets weekly and offers the perfect space to learn how to play together in an orchestra. Students usually join around grade 4+ standard and many will have played in other ensembles  first.   The orchestra play a wide range of music which sometimes includes original compositions by GYA Norwich  staff and students!
Norfolk County Youth Orchestra with Andrew Morley (conductor)
Norfolk County Youth Orchestra was established in 1959 and is recognised as a vibrant and successful county youth orchestra.  Working closely with GYA Norwich the orchestra offers workshops and courses for all players in Norfolk of around grade 6+ standard.
To find out more and to apply for a place please visit to the NCYO page here.
Percussion with Simon Limbrick
Percussion is a great opportunity for those wanting to develop their tuned percussion skills. The group includes a large range of orchestral instruments (including piano) and is a brilliant opportunity to improve rhythmic and sight-reading skills.  This group is also beneficial to other instrumentalists, particularly pianists, who want to play in an ensemble.
Introduction to Keyboard Ensemble with Stella Calver
Piano lessons with Steve Gebbett, Ewan Duffus & Karen Smith
GYA Norwich has several piano teachers offering a range of styles and options from beginners to young professionals.  Students are allocated to an appropriate tutor depending on their stage of learning and interest in musical style.
Advanced Keyboard & Piano Accompaniment with Steve Gebbett
This class is aimed at pianists who already have a reasonable level of fluency and wish to develop their sight-reading and ensemble skills. Grade 6+.
Introduction to Strings Ensemble with Annely Viigipuu
Beginner Strings with Elisabet Buckland
Prelude Strings provide an introduction to ensemble playing for young students of approx. grade 1 and above and the emphasis is on performing together to develop ensemble skills whilst having fun. Students are encouraged to be responsible for making sure they learn their own parts and develop good technique.
Intermediate Strings with Helen Barber
This group is aimed at students who are around grade 3 and above. The music is varied and includes lots of fun arrangements of favourite tunes.
Intermediate Lower Strings with Ingrid Perrin
If you're a cellist and the sound of many cellos playing together appeals to you, or you're a double bassist but haven't quite found your ensemble yet, this is the group for you.
In Intermediate Lower Strings you will quickly elevate your ensemble skills via a selection of exercises and pieces arranged by Ingrid for the group, from folk songs to rounds via ballroom waltzes, Handel, Sigur Rós and more.  We also weave in aspects of instrumental technique, practical theory, sight-reading and improvisation, and sometimes learn a piece by ear as well as using conventional notation, taking a truly holistic approach to musical development.  There are regular performances to peers and family to share achievements. 
Grade 3 upwards but please talk to the tutor if you're unsure of levels - a strong Grade 2 player would be at home in this group.
Advanced Strings with Emily Sheldrake
Senior strings invites students who have a level of grade 6 and above.  Professional violinist Hannah Perowne introduces players to favourite works for string ensemble by well-known composers.
String Quartets with Emily Sheldrake
Students will need to audition for quartets which are for more advanced string players.  As a guest artist with the internationally acclaimed Henschel Quartet, Emily  introduces students to some of the most loved and established string quartet repertoire as well as more modern works.
Sonic Arts with GYA Norwich tutor Simon Limbrick, focuses on the 'live' use of electric instruments. 
Topics include sound processing and editing, sampling and control of 'live' music technology interfaces.* Students will get hands-on experience using a range of hardware that includes effects pedals, sound boards, computers, samplers and loopers.
The 'live' aspect of the sessions means that musicians who are focussed on music technologies to create and perform their ideas, will be able to integrate into other musical activities and ensembles. For example, someone learning about an electronic instrument could also play as part of a jazz ensemble, or a perform on a laptop with a string ensemble.
*Software includes Ableton Live, Audacity, Ocenaudio, Reaper, Pure Data, Logic, Cubase and MaxMSP.
Introduction to Wind Ensemble with Rachel Cannon
Beginner Brass & Wind
Intermediate Wind with Grace Duthie
Intermediate wind is a woodwind group for players who have a level of grade 1 and above.  The music is varied and includes lots of fun arrangements of favourite tunes.
Advanced Wind with Rachel Cannon
The emphasis is on Players in this group are mostly at grade 4 and above.  The emphasis is on developing ensemble and listening skills using a range of music and styles, which include some established and familiar wind repertoire alongside special arrangements for the group.
Flute Choir with Vicky McCardel
Open to all Flute players from approx. grade 2 standard, Flute choir covers a whole range of musical styles all specially written for a choir of Flutes.
Advanced Clarinet Choir with Rachel Cannon
Weekly classes for advanced clarinet players. Suitable for Grade 5+ students. 
Music Course Timetable Examples:
| | | |
| --- | --- | --- |
| Music Discovery (8-11 years) |   |   |
| Beginner & Intermediate Choir | 10:00 | 10:45 |
| Break 1 | 10:45 | 11:00 |
| Beginners Music Discovery | 11:00 | 11:45 |
| Beginner Wind Ensemble | 11:45 | 12:30 |
| Break 2 |   |   |
| Beginner Introduction to Instruments | 12:45 | 13:15 |
| | | |
| --- | --- | --- |
| Beginner Brass |   |   |
| Beg & Int Music Workshops | 10:00 | 10:45 |
| Break 1 | 10:45 | 11:00 |
| Beg & Int Percussion | 11:00 | 11:45 |
| Beginner Brass & Wind | 11:45 | 12:30 |
| Break 2 | 12:30 | 12:45 |
| Beg & Int Jazz | 12:45 | 13:30 |
| Beg-Adv Impro Band (All Instruments) | 13:30 | 14:15 |
| | | |
| --- | --- | --- |
| Intermediate Strings |   |   |
| Int & Adv Percussion | 10:00 | 10:45 |
| Break 1 | 10:45 | 11:00 |
| Intermediate String Chamber Music | 11:00 | 11:45 |
| Intermediate Strings | 11:45 | 12:30 |
| Int & Adv Concert Orchestra | 12:45 | 13:30 |
| | | |
| --- | --- | --- |
| Advanced Wind |   |   |
| Advanced Chamber Choir | 09:15 | 10:00 |
| Int & Adv Flute Choir | 10:00 | 10:45 |
| Break 1 | 10:45 | 11:00 |
| Intermediate Composition   | 11:00 | 11:45 |
| Advanced Wind  | 11:45 | 12:30 |
| Break 2 | 12:30 | 12:45 |
| Int & Adv Concert Orchestra | 12.45 | 13:30 |
| | | |
| --- | --- | --- |
| Guitar Player Grade 5 |   |   |
| Intermediate Music Theory | 09:00 | 09:30 |
| Composition for GCSE & Level Music | 10:00 | 10:45 |
| Break | 10:45 | 11:00 |
| Int & Adv Music Appreciation Skills | 11:00 | 11:45 |
| Guitar Lesson | 11:45 | 12:15 |
| Break 2 | 12:30 | 12:45 |
| Beg-Adv Fusion Band (All Instruments) | 12:45 | 13:30 |
| Int & Advanced Jazz Big Band   | 13:30 | 14:15 |
| Advanced Jazz | 14:15 | 15:00 |
| | | |
| --- | --- | --- |
| Violin Player Grade 3 |   |   |
| Beg - Adv Musical Theatre | 09:30 | 10:30 |
| Intermediate String Chamber Music | 10:30 | 11:30 |
| Break | 11:30 | 11:45 |
| Intermediate Strings | 11:45 | 12:45 |
| Int & Adv Concert Orchestra | 12:45 | 13:30 |
| Violin Lesson | 13:30 | 14:00 |
Ensemble Only Timetable Example:
| | | |
| --- | --- | --- |
| Clarinet Player Grade 7 |   |   |
| Advanced Clarinet Choir | 14:15 | 15:00 |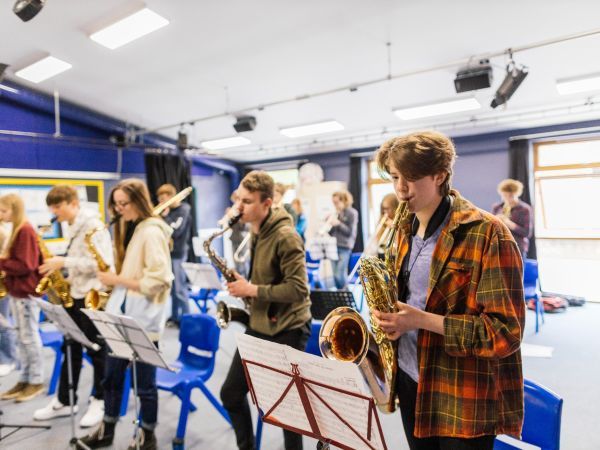 "The tutors are friendly and enthusiastic, we get to be creative, learn lots and have fun with improvisation!"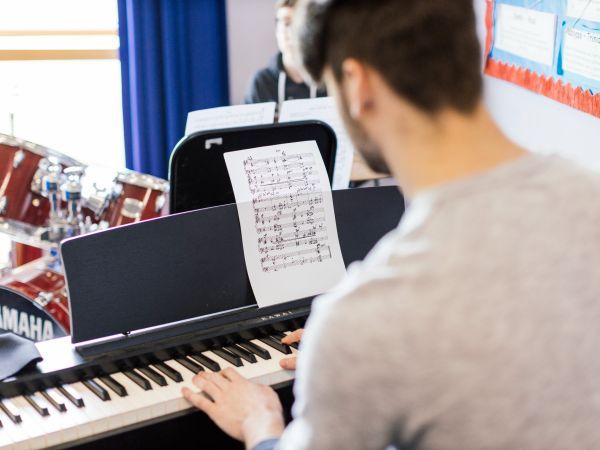 "To have been awarded the Leverhulme bursary (by Guildhall School), has assisted me to no end in my musical career. The opportunities it opened has led me on a diverse musical journey... none of which would have been possible without the support of this bursary, which I truly believe has shaped my path as a musician and composer, and pushed me to achieve the highest level I can."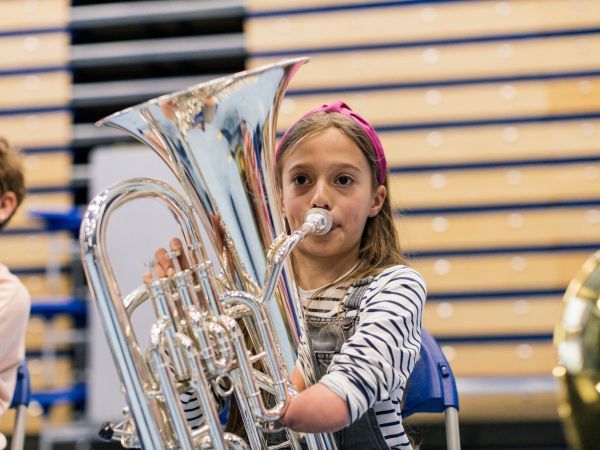 "Having a Guildhall Young Artist bursary has enabled GYA Norwich to be affordable for my family and having visits from students at Guildhall has made sessions very engaging and inspiring."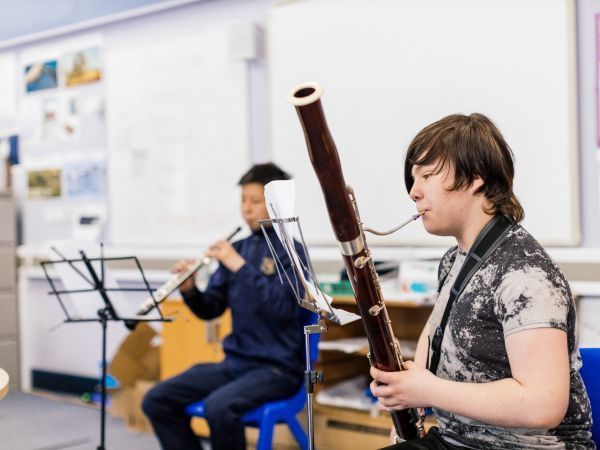 "Guildhall Young Artists Norwich has helped me to discover countless pieces of classical music, and increase my playing ability."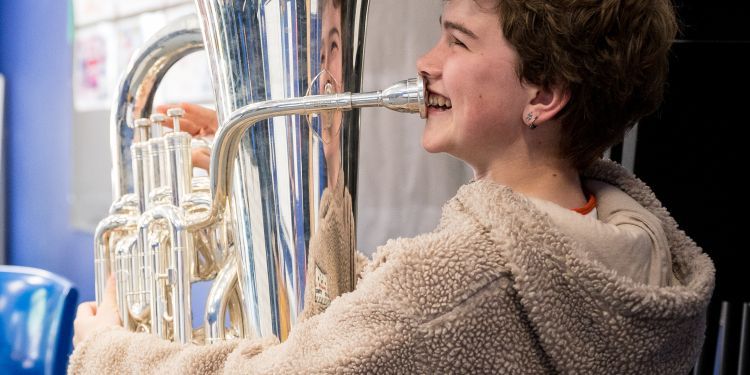 Benefit from Guildhall Young Artists membership
As a member of GYA Norwich, you can expect exclusive opportunities, performances and workshops, including competitions, invites to concerts and gigs and performances from students at Guildhall School.