Junior Guildhall Kindergarten Course
A two year programme for children in Reception and Year 1 which sits under the umbrella of the Brass and String Training Programmes. The course consists of classes in Kodály and Rhythmics.
Applications for entry in September 2023 are now closed.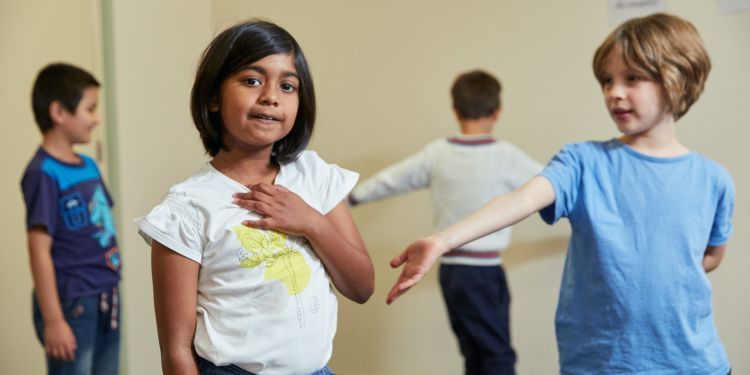 You are viewing:
About the Kindergarten Course
Key information:
Art form:

Music

Deadline:

1 March 2024 for September 2024 entry

Level of study:

Short Courses & Summer Schools, Workshops & Saturday Centres (ages 4-18)

Mode of study:

In-person

Contact details:
About the Kindergarten Course
The Junior Guildhall Kindergarten Course is a two year programme for children in Reception and Year 1 which sits under the umbrella of the Brass and String Training Programmes. The course consists of classes in Kodály and Rhythmics.
Our Kindergarten Course is regarded as an adventure by children and parents alike, allowing children to enjoy their first musical experience through class activities. The games and exercises employed are designed to make learning fun within a structured environment.
The Kindergarten Course aims to inspire the desire to be involved in music-making and provides a highly effective platform from which children can move onto the study of an instrument.
Students can apply to join the Junior Guildhall Kindergarten Course for entry in Reception Year at either one of our two sites: our central London home in Prior Weston School, by the Barbican, or our Essex location at Brentwood School. When applying online, please ensure you have selected 'Junior Programmes' followed by either 'Kindergarten Course' (for London applications) or 'Kindergarten Course at Brentwood' before starting your application form.
Parents are asked to sign an agreement before accepting a Junior Guildhall place. Find out more about our terms and conditions below. 
These notes are taken from the Agreement parents sign when accepting a Junior Guildhall place. If you would like a copy of the Agreement please contact the Junior Guildhall office.
Junior Guildhall students are not permitted to participate in masterclasses or take instrumental lessons outside the School (unless with the student's Junior Guildhall teacher) on instruments studied at the School unless permission is granted by the Head of Junior Guildhall.
 
The full annual fee will vary according to any timetable requests made and the first instalment of fees must be paid prior to the commencement of tuition.
 
Students are expected to remain at Junior Guildhall for a full academic year (or remainder of the academic year if tuition commenced after the start of the year). If a student is withdrawn from the course at any time during the year, the full annual fee (or proportion of annual fees if the student started after the commencement of the academic year) will still be payable unless dispensation has been granted by the Head of Junior Guildhall. If a parent wishes to withdraw a student at the end of the academic year, notice must be given in writing to the Head of Junior Guildhall no later than 1 April.
 
Students are accepted into Junior Guildhall on the understanding that they make satisfactory progress and that they attend regularly. When students wish to be absent, permission must be requested in writing the Head of Junior Guildhall. Students should not arrange other activities on a term time Saturday or concert day until permission for absence has been granted by the School.
 
Please note that we do not give students permission to miss concerts/performances or important rehearsals.
 
Leave of absence will normally be granted for days when a student is not involved in a concert/performance, an important rehearsal, an internal assessment or other important event. Repeated absence can be detrimental to a student's musical progress and very disruptive to ensemble work. For this reason, the Head of Junior Guildhall will normally only grant a student one absence per term. Absence from Saturdays may reduce a student's chances of participation in Chamber Music. Written requests for absence should be made as early as possible.
 
In the interest of all students, Junior Guildhall concerts and performances must have priority over any outside engagements that students may be offered. Principal concert dates are available from the Administrator more than a year in advance.
 
The Office should be informed as soon as possible if a student is ill so that relevant teachers can be notified.
 
The School occasionally arranges for photographs to be taken of the students. This is carried out in an unobtrusive manner and may be used for record and archival purposes. Junior Guildhall will seek separate permission if the images are to be used in the prospectus or in other published material and/or multi-media relating to the School.
These notes and conditions are subject to change from time to time. Parents will be notified in writing in advance of any such changes. On accepting a place, parents will receive a Handbook which details Junior Guildhall's procedures and policies.
Entry Requirements
The application period for entry in September 2023 has now closed. We are unable to accept any further Kindergarten applications.
Applications for students entering Reception Year in September 2024 will be accepted from January 2024 to 1 March 2024. Please note that these are children who have their fifth birthday on or between 1 September 2024 and 31 August 2025.
No prior musical training is necessary. There are a limited number of spaces available at both sites, which are filled via a process of random selection. Those not initially successful in gaining a place will be kept on a waiting list, should a space become available. The closing date for applications is 1 March for entry the following September.