Centre for Young Musicians Full Programme
Our Full Programme for ages 8–18 is packed full of classes and musical activities, covering multiple genres and styles.
Applications for entry in September 2023 are now closed. Late applications will be considered if spaces are available. Please get in touch if you have missed the deadline.
Enquire about a late application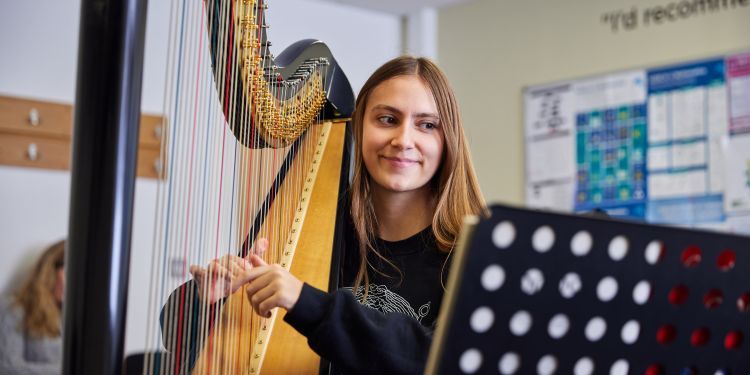 Key information:
Course dates:

Saturday term time

Course times:

9am-5pm

Age:

8–18

Art form:

Music

Fees:

Fees for 2023/24 will be confirmed in Spring 2023

Level of study:

Short Courses & Summer Schools, Workshops & Saturday Centres (ages 4-18)

Mode of study:

In-person

|

Music Centres

Venue:

Morley College, London Waterloo

When:

Saturdays

Contact details:
About the Full Programme
Our Full Programme for ages 8-18 is packed full of classes and musical activities, covering multiple genres and styles. These include classical, jazz, folk, song writing and music technology. 
Students on our main programme can be expected to play in at least one ensemble, (depending on the level of skill, attainment and musical interest shown at audition) sing in a choir and attend a supporting studies class each Saturday. They will also receive a 30-minute one-to-one lesson. Lessons can be extended to 45 or 60 minutes when appropriate, at extra cost. 
 
Ideal for those who simply want to spend a few hours making music with newfound friends or are thinking about taking their passion for music a step further. Students can be sure to ignite their creativity and have lots of fun, whilst learning from top practitioners and industry professionals. 
All students are encouraged to take the Full Programme but may wish to continue having their individual lessons outside of CYM, while participating in all other class activities. Students who are interested in doing so should speak with the Head of Department for their first study instrument.  
 
Please note, this option is not available for first study pianists.  
Timings for both programmes are subject to the classes taken and will be confirmed after a place has been offered.  
We welcome all levels of experience but recommend that applicants applying for any of our courses/programmes, excluding Primary Years, Taster Course or Youth Brass have a minimum of one year learning an instrument, singing or composing. 
Applicants will be assessed via the answers on their application form and audition.
Upon receipt of your application, a friendly member of our team will be in touch to invite you for audition.
Auditions are relaxed and informal, with applicants being put at ease as much as possible. You will be asked to present five minutes of music with a variety of content. This can be two short contrasting pieces or one longer piece. Please choose music you know well so that you can feel comfortable and play at your best.
You will be asked to tell us about your favourite types of music and about any performances you may have seen or taken part in.
You may also be asked to sight-read, play some scales, and do some ear tests appropriate to your level of experience. 
Fees 
Fees for 2023/24 will be confirmed in Spring 2023  
Payment schedule 
We ask you to pay termly or by 10 monthly standing order instalments. We ask for a term's notice if you decide to withdraw at any point. 
Bursaries 
We offer means tested bursaries for participation in our Full Programme. Following the offer of a place, these can be applied for if your household income falls under £48,000. Please get in touch with elaine.lewis@gsmd.ac.uk if you have a query about our bursaries – it's entirely confidential and we keep the application process as simple and quick as possible.  
Spring Term Dates 2023 
Saturday 7 January
Saturday 14 January
Saturday 21 January
Saturday 28 January
Saturday 4 February
Half-term (no session on 11 February) 
Saturday 18 February
Saturday 25 February
Saturday 4 March
Saturday 11 March
Saturday 18 March
Saturday 25 March - Annual Concert 
Summer Term Dates 2023 
Saturday 22 April 
Saturday 29 April 
Kings Coronation (no session on 6 May)
Saturday 13 May
Saturday 20 May 
Half-term (no session on 27 May & 3 June)
Saturday 10 June
Saturday 17 June
Saturday 24 June
Saturday 1 July
Saturday 8 July
Saturday 15 July
We regret it is not possible to give refunds in the event of absence as the Centre has to continue paying professional tutors and overheads. CYM expects as close to 100% attendance as possible, to ensure you get the most out of your studies. 
A full term's notice is required to stop attending CYM. This notice period is required to fulfil obligations to the professional tutors, pay for facilities and to encourage young participants to be fully committed to the courses they've chosen.