Global Guildhall
We are a world-leading institution in music, drama, and production arts.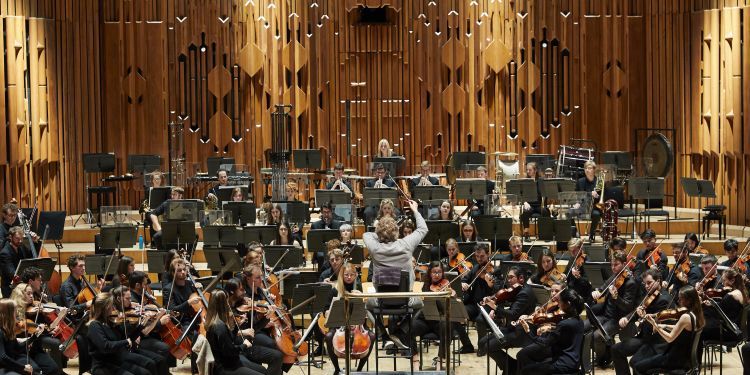 Our International Profile
Guildhall is recognised as one of the world's leading conservatoires and drama schools, performing exceptionally in national and international rankings.
The School is ranked first in Arts, Drama & Music by the Complete University Guide 2024, for the second year in a row. The Complete University Guide League Table is based on data from the National Student Survey, Research Excellence Framework and the Higher Education Statistics Agency, with the Arts, Drama and Music League Table ranking specialist colleges and conservatoires. The School is also ranked first for Music in the Guardian University Guide league table, and is ranked in the top ten performing arts institutions in the world in the QS World University Rankings 2023.
Rated Gold in the Teaching Excellence Framework, the School is a global leader of creative and professional practice which promotes innovation, experimentation and research. Of the 1,000 students across our higher education programmes, 35% come from outside Britain, bringing a truly global outlook to what we do.
This elite reputation is supported by global collaborative activity, impactful research, and a network of notable alumni across the world including leading classical musicians, successful Hollywood actors, and industry leaders in film and theatre production.
You can filter articles on our news page by 'international' to see examples of global projects in your region and beyond.
Regular international events include visits to partner institutions; international auditions in New York and cities across Asia; masterclasses delivered by visiting staff; and our biennial concert by senior musicians in Carnegie Hall, New York. We also welcome visiting staff and musicians from across the world for masterclasses and performances.
The School participates in numerous influential committees, research groups, and local and international networks which guide policy, research, and practice in arts education. We also have a wide network of prestigious partner institutions who work with us on study abroad opportunities, collaborative research, joint productions, and a double degree.
Our students have had the chance to perform in exclusive local and global venues such as Carnegie Hall, the Barbican Hall, LSO St Luke's, King's Place, Wigmore Hall, the Southbank Centre, Aldeburgh Festival and the Banff Centre.
Guildhall School attracts influential talent from across the world, and our staff and students have presented their work globally before, during, and after their time with us. Our alumni pages feature details of our graduate culture, including biographies of some of our most recognisable alumni and our staff pages feature profiles of our esteemed senior staff, professors, and teaching staff in music, drama, and production arts. The majority of our teaching staff work and perform internationally, conducting masterclasses and international auditions, touring performances, and more.