Guildhall Young Artists Taunton Ensembles Only Course
Unleash your creativity with our Ensemble Only Course for ages 10–18. Students get to choose two ensembles from our most popular music course to attend each week. 
Sign up or take part in a free taster session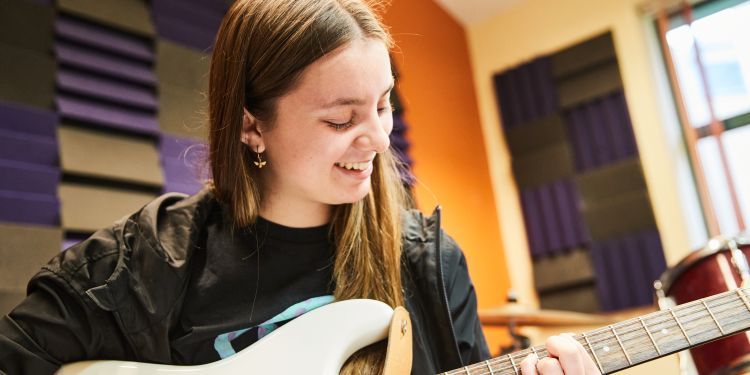 Key information:
Course dates:

Saturday term time

Course times:

9am–1.15pm (dependent upon class timetable)

Age:

10–18

Art form:

Music

Fees:

£240 per term (£24 per week)

Level of study:

Short Courses & Summer Schools, Workshops & Saturday Centres (ages 4-18)

Mode of study:

In-person

Venue:

Richard Huish College, Taunton

Contact details:
About
Our Ensembles Only Course is a good option for those who are unable to commit to a whole morning. Choose from two group classes (35-45 minutes each) of the ensembles we have on offer from our most popular Music Course. It's a wonderful way to enjoy playing with others whilst still benefiting from the expert tuition at Guildhall Young Artists Taunton.
Ensembles are offered in the following: 
Band practice 
Brass Group
Jazz Band 
Junior Woodwind Group
Orchestra  
Percussion Group
Senior Woodwind Group
Singing Ensemble
Strings Group
Timings for the Ensembles Only Course are subject to the ensembles chosen. Ensembles run from 9am – 1.15pm each Saturday.
Please select the Ensembles Only Course on the application form and we'll be in touch with you to confirm which ensembles you would like to try. If you are interested in trying two ensembles during a free taster session, please let us know via the free taster session form.  
Fees 
£240 per term (£24 per week) 
With one-to-one lesson 
Add an individual 30-minute instrumental or vocal lesson (subject to availability) for an additional £23 per Saturday + the cost of the Ensembles Only Course
Payment schedule
The course or courses signed up for will be charged for the term. The number of sessions that will need to be paid for will depend on the number of sessions left in the term. Please see our term dates for information. 
After the first term has finished, sessions will be charged termly.
Five Week Trial 
All new students will be given a five-week trial period (payable) if they have joined Guildhall Young Artists Taunton in the first five weeks of the term. Please see full terms and conditions on our finance and funding page.  
Bursaries
We are able to offer two different bursaries thanks to the generosity of Guildhall Young Artists and Sound Foundation Somerset, the music education hub for Somerset (with funds from Arts Council England), which both have different criteria. These are means-tested and will enable students to have some or all of their class fees paid for. Travel bursaries are available for students who live in West Somerset. Please refer to our finance and funding page for more information. 
Autumn Term 2023
Saturday 9 September - Open Day 9am – 12pm
Saturday 16 September - Term starts
Saturday 23 September
Saturday 30 September
Saturday 7 October
Half Term – no classes on 14 & 21 & 28 October
Saturday 4 November
Saturday 11 November
Saturday 18 November
Saturday 25 November
Saturday 2 December
Saturday 9 December
Spring Term 2024
Saturday 6 January
Saturday 13 January
Saturday 20 January
Saturday 27 January
Saturday 3 February
Half Term – no classes on 10 & 17 February
Saturday 24 February
Saturday 2 March
Saturday 9 March
Saturday 16 March
Saturday 23 March
Summer Term 2024
Saturday 20 April
Saturday 27 April
Saturday 4 May
Saturday 11 May
Saturday 18 May
Half Term – no classes on 25 May & 1 June
Saturday 8 June
Saturday 15 June
Saturday 22 June
Saturday 29 June
Saturday 6 July
We regret it is not possible to give refunds in the event of absence as the Centre has to continue paying professional tutors and overheads. GYA Taunton expects as close to 100% attendance as possible, to ensure you develop and get the most out of your attendance.
A full term's notice is required to stop attending (except in exceptional circumstances). This notice period is required to fulfil obligations to the professional tutors, pay for facilities and to encourage you to be fully committed to the courses chosen.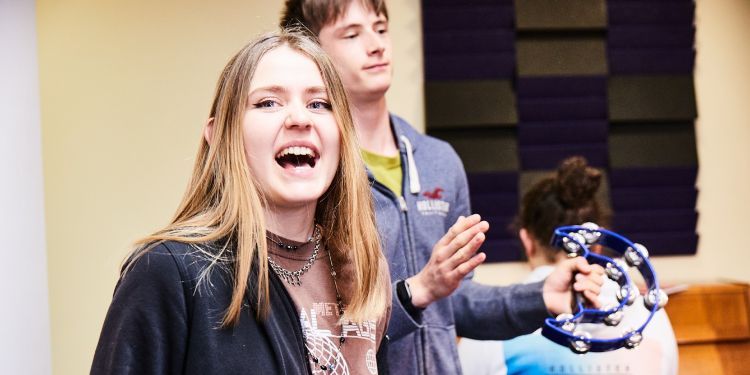 Benefit from Guildhall Young Artists membership
As a member of GYA Taunton, you can expect exclusive opportunities, performances and workshops, including competitions, invites to concerts and gigs and performances from students at Guildhall School.