Professor Julian Philips and Professor Stephen Plaice reach new audiences and harness music as a tool for language education in primary schools with their opera for children, 'Henny Penny'
A body of work by researchers at Guildhall School of Music & Drama, developed over a decade, has been awarded the highest possible grade in the Research Excellence Framework. This research promotes opera as a vehicle for cultural inclusion and education beyond music and drama.
A series of operatic works by Professor Julian Philips (Head of Composition), latterly with Professor Stephen Plaice (playwright and librettist), culminated in Henny Penny (2020).  Building on their education-in-opera approaches to explore opera-as-education, Henny Penny explores the possibilities for opera to support not only music but also modern languages teaching in years five and six.
An in-school production requiring minimal resources, Henny Penny is a participatory opera whose research and development explored the various models of opera education and outreach to determine how opera can best support modern language learning and cross-curricular approaches in primary education generally. Any participating school can create and perform its own Henny opera in a range of languages: French (Cocotte Chocotte), German (Hennig Pfennig), Spanish (Pollita Chiquita) or Italian (Sabrina Gallina) as well as English (Henny Penny). The adaptation of the folk tale of Henny Penny provides a thorough immersion in language by being 'through-composed' and by casting the children as commenting chorus and characters, interacting with the central figures of Henny Penny and Fox Lox and a clarinet/violin/piano ensemble.
So far children at six schools have participated in performances. For native English speakers encountering Henny Penny, the embodied and rhythmic nature of operatic performance enabled swifter embedding of language learning. For those with English as an additional language, the opportunity to work in (i.e. not simply on) their first language, or for language to be equally foreign to their peers, was transformative.
Henny Penny was originally jointly funded by the Guildhall School of Music and Drama and a consortium led by the University of Manchester using a c.£4m grant from the Arts and Humanities Research Council's Open World Research Initiative. It fed into a wider research project, 'Cross-Language Dynamics: Reshaping Community'.
Henny Penny, an opera for children (2020)
For mezzo-soprano, tenor or baritone, children's voices, violin, clarinet and piano
Libretto: Stephen Plaice
Duration: 25 minutes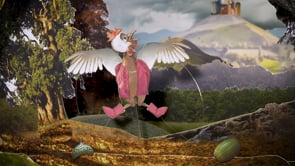 Schools wishing to stage their own performance can access digital resources.