Handel Cantata Q&A
A group of students from Guildhall School's Historical Performance department decided that they would not let the first 2020 lockdown hinder their learning and fun, and transformed a performance project into the creation of a new exciting edition of one of Handel's lesser known gems, the cantata Mi palpita il cor. 
Q&A: The process behind creating a new Handel edition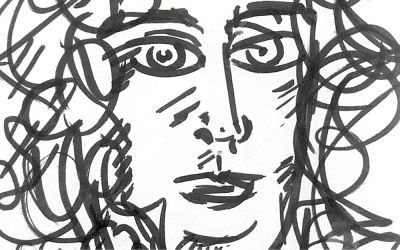 A group of students from Guildhall School's Historical Performance department decided that they would not let the first 2020 lockdown hinder their learning and fun, and transformed a performance project into the creation of a new exciting edition of one of Handel's lesser known gems, the cantata Mi palpita il cor. 
Learn more about the process in this Q&A with two of the students involved in the project: Hannah Blumsohn (Oboe, Junior Fellow), and Ella Bodeker (Soprano, MPerf).
What was your personal contribution to this project?
Hannah Blumsohn (HB): I had two roles. I worked on the oboe part to try to establish Handel's intentions and to make editorial decisions and notes, based on the source manuscripts. Often Handel's handwriting is unclear and the manuscript appears to contain some errors such as missing rests. Also, we had to consider historical conventions regarding the way Handel would have used accidentals, bar lines and other shorthand notation. Some decisions were made by comparison with other versions authored by Handel and other editors, contemporaneous music and analysis of harmonies.
I also suggested some interpretations for the performance score, such as trills and slurs (as Handel generally left the performer to devise these), as well as collating the instrumental lines from my colleagues and then dividing these into the various parts and scores. It was very satisfying to see the different parts of the music come together.
We also had to make decisions about the layouts of each part and score, taking into account titles, ease of reading and page turns.
Ella Bodeker (EB): I personally worked on the Soprano line, which included working closely to the autograph score to establish this melody as well as ensuring a 'keen' eye for Handel's handwritten text. Establishing the word underlay and older style Italian (no punctuation), I then created my own translation – word to word and poetic – ensuring that it was indeed my own writing and not copying another already established translation.
I worked closely with my colleague Jorge Silva to create the two Soprano Study scores, in French and English. In addition to the musical text I also contributed ideas for the preface, in particular for the subject "Libretto and Vocal line".
My final job was to help with the design of each of the covers and final versions of the overall look of the music. I sketched simple cartoon-inspired drawings that represented Handel's life from young to old. These can be found on the cover and back cover of each manuscript.
Have you done anything like this before? What skills and insights have you gained?
HB:  I have previously been involved in comparison of different facsimiles and manuscripts of Baroque music at a smaller scale. I learned a lot from this from online research for sources, and it was amazing to be able to look through library archives from all over the world. I've enjoyed learning more about historical notation conventions and getting an insight into Handel's brilliant mind. I have also gained experience of music notation software, and had to learn many new ways of working with it for this project.
Many people who listen to historical music don't realise quite how much discretion was left to the performer. I have to make decisions about performance interpretation and ornamentation every day when I play, but it was exciting to produce a score which might help others develop their ideas.
EB: I have never attempted or been involved in a project like this before. The only 'editing' I have done in the past is adding ornamentation to my vocal line when studying a piece, a practice known to this genre.
By overcoming a fear of technology I was able to immerse myself into a project that was very rewarding. I can now edit on an online platform and transpose music (very useful for a Baroque Soprano!) fairly easily. This is something I would never have thought I could do. I've also learned how to use Musescore – a programme we used to collect all the material and write a master score together (something that was fairly challenging during the lockdown!)
I have also come to know more and more about what makes an edition good or not so good – another incredibly useful tool when singing and studying music that was composed before printed music was fashionable!
But also, perhaps more importantly, through the process of finding the autograph scores and comparing them to other editions already out there, I have learnt to take more care over editions I choose to use when preparing for performance. So many editions are published with mistakes or indeed uninformed editorial choices; but the more we worked on this piece the more I felt compelled to stick as close to the original as possible, even down to the lack of punctuation in the word underlay.
What was like to collaborate online?
HB:  Collaboration can be difficult. Online collaboration has special difficulties and advantages! We had weekly Zoom meetings to discuss our progress and were able to use the technology to share our work and collaborate on the screen.
EB: Very challenging! Using the online platforms for discussion was different and difficult as we all had so many ideas and not everyone agreed with one another. However, it did enable us to work effectively, and by meeting once or twice a week we were able to set deadlines of what each of us wanted to achieve. This worked well and I think the isolation enabled us to just get on with it. Some weeks it was tough to gather motivation, and I think this was due to not having your colleagues physically there – something I know we all craved.
Was making this edition worth it? And why?
HB:  There was not previously a full edition of this version of Mi Palpita available online for free. Handel's original is available, but most modern players would find it extremely challenging to use in performance. I hope that it will be very useful for people who wish to play and discover this fantastic piece, and also to gain more insight through our preface, editorial notes, markings and realisations.
EB: It was very fulfilling to have the final product to show for our work during the lockdown, and I feel this was an incredibly worthwhile project. I wanted to make an edition for other sopranos out there, to enable this music to become more accessible to them, and to create an edition that would help my learning and artistic interpretation by keeping true to the words and the music.
Who is this edition for?
HB:  This edition can be used by any oboist: professional or amateur, playing on a modern or period instrument. Oboists who are more experienced with Baroque music may wish to play from the Urtext score or part, which contain limited editorial changes and are presented in a readable way.
I hope the suggested performance directions on performance copies will also be interesting and useful to all, and that the editorial notes will provide insight into the process of making editorial decisions and Handel's music.
EB: It's for anyone who wishes to learn Handel!
What was the most challenging element of this process?
HB:  Dealing with multiple versions of a document can be difficult, especially when one forgets to press save! And making sure that everything is lined up accurately and consistently between the parts can require the intake of plenty of cake!
EB: I would say the lockdown. By not being in the same room together at all, not even to try out some of the harmonies or hear the vocal line above the accompaniment, was very challenging. We had to rely on the ear of the synthetic sounds from musescore (although this was a very good alternative). But mostly, as a sociable person myself, these colleagues are also my friends so it was tricky to not be able to see them in person whilst working together.
What was the top highlight of this experience?
HB:  It was exciting to be able to find scores in Handel's own handwriting and to feel a connection to him! Then, once the final output emerged, it was amazing to see all our hard work put together and presented so well with the scores and preface and beautiful cover pages.
EB: My highlight was our final session together, seeing all of our work collated into one edition. A very fulfilling moment.
Do you see yourself doing something like this again in the future?
HB:  Absolutely! I think it will even help me on a small scale in my everyday work as a performer, making decisions about what I am playing. But I hope to also do further projects which help one to realise how amazing these composers really were.
EB: I would love to be a part of a project like this in the future. I would need a good team to collaborate with, as the amount of work gone into this project by all my colleagues and guiding professors shows me it is not something to tackle alone!
Find out more about this project on our website, and download the scores and parts for free via IMSLP