Study Abroad & Mobility
Studying abroad is an excellent way to gain more insight into the international field of music, drama, and production arts, and develop the flexibility that is needed from you as an artist within a secure educational environment.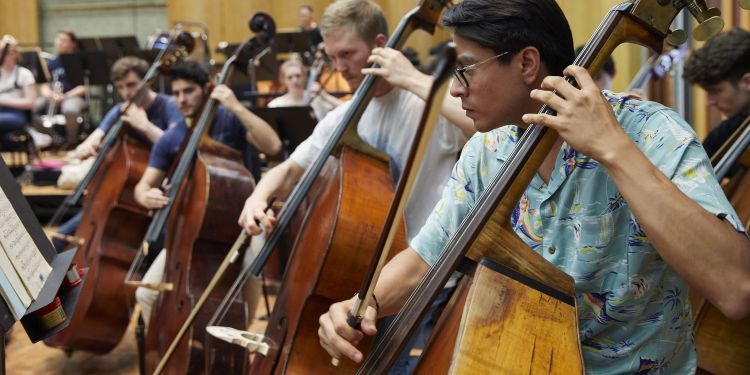 Music
As a result of the UK's decision to leave the EU, the Erasmus scheme is no longer available for Guildhall music students wishing to study abroad. However, the School is investigating funding opportunities within the Turing Scheme.
The School is able to welcome some students from Erasmus programme countries for a term of principal study in Music (September – December only). Further information on how to apply for a study abroad placement from your current Erasmus programme institution is available on our Music Study Abroad page. 
If you are interested in other opportunities for short-term study at Guildhall School, we would recommend the Short Term Music Programme (applications close on 31 March for September entry). If you are looking for a more informal way to study, we also offer a range of short courses. These run throughout the year, with some online and some in-person options. Courses are led by experienced Guildhall School teachers and industry-leading guest tutors, offering an insight into Guildhall's world-class learning environment in a fun and supportive setting.
Drama
Student exchanges are not currently possible within Guildhall School's drama programmes. Students looking for a short-term study option should examine our summer and short courses which include options for adults and young people of various ages and abilities.
For students applying from China, our BA Acting Studies run in conjunction with the Central Academy of Drama in Beijing is a four-year double degree programme with a cross-cultural approach to actor training. The first and fourth years of the programme take place in Beijing, and the second and third years take place in London.
Doctoral students undertaking research in Drama with suitable proposals may be eligible for some international mobility funded by the Turing Scheme.
Production Arts
Production Arts students at Guildhall School work each year on live productions and cross-faculty projects; to ensure students get adequate experience and to fit the production timelines, traditional student exchanges are not currently possible within these programmes.
Some limited opportunities may be available through the Turing Scheme.
Those interested in coming to London for short-term study options should take a look at our suite of Production Arts summer schools and short courses, or get in touch with the faculty to discuss a visiting studentship.