Study Abroad & Mobility
Guildhall School is committed to cultivating alliances with international partners in a variety of ways, including teacher exchanges, international summer schools, group visits and student exchanges. 
We also offer a suite of Short Courses and Summer Schools, the majority of which are open to international applicants. Courses are led by experienced Guildhall School teachers and industry-leading guest tutors, offering an insight into Guildhall's world-class learning environment in a fun and supportive setting.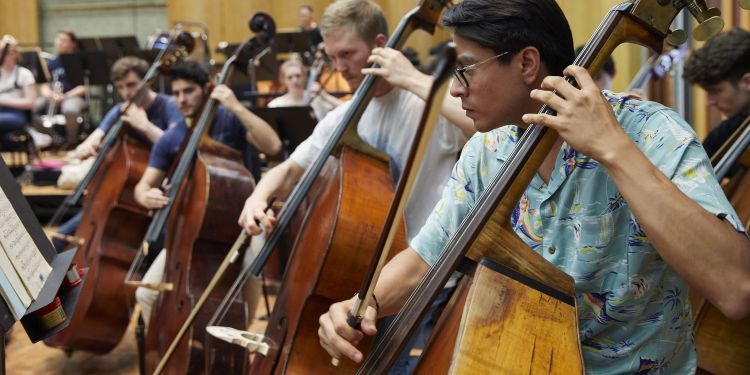 Music
Following the UK's departure from the EU on 31 December 2020, Guildhall School will not be participating in the Erasmus scheme after the current academic year has ended. The School will use this time instead to explore partnerships with institutions across the world and we will update this page once any new partnerships are formed.
Therefore for the 2022/23 academic year onwards, Guildhall School will be addressing enquiries for Erasmus students looking to come to study with us on a case-by-case basis, in conversation with your study abroad advisor.
If you are interested in undertaking short-term study at Guildhall School, we would recommend the Short Term Music Programme (applications close on 31 March for September entry). If you are looking for a more informal way to study, we also offer a range of short courses. These run throughout the year, with some online and some in-person options, under regular review based on government guidance relating to the COVID-19 pandemic.
If you are a Guildhall School student (or applying to be one) and interested in studying abroad as part of your degree, the UK government has committed to the Turing Scheme, a programme set to replace the UK's participation in Erasmus for British nationals who wish to study abroad.
The School is trialling engagement with this scheme with select partners and we hope to expand this offer as opportunities arise.
Drama
Student exchanges are not currently possible within Guildhall School's drama programmes, but for several years Acting students have participated in an international summer school in Italy (see BA Acting page for more details).
Students looking for a short-term study option should examine our Drama summer and short courses which include options for adults and young people of various ages and abilities.
For students applying from China, our BA Acting Studies run in conjunction with the Central Academy of Drama in Beijing is a four-year double degree programme with a cross-cultural approach to actor training. The first and fourth years of the programme take place in Beijing, and the second and third years take place in London.
Doctoral students doing research in Drama with suitable proposals may be eligible for some international mobility funded by the Turing Scheme.
Production Arts
Production Arts students at Guildhall School work each year on live productions and cross-faculty projects, therefore to ensure students get adequate experience and to fit the production timelines, traditional student exchanges are not currently possible within these programmes.
Some limited opportunities may be available through the Turing Scheme.
Those interested in coming to London for short-term study options should take a look at our suite of Production Arts summer and short courses, or get in touch with the faculty to discuss a visiting studentship.
Why Study Abroad?
Studying abroad is an excellent way to gain more insight into the international field of music, drama, and production arts, and develop the flexibility that is needed from you as an artist within a secure educational environment. It encourages developments in confidence, language skills, employability and your ability to adapt to new environments and to communicate with people from different cultural backgrounds.