Guildhall School announces finalists for its most prestigious music prize: The Gold Medal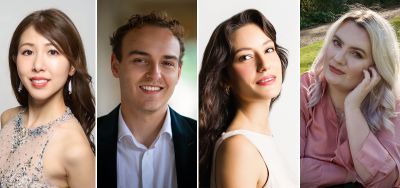 Wednesday 10 May at 7pm, Barbican Hall
Guildhall School of Music & Drama is pleased to announce the finalists for its most prestigious prize for musicians: the Gold Medal. The prize is awarded to singers and instrumentalists in alternate years. In 2023, the singers take centre stage, and the finalists are: Miku Yasukawa (soprano), Michael Lafferty-Smith (baritone), Alexandra Achillea Pouta (mezzo soprano) and Lorna McLean (soprano).
On Wednesday 10 May each finalist will perform a short programme accompanied by pianists Florent Mourier, William Bracken and Aleksandra Myslek, followed by a second half of arias with Guildhall Symphony Orchestra, conducted by Richard Farnes in front of an audience at Barbican Hall.
This year's judges are Guildhall School's Vice-Principal & Director of Music Armin Zanner, acclaimed soprano Roberta Alexander, celebrated baritone Sir Simon Keenlyside, Head of Casting at English National Opera and London Coliseum Michelle Williams, and Askonas Holt Director, Sue Spence.
The finalists have chosen a variety of repertoire for the Final, including songs and arias by Strauss, Debussy, Ravel, Mozart, Verdi and Hayasaka performed by Miku Yasukawa; Schubert, Rowarth, Barber, Ravel, Poulenc and Korngold performed by Michael Lafferty-Smith; Messiaen, Santoliquido, Varèse, Ligeti, Ravel, Bellini and Szymanowski performed by Alexandra Achillea Pouta; and Cilea, Griffes, Poulenc, Strauss, Puccini, Mozart and Wagner performed by Lorna McLean.
The Gold Medal award was founded and endowed by Sir H. Dixon Kimber in 1915. Since 1950 it has been open to singers and instrumentalists in alternate years. Previous winners include Jacqueline du Pré (1960), Tasmin Little (1986), Sir Bryn Terfel (1989) and Natalya Romaniw (2011).
Recent Gold Medal winners are forging impressive careers. Winner of the 2019 Gold Medal, soprano Samantha Clarke is this season performing with Sydney Symphony Orchestra, Opera Queensland and the West Australian Opera. Baritone Tom Mole, winner of the Gold Medal in 2021, has since performed as a Jerwood Young Artist at Glyndebourne in productions of and, and he is currently a member of the opera studio at the Bayerische Staatsoper. Last year's winner, pianist Stephanie Tang, is currently undertaking a number of engagements across the UK and enjoying collaborations as a chamber musician with Guildhall School's award-winning Paddington Trio.
The Gold Medal Final takes place on Wednesday 10 May at 7pm in Barbican Hall. Tickets are £10–20 (£5 concessions) available from the Barbican Box Office. Priority booking opens for Guildhall Circle members at 10am on Friday 3 March. General booking opens on Wednesday 8 March.