Guildhall School presents first international Festival of Classical Improvisation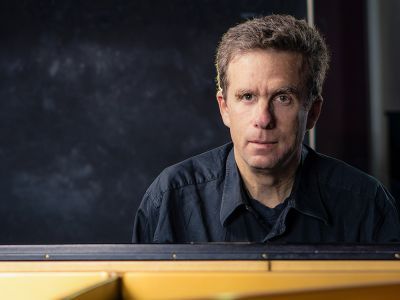 Presented in partnership with Imperial College London, the three days encompass free performances, lectures, workshops, masterclasses and audience conversations featuring Guildhall School and Imperial College professors, musicians, researchers and international guest artists.
Professor David Dolan, Guildhall School of Music & Drama says: "Guildhall School of Music & Drama has been a pioneer and visionary institution in fusing uncompromised standards of excellence in performance with the search for creativity and one's personal voice. As such, it was one of the first world-leading conservatoires to bring Classical Improvisation back to its curriculum, practice and research agenda.
I'm both privileged and excited to present the first international Festival of Classical Improvisation. We look forward to sharing with you the working process, risk-taking and mind-reading involved in the journey towards the revival of improvisation in the classical music-making context, enhancing the performer's creative space and the musical experience of all involved."
Professor Henrik Jensen, Imperial College London says: "For me, participation in the Festival of Classical Improvisation is a unique chance to share our joint research on how improvisation influences the dynamics of the brain and the communication between musicians, as well as between musicians and audience.  Our collaboration with Guildhall School's musicians and researchers enabled us as Complexity Scientists to analyse improvisation from a number of different perspectives. I expect music to be a quintessential example of how we function as humans, perceive, interact and respond. Being able to improvise is in general crucial when we navigate our daily life."
Featured Events
On Wednesday 1 May, Guildhall School and Imperial College share the findings of a joint nine-year research project on Improvisational State of Mind and its impact on communication, well-being and emotional engagement. The session includes live tracking and projecting of musicians' brain activity during improvisatory performances, compared with when there is no improvisation. This is followed by short lectures from Professors Henrik Jenson (Imperial College), John Sloboda and David Dolan (Guildhall School) presenting the results of the study as well as an opportunity for audience Q&A.
The evening concert on Thursday 2 May sees the Keys, Bones and Bellows trio – formed by trombonist John Kenny, organist Bert Mooiman and pianist David Dolan – extemporising and mind-reading their way through a variety of musical styles. They exchange roles between leading and following, exploring the full power and palette of colours of Milton Court Concert Hall's organ. The concert begins with duo and trio improvisatory performances on two pianos by Karst De Jong, Bert Mooiman and David Dolan.
Other Events
The opening concert of the festival, on Wednesday 1 May, sees flautist Philippa Davies, soprano Marie Vassiliou, cellist Adrian Brendel, pianists David Dolan, Bert Mooiman, Karst de Jong and trombonist and recorder player John Kenny perform an improvisatory jam session, whilst on Thursday 2 May, brings Professors Kenneth Rea and David Dolan together with musicians and actors from Guildhall School to explore the role of improvisation as a meeting point between the two disciplines. Working physically, verbally and musically, they also demonstrate how musicians and actors can improvise together, in a spirit of expression and playfulness, to find a common performance language.
The final day, Friday 3 May, opens with Guildhall musicians joining professors Christopher Suckling and Oliver Webber for an informal concert and discussion of Corelli's Op. 5 Sonatas, exploring their improvisatory aspects. The festival-closing concert on Friday 3 May is inspired by Hans Keller's Functional Analysis: a wordless, hands-on approach to analysis. Guildhall School violinists Sophie Prodanova and Sam Staples explore Bach's Partita in D minor for solo violin and the Portorious String Quartet work on samples from the string quartet repertoire with David Dolan.
Masterclasses
The festival will also see two masterclasses, both on Wednesday 1 May, where Mooiman, De Jong and Dolan work with Classical Improvisation musicians from Guildhall School in the morning and with those without any prior experience of the field in the afternoon.
Festival events are free and unticketed, except Keys, Bone & Bellows for which tickets are £15 (£10 concessions) available from the Barbican Box Office 020 7638 8891 (www.barbican.org.uk).
Find out more about all events in the Festival on our events pages.
For further press information please contact:
Rebecca Driver Media Relations
Tel: 0203 691 7034
Email: rebecca@rdmr.co.uk | ruth@rdmr.co.uk
Web: www.rdmr.co.uk