Key details:
Department:

Jazz

Role:

Jazz Piano Professor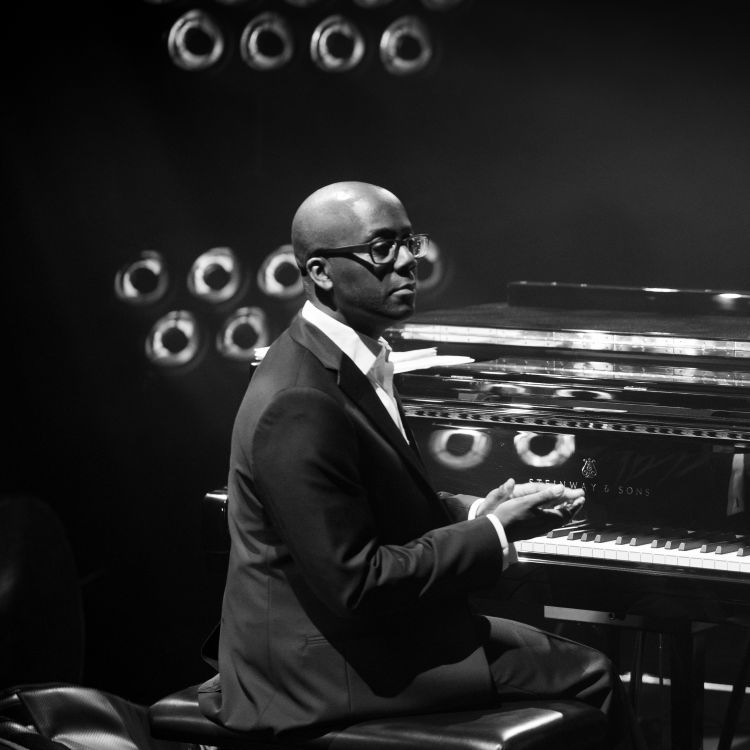 Photo by S.Cropper - from BBC4 Jazz 625 (May 2019)
---
Biography
Over his 30 plus years entrenched in the art of music, Robert has released 12 albums of his own projects, participated in over 100 projects as a sideman, has performed/toured in 40 countries and is achieving a growing reputation as an inspirational educator. Robert was conferred the title of professor in June 2022 (from the Guildhall School of Music/Drama). He has been a Steinway Artist since 2009. 
These days his primary focal points include his long-running ensemble Panacea; his trio Epiphany 3 with special guest dancer Masumi Endo, new electronic/song ensemble TRUE THINK (Truth Inc./Truth Ink), solo performance (including a fascination with one-handed works, which produced one solo album and festival - Leftitude - in 2013); and his duo with cellist Shirley Smart (Head Of Performance - City University). He has recently recorded on the latest album by legendary keyboardist  Kaidi Tatham and in duo with award winning poet Marvin Thompson. His latest album The Rainbow Mountain/Can We Care is his first live solo album. This was recorded at the Jazz Cafe (London) in a performance sharing the bill with Vijay Iyer. A continuous improvisation - finished off with a single song. A review from UKVibe stated :The Rainbow Mountain / Can We Care is an intimate, bold and thoroughly enjoyable listen and the perfect display of Robert Mitchell's genius." A Vigil For Justice. A Vigil For Peace from 2017 is for piano trio and features extensive original poetry inspired by the rapid political change in atmosphere in recent times, against the backdrop of so much unrealised human potential and vast inequalities. This was released on his own label - Depth Of Field. The poetry features amongst a debut collection published in 2017. In 2014 his first large scale work - Invocation - was successfully performed by the Grammy winning Bournemouth Symphony Chorus, Goldsmith Big String and students from Avonbourne and Harewood at St Peters Church (Bournemouth) and Queen Elizabeth Hall (London).
Robert has recently released the debut double album from his group TRUE THINK - 'Hold The Light/The New Resistance' (DOF004/Bucks Records Ltd). It features guests from the UK, US, Japan, Sweden, Cuba, South Africa and France. This was launched at Ronnie Scotts. The debut live album from new improv trio The Flame (featuring Mark Sanders and Neil Charles) - is to be released in 2023 on 577 Records (NYC).
In 2019  Robert worked as MD on a BBC4 tribute to the great 60s TV show - Jazz 625 Live:For One Night Only (performing with Joshua Reman, Jacqui Dankworth and featuring Gregory Porter). It won Best Music Programme at the 2020 Broadcast Awards and has been shown every year since. He was among the group of nominees for the 2020 Hamlyn Award for Composition who all became recipients of the award due to the pandemic.
Robert has completed several commissions over the last few years. The Jazz South Radar Commission Good Trouble, Necessary Trouble focuses upon the life and achievements of U.S.civil rights icon, John Lewis. The first London Sinfonietta Commission - Our Hearts Dance The Infinite (While The Giant Puya Blooms) has been recorded by eminent concert pianist Yuki Negishi and was released earlier in 2022 (as part of an album on the Quartzmusic label - for which he wrote the liner notes too).  His latest for the London Sinfonietta  - Multitudes II - premiered in November 2022 (as part of the London Jazz Festival). This was a response and tribute to the legendary composer and theorist George Russell. His improvised responses to brilliant poetry by Poetry Society competition winner Marvin Thompson features on the National Poetry Day website. His second book of poetry will be published next year by Giant Steps Press (NYC).
Robert is also a Principal Lecturer at Leeds Conservatoire (Piano/Jazz Pathway). He sits on the Guildhall EDI Committee, is a Task Force Member of Black Lives In Music, an ambassador for the Featured Artists Coalition and for Piano Restorations (Bicester).
Robert is published and signed by Bucks Music Group (worldwide), and has worked with longtime U.S. arts consulting and management organization, Outward Visions (George Russell, Steve Reich, John Zorn, Art Ensemble of Chicago, World Saxophone Quartet) for over 10 years. As his reputation has consistently grown as one of the UK's most serious and respected composer/pianists, Robert Mitchell is ideally suited to be a powerful force in the newest developments of both the music and its business environment.
'I wish to encapsulate the feeling of endless upward progress - to remove the apparent divisions between inspiration, notation, deployment, and performance. And to appeal to the idea that there is no limit to the amount of beauty we can reveal in the universe. Creativity is absolutely vital to our future survival and flourishing. I look forward to helping unique personalities express their distinctiveness. And to help inspire a lifelong journey of expression and integrity.' Robert Mitchell
'The astonishing Robert Mitchell, familiar as the pianist and MD for the recent 'BBC Four celebrates Jazz 625 For One Night Only', took the keyboard apart in every sense of the word. He uses both hands and sometimes cross-hands with equal force to build solos of unbelievable depth and complexity. Urged on by his fellow players and the awe-struck audience, his playing became ever more audacious as the evening progressed.' thejazzmann.com
 'There are two poems by Mr. Mitchell included in the liner notes, both of which show him to be a wonderfully thoughtful, articulate and probing poet of the highest order.' Bruce Lee Gallanter, DMG NYC
For more information about this outstanding artist, visit