Key details:
Department:

Jazz

|

Music Therapy

Role:

Music Therapy Tutors; Improvised Music Ensemble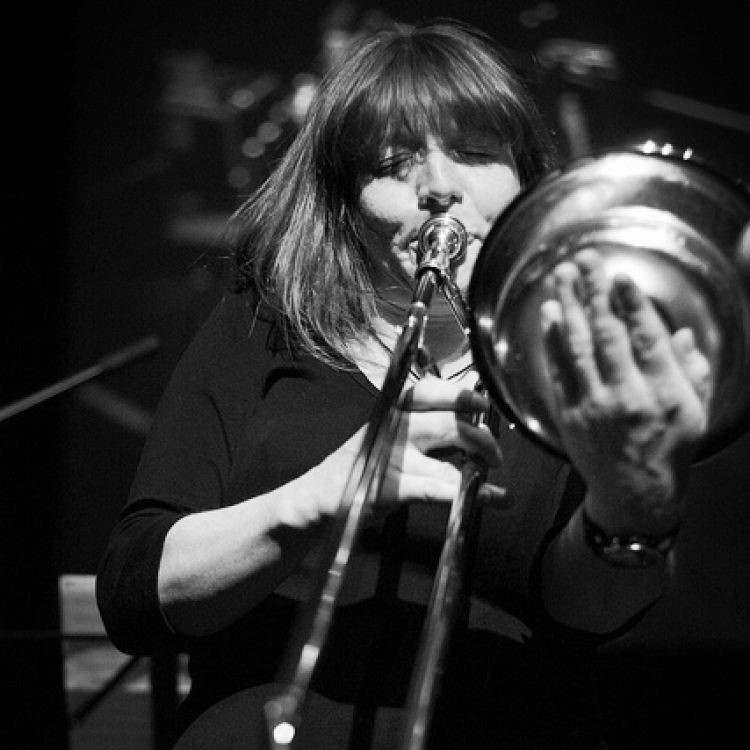 ---
Biography
Trombonist, composer, music therapist. Born in London, 1971.
Described by The Wire magazine as 'the most exciting trombone player for years', Sarah Gail Brand has recorded and performed on the international Jazz and Improvised Music since the early 1990s with Mark Sanders, John Edwards, Martin Hathaway, Billy Jenkins, Elton Dean, Evan Parker, Phil Minton, Lol Coxhill, Alexander Hawkins, Maggie Nicols, Rachel Musson, Wadada Leo Smith, Jason Yarde and countless others. She appeared in Stewart Lee's Comedy Vehicle, series 1 & 2 (BBC TV) and with Stewart in the 2014 documentary Just Not Cricket.
Sarah's composing credits include an original score for the Charlie Chaplin classic Easy Street, premiered at the Barbican Cinema, London in 2013; incidental music for the 2014 short Low Down Alley Blues; We Should Consider The Possibility - Piece for Improvising Ensemble and Chamber Orchestra, premiered by the Guildhall Improvised Music Ensemble and the Southbank Sinfonia in 2014. Sarah is an occasional guest presenter on Jazz on 3 (BBC Radio 3) and runs a small self release label 'regardless'. Sarah appears on 12 recordings and has 5 released under her own name.
Sarah studied Jazz at Middlesex University in 1993 and has worked as a qualified Music Therapist since graduating with a PG Dip in Music Therapy from the Guildhall School in 2001 and has specialised in working with children and young people with learning difficulties. She recently gained a Masters in Composition from Goldsmiths College, University of London.
At the Guildhall School, Sarah is a professor in Improvisation, academic tutor and examiner in the Faculty of Jazz Studies, and professor in Group Improvisation, examiner and marker in the Faculty of Music Therapy. Sarah is a published researcher and her most recent article was published in the Psychology of Music Journal (Brand, Sloboda, Saul, Hathaway 2012). Sarah has founded and leads the Guildhall Improvised Music Ensemble.
'one of the most passionate and dynamic musicians alive' - Time Out
'an outrageously earthy tone and original, fluid style' - All Music Guide