Research degree applications
Applications for September 2024 are now open, and close on 31 March 2024.
Apply now
Admissions criteria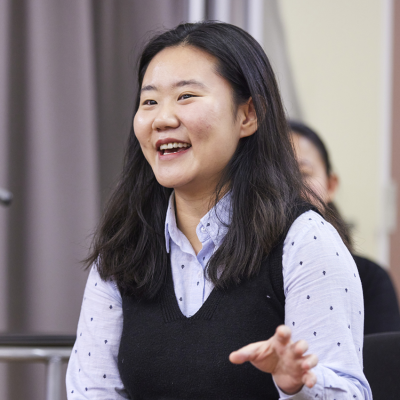 Before you apply to the School's Postgraduate Research Programme, please take the time to read this page carefully.
Applicants are selected on the following criteria:
The originality, rigour and significance of the proposed project
Skills, experience and characteristics required to pursue that project
Alignment of the project with areas of supervisory expertise
The candidate's preparedness for doctoral study
Application process
1. Identify whether you meet the minimum requirements
The minimum admission requirements for admission onto the doctoral programme are:
A BA (hons) degree (upper 2nd or 1st class) and Masters degree in a relevant subject area (equivalent professional or academic experience occasionally considered)
For projects involving artistic or pedagogic practice (including DMus degrees), demonstrated expertise and experience
Applicants who do not speak English as their first language and who do not hold a degree from a majority English-speaking country should have achieved a minimum overall score of 7.0 in the IELTS Academic Training examination with no individual component score below 6.0 (or equivalent).
2. Consider funding
Before applying for a research degree, you should ensure you have considered how you will fund your study. See more information on funding. 
3. Research Guildhall School and potential supervisors
Does the format and ethos of our postgraduate research programme fit with your expectations and proposed approach? Read this website thoroughly, attend events such as our open days and ResearchWorks and speak to current students to ensure that we are the right institution for you. Above all, identify at least one prospective supervisor for your project: one of the most common reasons for an application to be rejected is that it does not fit with the expertise and interests of research-active staff. You are welcome to approach prospective supervisors in advance of application, including a brief summary of your proposal. Some prospective supervisors may offer some advice on aligning your project with their research interest. Due to the high volume of enquiries, others may not respond, especially to approaches from people unfamiliar with their research. 
4. Write a proposal
Your research proposal is the main way we assess the suitability of your application. We recommend committing some time to undertaking background research and developing your research questions so you can demonstrate that it will make an original contribution to existing knowledge. 
If you would like feedback on whether your proposed research is in an area we can support, you may send a short outline of your proposed project to pgr.admissions@gsmd.ac.uk by 10 March 2024.
5. Submit a formal application
Once you have a research proposal you can apply online. The following material will be required:
A research proposal of up to 2,000 words (excluding bibliography)
Contact details of two academics who are prepared to supply a reference
Details of academic qualifications and relevant professional experience
A personal statement demonstrating your preparedness for doctoral study
For practice-based projects, examples of your practice as follows: 

DMus Composition: Composers should submit a portfolio of three distinct compositions with recordings (live not MIDI)
DMus Performance: high quality unedited recording of you playing two or three pieces of repertoire relevant to your proposal
Other practice based projects: portfolio of creative/professional as advised on submission of your application. 
After submitting your application online, please ensure you send your portfolio or practice examples to pgr.admissions@gsmd.ac.uk.
How to apply part 3
6. Interview
Candidates will be short-listed on the basis of their application material and those who meet the criteria will be invited to interview. Interviews will be held in April and May. Candidates will be interviewed by a panel of between two and four people and the interview will last about 30 minutes. 
Please note that we will review all applications after the closing date of 31 March 2024. If you have submitted an application early, it may take a while to hear from us. 
7. Offer
If successful, you will be notified about the outcome within 1 month of interview and receive your offer. Please note that you will need to formally accept your offer and pay your fee deposit no later than 15th July 2024.
If you have questions or require further information please contact pgr.admissions@gsmd.ac.uk.