MMus/MPerf in Performance (Guildhall Artist Masters): Orchestral Artistry
Orchestral Artistry is an exciting professional specialism for advanced Bowed Strings, Wind, Brass or Percussion instrumentalists seeking a career in orchestral playing, delivered in association with one of the world's leading orchestras, the London Symphony Orchestra (LSO).
Please note, this programme is undergoing periodic review during the 2022-23 academic year and is therefore subject to change.
Application deadline: Monday 2 October 2023
Those applying for an overseas audition, should refer to the Music Auditions Overseas webpage for information about application deadlines. 
Apply now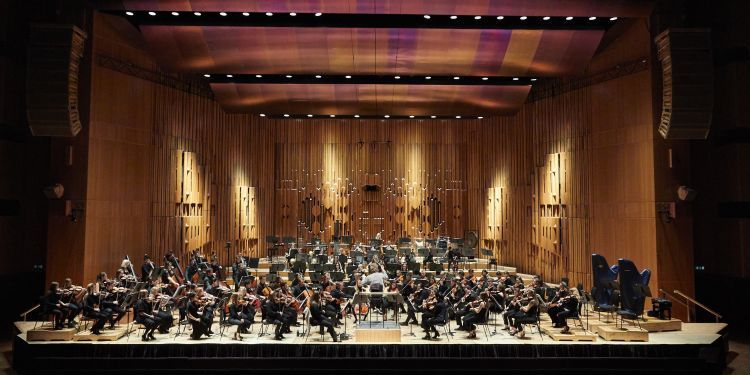 You are viewing:
Programme Information
Key information:
Art form:

Music

Fees:

Application Fee: £123 GBP; Tuition Fees: See Fees section below

Deadline:

Apply by Monday 2 October 2023 for September 2024 entry

Level of study:

Postgraduate

Mode of study:

In-person

Contact details:
About the MMus/MPerf programme in Orchestral Artistry
Orchestral Artistry is an exciting professional specialism for advanced instrumentalists seeking a career in orchestral playing. Part of the Guildhall Artist Masters programme and delivered in association with one of the world's leading orchestras, the London Symphony Orchestra (LSO) it offers a course of study which is both highly distinctive and ground-breaking in scope, in a context akin to a professional environment.
Students take part in orchestral repertoire training, audition preparation/practice and coaching sessions with LSO players, as well as LSO rehearsal sit-ins, masterclasses and education and community projects.
See our Principal Study pages for further information on instrument-specific tuition and performance opportunities.
 
Watch the video
Find out more about the programme from Guildhall students, staff and LSO players, with footage from rehearsals with Sir Simon Rattle, Sir Antonio Pappano and the late Bernard Haitink.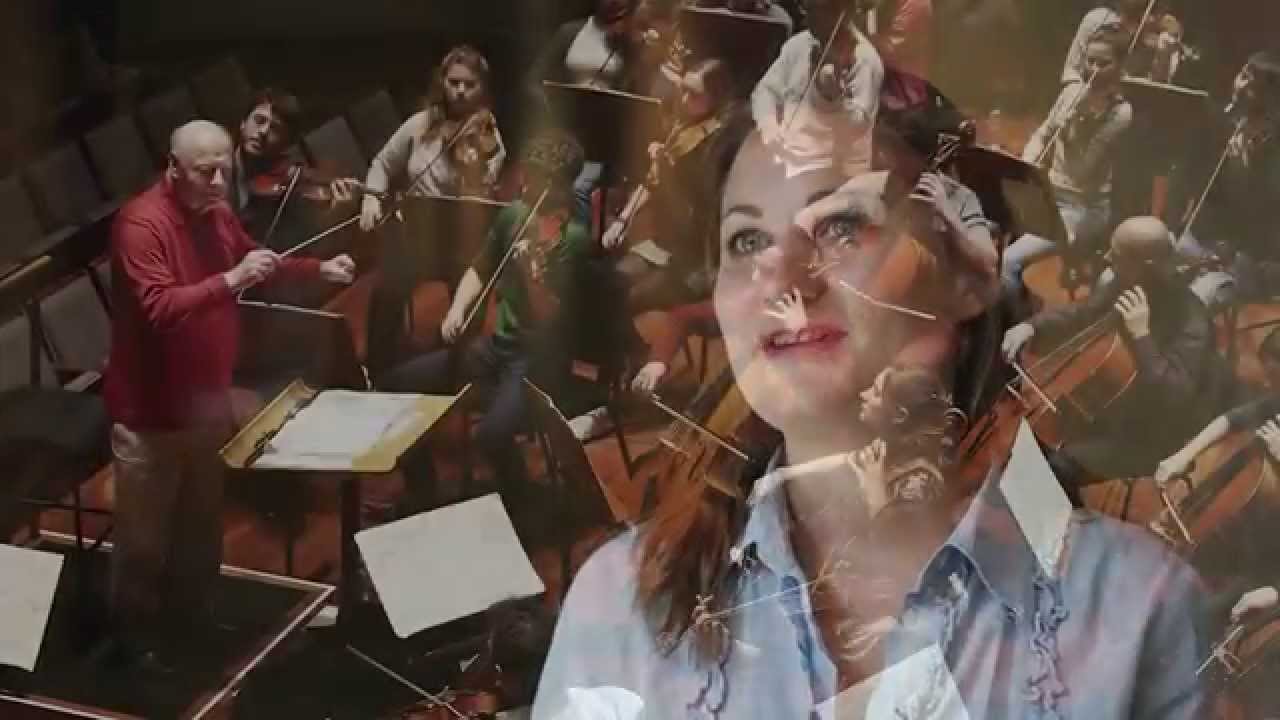 Programme Focus & Opportunities
The programme focuses on orchestral training and repertoire, education and outreach, and early career support. Individual lessons are led by Guildhall School's professors, some of whom are LSO members. Students receive regular coaching in orchestral sectionals, audition experience, and instrumental classes.
Intensive orchestral repertoire training: full orchestra, sectionals and single-instrument classes from Guildhall professors and a variety of LSO players (with opportunities to play side-by-side with LSO players in Orchestral Artistry repertoire sessions)
Professional audition preparation and practice, with feedback
LSO rehearsal sit-ins (either listening within, or playing, alongside the section)
Occasional LSO performance opportunities with LSO Discovery, including at the Barbican and in Trafalgar Square
Masterclasses, Q&A sessions and coaching, either as an observer or a performer, with a variety of LSO players, guest soloists and conductors.
Shadowing and working alongside LSO players in LSO Discovery workshops (education & community programme)
Professional development sessions: developing knowledge and understanding of the orchestral ecosystem and its protocols
There are also masterclasses from LSO players, international soloists and members of Barbican's visiting orchestras and ensembles such as the Los Angeles Philharmonic (International Orchestra Partner), Australian Chamber Orchestra (International Associate Ensemble at Milton Court) and Jazz at Lincoln Center (International Associate Ensemble).
Students have sit-in opportunities, either listening or playing alongside LSO players in orchestral rehearsals conducted by its roster of international conductors including Chief Conductor Designate Sir Antonio Pappano, and access to the full range of the LSO's education and community programmes. This will enable you to learn how community based programmes are delivered, and to meet professional workshop leaders, performers and administration teams.
Performance opportunities
Performance opportunities embrace a variety of orchestral contexts, including Guildhall Symphony Orchestra concerts at the Barbican, and the opera orchestra for productions by the School's acclaimed Opera Department. Additionally, Orchestral Artistry students may have occasional opportunities to perform in LSO Discovery concerts and the annual Trafalgar Square concert.
LSO Discovery
You will be given a practical introduction to the LSO's Discovery department, with its wide variety of education and community projects, with opportunities to shadow and play alongside LSO players in workshops, and to coach school-age musicians. This will enable you to learn how community-based programmes are delivered, and meet the professional animateurs, performers and administration teams involved in these projects.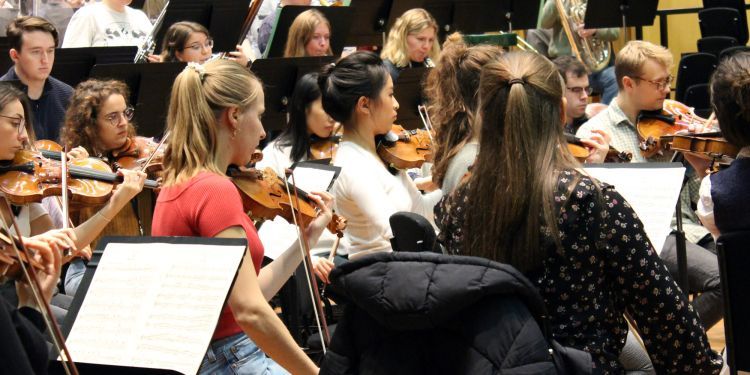 The London Symphony Orchestra
Orchestral Artistry is delivered in association with the London Symphony Orchestra, Resident Orchestra at the Barbican in London where it performs around 70 concerts a year, alongside extensive international touring. Widely acclaimed by audiences and critics alike, the LSO has an enviable family of artists, with conductors including Sir Antonio Pappano as Chief Conductor Designate, Gianandrea Noseda and François-Xavier Roth as Principal Guest Conductors, Sir Simon Rattle as Conductor Emeritus, Michael Tilson Thomas as Conductor Laureate and Barbara Hannigan and André J Thomas as Associate Artists.
Pierre Boulez famously described the orchestra as 'an ensemble of possibilities' – and Orchestral Artistry embodies this challenge. The programme focuses on orchestral training, education and outreach and early career support for the orchestral players of the future.
We value an entrepreneurial attitude to the arts; not only will you master your craft, you will acquire the skills, knowledge and capabilities you need to become a high-achieving 21st century performing artist. LSO players share their knowledge and experience with the next generation of gifted orchestral musicians; and students gain confidence and a detailed understanding of what's required at the highest level of the profession.
London Symphony Orchestra Members working with Orchestral Artistry students in 2022-23
First Violin
Clare Duckworth, No 4 first violin
Maxine Kwok
Laurent Quénelle
Harriet Rayfield
Second Violin
David Alberman, Principal
Sarah Quinn, Sub Principal
Miya Väisänen, No 4 second violin
Belinda McFarlane
Iwona Muszynska
Viola
Edward Vanderspar, Principal
Anna Bastow
Germán Clavijo
Steve Doman
Julia O'Riordan
Sofia Silva Sousa
Robert Turner
Cello
David Cohen, Principal
Alastair Blayden, Sub Principal
Laure Le Dantec
Amanda Truelove
Double bass
Tom Goodman
Joe Melvin
Jani Pensola
Flute
Gareth Davies, Principal
Sharon Williams, Principal Piccolo
Oboe
Juliana Koch, Principal
Christine Pendrill, Principal Cor Anglais
Clarinet
Chris Richards, Principal
Chi-Yu Mo, Principal E-flat Clarinet
Bassoon
Dan Jemison, Principal
Rachel Gough, Principal
Joost Bosdijk
Horn
Tim Jones, Principal
Angela Barnes
Jonathan Maloney
Trumpet
Trombone
Peter Moore, Principal trombone
Paul Milner, Principal bass trombone
Tuba
Nigel Thomas, Principal Timpani
Patrick King, Co-Principal Timpani
Sam Walton, Co-Principal Percussion
David Jackson, Percussion
Programme Structure
Part One (MMus) – One year full-time/two years part-time
Part Two (MPerf) – One year full-time
Progression to Part Two is conditional on results from Part One
Successful completion of Part One meets all the criteria for a Masters level (level 7) award and a student may conclude their studies at this point and be awarded a Master of Music (or a Postgraduate Diploma, according to the modules taken). Part Two represents progression for the student in terms of depth and breadth of repertoire within a project-based structure that mimics, in a controlled environment, professional practice at the highest level. Students who continue to Part Two (progression criteria apply, see Part One below) will be awarded, on its successful completion, a Master of Performance (Guildhall Artist).
Part One concentrates on the student's intense activities in Principal Study, but also includes core Contextual Studies and a wide range of Elective opportunities.
Orchestral Artistry focuses on excellence in performance, core musicianship skills and leadership and communication.
A diverse programme of core and elective modules in Part One from the Guildhall Artist Masters programme will enable you to further develop your skills in practical subjects and research. You will also devise and deliver an LSO Discovery workshop for primary school children.
Students progressing to Year 2 will be given more autonomy in arranging your own assessed projects, as well as continuing activities from the first year. The second year is strongly focused on further development of technical and artistic abilities. Breadth of repertoire, individual creative output and professional experience are also key features.
Students in both years can take part in the LSO's education and community programmes such as LSO On Track and Early Years Outreach. This will enable you to learn how community-based programmes are delivered, and to meet professional animateurs, performers and administration teams involved in these projects. 
Body Matters
The module consists of classes and individual study on the interaction between the psyche and the soma (body) in the context of musicians' performance and creation. The taught content of the course will include a range of issues relevant to learning, practising, creating, making and performing music. The links between mind and body will be explored. Students will have the opportunity to build upon ideas disseminated in class by choosing, in negotiation with their tutor, a particular focus for their own assignment. Examples of study topics are: maintenance of good health and fitness; how to perform to maximum potential; facilitation and inhibition of musical creativity; managing competition in the profession; the 'inner critic'; stage presence.
Chamber Music
After initial sessions in which postgraduate students come to know each other, groups are formed from amongst the student body with support from the Co-ordinator of Chamber Music and departmental staff.  Groups have lessons, coaching and masterclasses with internal staff and visiting groups in residence. Groups are encouraged also to seek external opportunities for performance as well as internal concerts.
Composition for Media
The class content includes the study of mainstream techniques (use of sequence, picture painting, juxtaposition, transition, tempo, synchronisation, association, emotive description) and practical application of these within a simulated professional context (use of timecode LTC/SMPTE, conducting to picture/click track, synchronising to picture, industry overview, performing rights, production processes).
Conducting
The module is taught in classes where students receive group and individual tutorials. The content includes conducting technique, score preparation and interpretation, and a knowledge of instruments and style with consideration of historical context; organisational, management and communication skills. There are eight places in this class every year. Students requesting this module are selected through practical assessment of abilities and potential at the beginning of the year.
Contextual Studies: The Forbidden Saxophone
This module is compulsory for Masters saxophone students in Wind, Brass & Percussion, and open to other Masters students, up to a maximum of 20. It presents issues which are core to the learning experience for saxophone students at this level. Charting the narrative of the saxophone's development, and as a mirror to developments in twentieth-century art, the lectures encompassing subjects including social, racial and gender.
Electro-Acoustic Music
The aims of this module are to build on an existing foundational level of understanding and skill in electronic music, to pursue practical expertise in various instruments of music technology as appropriate to an individual student's area of speciality, to equip students with all-round production skills appropriate for a project in the recording/production studio, to equip students with further technological skills that will enable them to respond creatively to state-of-the-art developments in electronic music technology.
Historial Performance: Performance
This module offers second study in historical instruments and vocal ensembles. It provides students an opportunity to explore different sound worlds and styles of performance through individual lessons and participation in ensembles. No previous experience in historical instruments is needed although an audition on either historical or modern instruments is required. Vocal ensembles are allocated in collaboration with the Vocal Department.
Interpretation through Improvisation
The work proceeds through fortnightly classes of small groups. Content is approached as class workshops in which students interact in performance with the tutor and with other students. The teaching/learning process also normally includes analysis of video and audio recordings of lessons. Students are encouraged to have access to some relevant theoretical knowledge, but no writing up is involved. The work is practical and covers normally the following areas: improvised dialogues and counterpoints against an unprepared harmonic background, and improvised simple dance forms in baroque and classical styles without embellished repeats. Students also participate in one of the Music and Drama collaborative projects (Circus or Storytelling projects). Each one of the two projects is one term long and includes a showing.
Jazz Composition and Arranging (for jazz students)
Content includes melody writing, harmonic development, chord voicing, counterpoint, orchestration, style, and presentation of scores and instrumental parts. Non-Jazz specialists need to demonstrate adequate skills to join this class. The class uses a variety of teaching and learning methods, including presentation of examples and techniques by the tutor, group analysis of musical examples, and the realisation and analysis of the students' own compositions and arrangements. The first half of the course concentrates on techniques employed in small ensembles, whilst the second half concentrates on arranging for larger forces. Arrangements are rehearsed and recorded both for the purposes of assessment and for formative feedback.
Jazz Improvisation (for jazz students)
The teaching and learning strategies are experiential, employing a range of environments including improvisation within forms (with specific skills and applications) through to free improvisation. Non-Jazz specialists need to demonstrate adequate skills to join this class. Topics covered will include:
Design and motivic development
Linear independence; rapid cadential movement; rhythm as an improvisational resource; improvising within non-functional harmony; constructive dissonance; "time-no-changes"; the relationship between language, form, concept and spirit
Awareness of factors affecting the practice of improvisation
Music, Philosophy and the Arts
The aims of this module are to give students an understanding of music in the context of the arts and culture in general, to ground students in techniques of philosophical analysis and critical reading, thinking and writing, to develop students' understanding of their musical/performance studies in the context of contemporary society, and to develop students' abilities in written presentation and abstract thinking.
Opera and Theatre (for singers)
This elective aims at familiarising singers with the performance of repertoire designed for the stage, and is so structured that experiences may be derived from any one of three areas (opera associates, music theatre, opera ensemble) or may be formed from involvement in separate projects from two of the three areas. Teaching and learning is through class activities, ensemble rehearsals and performances both in directed and undirected groups, and personal practice and research. One project from either Music Theatre or Opera Associates or Opera Ensemble or a summer term of professional work (role, cover or chorus) with an approved Opera company: Glyndebourne Opera, Garsington Opera, Holland Park Opera, Grange Park Opera, or other professional opera company approved by the Head of Vocal Studies.
PianoWorks (for pianists)
The aim of the module is to develop expertise in preparing and performing contemporary repertoire, encouraging curiosity and a level of familiarity with this area of repertoire and its cultural background.
Pianists choosing this module can choose between a number of extant projects. These include the New Music Ensemble, VoiceWorks, Composer Workshops and the various opportunities for developing and performing new works written by the postgraduate composers.
The projects on offer will vary from year to year, but there will always be at least three to choose from.  Each will have its own schedule of classes, coaching and rehearsal, and each will culminate in a performance, usually open to the public.
Research project
The aims of this module are to further develop students' appreciation of and engagement with musicology, to promote students' independent study in musicology and increase their confidence in this work by developing their research skills (from identifying and refining a personal topic of enquiry to producing a final paper on this subject), to promote students' critical faculties in reading, thinking, discussion and writing on musicological topics, and to develop a sophisticated understanding of the relevance of musicological study to the practice of performance artists.
Social Arts Practice
This module aims to foster and support a growing community of socially aware, creative, collaborative, independent artists within the School. It allows students to gain experience and skills in leading, supporting, creating and collaborating in music- or sound-based activity in different participative contexts, to develop the capacity to respond creatively, sensitively and openly, and to develop strategies and processes for broadening, repurposing or adapting existing skills as an instrumentalist, composer, singer or electronic musician. It aims to inspire students to develop a personal, enquiry-based approach, with an appreciation of and engagement with artistic practice as research.
Song Accompaniment (for pianists)
Pianists will be helped to find singer partners from the postgraduate vocal training programme. They will then prepare, rehearse and be coached on relevant repertoire. They will be encouraged to work with their singers beyond the precise limitations of this module, taking part in vocal performance platforms, song classes, singers' assessments and in masterclasses taken by internal or visiting professors.
Techniques in Composition
This module develops an understanding of historical composers' practices which will aid students' own performances, and develops skills that will complement and enhance learning in other elective subjects. Students choose one of five pathways: Analysis, Counterpoint, Fugue, Orchestration, and Stylistic Composition.
Vocal Repertoire (for singers)
This elective module is available to singers only. This module aims to develop understanding of the distinct technical and stylistic demands of vocal repertoire related to the major sung European languages. Teaching is in the form of performance projects on key areas of vocal repertoire. In consultation with the Module Leader, students select from a list of projects that changes from year to year. This covers a variety of repertoire in different language, commonly including song in English, French & German; and song or opera/oratorio in Italian & Russian.
Voiceworks (for singers)
This module enables creative collaboration between postgraduate singers, composers and pianists. After a series of introductory workshops and seminars held jointly by the Vocal, Composition and Keyboard Departments, the following projects are offered:
Wigmore Voiceworks: new song repertoire for voice(s) and piano or instrumental chamber ensemble is produced in collaboration between Guildhall singers, composers and writers from the MA in Opera Making. This is written with the specific acoustic and space of London's Wigmore Hall in mind and performed at a Voiceworks concert in Wigmore Hall.
New Song Voiceworks: an exploration of the wealth of new song repertoire composed in recent decades through special projects designed each year to illuminate particular areas of this repertoire. Appropriate repertoire is selected in consultation with course tutors and coached in a series of group and/or individual workshops.
Wind, Brass & Percussion Additional Solo Recital
This module provides students of the Wind, Brass & Percussion department, whose professional and artistic focus is normally chamber or ensemble performance, with the opportunity to develop further the repertoire, and the artistic and professional skills for recital performance.