You are viewing:
Creative team
About this event:
Category:

Opera

Event type:

Booking required

|

In-person

Admission:

£30 (£15 concessions) + booking fee

Location:

Silk Street Theatre
Event information
Maria egiziaca 

La bella dormente nel bosco
by Respighi
 
The life stories of two eponymous female heroes are explored in this double bill of captivating operatic works by Italian composer Ottorino Respighi, directed by Victoria Newlyn and conducted by Dominic Wheeler.
Maria egiziaca charts the decades-long spiritual journey of the third-century Christian saint Mary, weaving references to the ancient traditions of her time into the opera's musical language. First performed at New York's Carnegie Hall in 1931, it was originally intended as a 'concert triptych', but this production offers the rare opportunity to see it fully staged.
A more famous tale, La bella dormente nel bosco is Respighi's take on Sleeping Beauty, with a sparkling score and imaginative array of human, animal and supernatural characters. The opera comes to the Silk Street Theatre stage three years after an innovative digital version was presented by Guildhall School during the pandemic lockdown.
Sung in Italian with English Subtitles
Please note that this production contains adult content. Haze will be used.
Image above: The Day Dream by Rossetti (1828–82) © Bridgeman Art Library
Creative team
Victoria Newlyn director
Dominic Wheeler conductor
Laura Jane Stanfield designer
Jake Wiltshire lighting designer
Alistair Burton assistant conductor
Laurie Slavin assistant director
Yongqiu Yuan chief music coach
Ben Kubiak & Samuele Piccinini répétiteurs
Maria Vladyslava Ionascu-Yakovenko / Holly Brown 
Il pellegrino/Abbate Zosimo Emyr Jones / Alaric Green
Il marinario Steven van der Linden
Il lebbroso Jonah Halton
Uno compagno/Voce d'un angelo Yolisa Ngwexana / Ana Balestra 
Secondo compagno/La cieca Rachel Roper / Shana Moron-Caravel 
Il povero Rachel Roper / Shana Moron-Caravel 
La Regina Rachel Roper / Shana Moron
La Principessa Ana Balestra
Il Principe Aprile Jonah Halton
Il Re Joe Chalmers / Jacob Harrison
La Fata Azzurra Yolisa Ngwexana
La Fata verde Holly Brown
Il Gatto Julia Sanchez Merino
Il Fuso Vladyslava Ionascu-Yakovenko
L'Ambasciatore / Un Boscaiuolo Joe Chalmers / Jacob Harrison
Il buffone / Mister Dollar Steven van der Linden
Il Cuculo / La Duchessa / La vecchietta Shana Moron-Caravel / Rachel Roper 
L'usignuolo Biqing Zhang
Camden Bonsu-Stewart
Charles Brocklebank
Dani Croston
Michelle Cheung
Ambrose Chiu
Cuan Durkin
Aldi Ho
Hannah Hughes
Alice Hermand
Elizabeth Mwale
Saul Rothwell
Georgia Tolson
Harun Tekin
Laura West
Iona Woods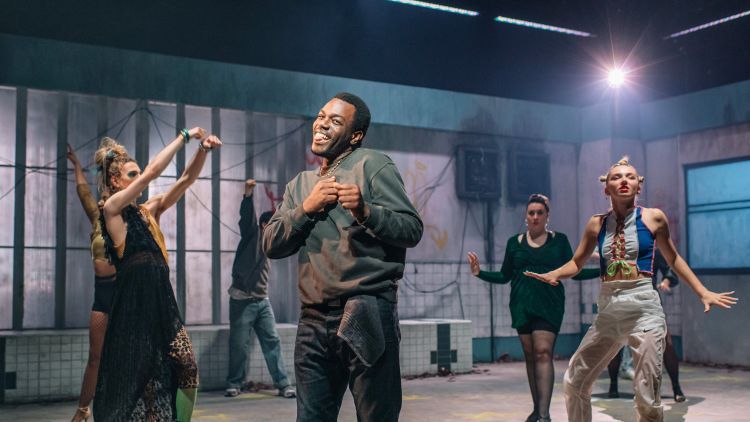 Venue information
Silk Street Theatre, Music Hall and Lecture Recital Room are located in the main Guildhall School building on Silk Street and for Barbican produced events the venue can also be accessed from the Barbican if you exit via the doors next to Barbican Kitchen on Level G. 
Address:

Silk Street
Barbican
EC2Y 8DT

Accessibility:

Parking:

Parking available