You are viewing:
Event information
About this event:
Category:

Jazz

Event type:

Free

|

In-person

Location:

Milton Court Theatre
Event information
Artistic leaders:
Paul Griffiths
Sigrun Sævarsdóttir-Griffiths
Sharing the stage for the first time since 2016, two of Guildhall School's crucial and creative ensembles – The Messengers and ImPossibilities – perform a night of mesmerising and provocative music in Milton Court Theatre.
These two collective ensembles bring Guildhall School students together with members of external communities to compose and create new music and songs. The title Moments In Time has been used as the spur for the creation of the work heard in this concert.
The Messengers write vibrant instrumentals and songs of joy and resilience that are both of and for our time. The Impossibilities ensemble evoke space, time and motion with their fusion of jazz, global groove and restless energy. Together, they offer an alternate musical view of the times we live in, beyond the reductive and the commercialised and which emanate from voices that compel you to listen.
Admission free, no tickets required
Please note the venue capacity is limited and admission will first-come-first served, subject to availability.
Performers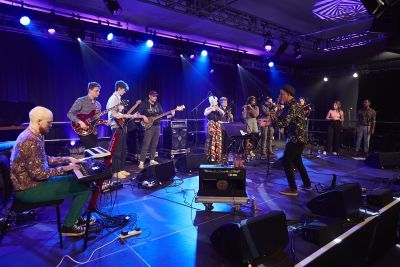 ImPossibilities was formed in 2013 in response to a performance by the legendary Sun Ra Arkestra, at the acclaimed Barbican Transcender Festival. A project was conceived to create a collective of musicians and creative thinkers to make music, sound, poetry and visual work inspired by Sun Ra and which would reflect the broad range of artists and art forms that his legacy continues to inspire, decades after his departure from planet Earth.  
Since its inception, students from Guildhall School have collaborated with young aspiring musicians, poets and leading international jazz musicians to create new musical hybrids, under the artistic leadership of guitarist, educationalist, composer and Sun Ra archivist Paul Griffiths.  
The ethos of this project is to facilitate growth and development amongst people from different backgrounds, with a shared passion for music.  In line with this vision, the band has expanded its reach and now works with young people across East London through their Satellite Collectives as well as membership of a small group of young musicians in the band.  
The ImPossibilities band creates a sonic amalgam of free jazz, spiritual sounds, roots and folkloric music, hip-hop, nu-soul, spoken word, groove and abstraction.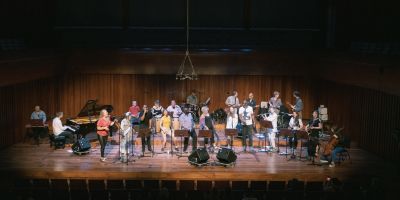 The Messengers is a 30-piece band of strings, wind, brass, vocals and rhythm section. With all original music, this unique band takes you on a journey of heart-warming, soulful songs about life and love, laced with cinematic grooves and lyrics that need to be heard. 
The band is made up of students and graduates from Guildhall School of Music & Drama and people with lived experience of homelessness, seeking support from London based homeless charities. The Messengers is delivered in partnership with MetamorPhonics C.I.C. who lead groups like it in Leicester, Los Angeles and Iceland.
Artistic leader: Sigrún Sævarsdóttir-Griffiths   
Venue information
Milton Court, based across the road from our Silk Street building, provides the School with world-class performance and training spaces, including a state of the art concert hall, a lyric theatre, a studio theatre and several major rehearsal rooms.
Address:

Milton Court, 1 Milton Street, London, EC2Y 9BH

Accessibility: