PGCert Performance Teaching
The Post-Graduate Certificate (PGCert) in Performance Teaching is a Masters-level course designed to support professional musicians, actors, production artists and dancers who teach as part of their practice, either as their main employment or as part of a portfolio career.
Apply now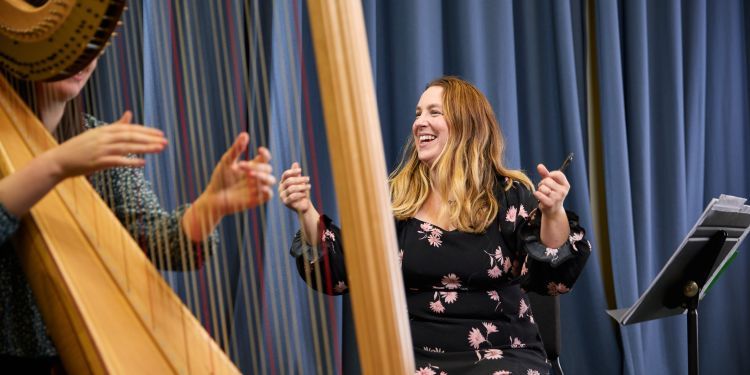 You are viewing:
About this programme
Key information:
Art form:

Drama

|

Interdisciplinary

|

Music

|

Pedagogy

|

Production Arts

Fees:

Application Fee: £35; Tuition Fees: See Fees section below

Deadline:

Apply by 5 April 2023 for September 2023 entry

Level of study:

Postgraduate

Mode of study:

Online

Contact details:
About this programme
The Post-Graduate Certificate (PGCert) in Performance Teaching is a Masters-level course designed to support professional musicians, actors, production artists and dancers who teach as part of their practice, either as their main employment or as part of a portfolio career. It offers a unique opportunity to develop creative and reflective practice in teaching in performing arts contexts. You will be encouraged to identify a personal pathway for your development, focusing on the pedagogy of performance and creative practice in performing arts contexts that are most relevant to your career aspirations.
Introduction to the PGCert Performance Teaching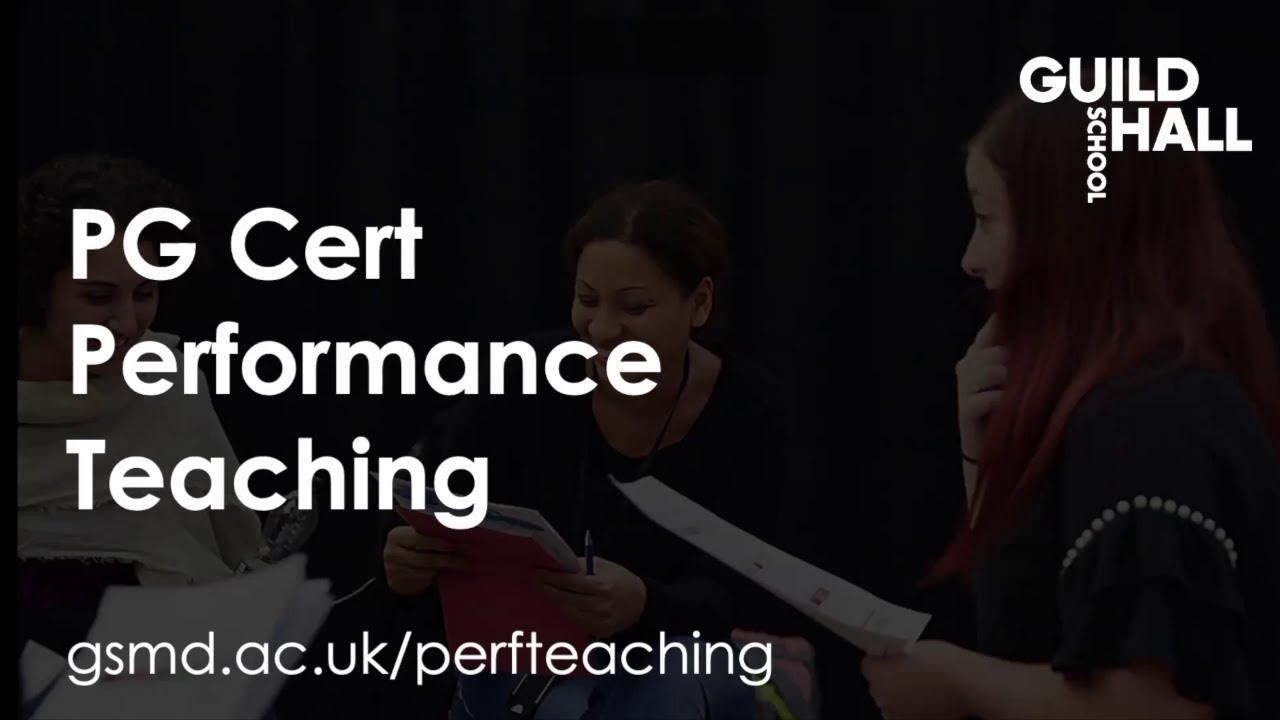 Hear from our students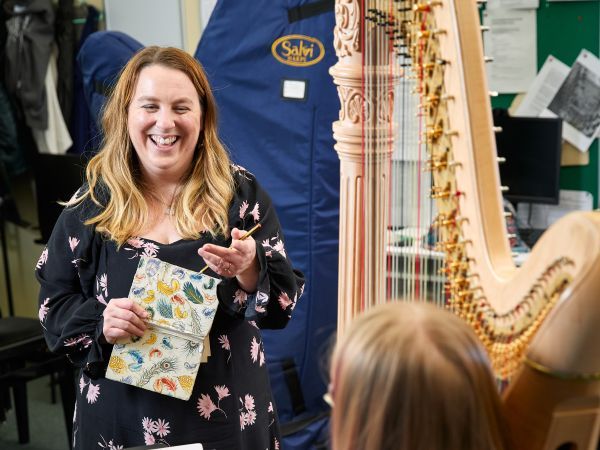 Keziah Thomas teaching a harp lesson (photo by Paul Cochrane)
"The group workshops have given me some light bulb moments in connecting what I already do in my teaching practice to pedagogical theory, and I have been able to immediately put some of these ideas into practice with my students."
–
Keziah Thomas
,
Harp professor and PGCert student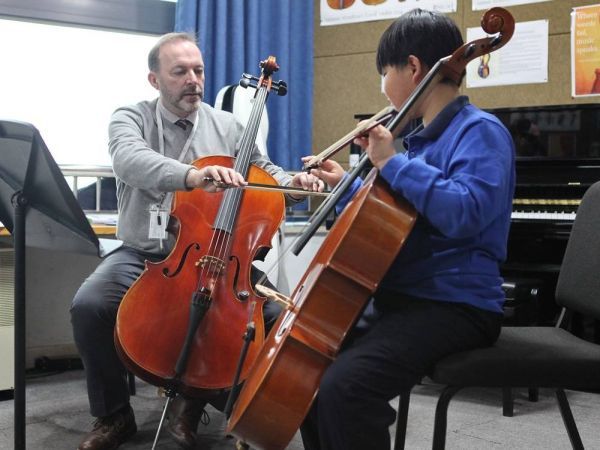 For me, the most rewarding and challenging part of the training, was the teaching observations. Looking at your practice honestly and acutely through video recordings, analysing, and finding solutions to issues or more expansive ways to think about issues, was mind-blowing at times.
–
Richard Ward-Roden
,
PGCert alumnus
Applicants and Ethos
Who is it for?
The programme attracts applicants who are interested in creative, innovative and evidence-based teaching. You could be at any stage of your career as long as you're willing to take a fresh look at your practice. Equally, you might teach in range of contexts, including schools, Higher Education, junior conservatoires, community and lifelong learning.
*Please note home students will not be eligible for a UK government postgraduate loan on this programme.
Ethos
We take your existing experience and expertise as a starting point, enabling you to bring practice and theory together, through engaging with cutting-edge pedagogy. You will be part of a community of artist-educators, learning from each other and building practical skills. Transformational learning involves trust and rapport with your students, openness to change, supporting independence, resourcefulness and resilience. You will embrace diverse perspectives and different learning styles.
How you'll learn
The PGCert is part-time (over one or two years). Learning takes place online with approximately 13 days of online workshops combined with shorter webinars, plus study groups and support from a one-to-one tutor. We take a 'flipped classroom' approach – you prepare material ahead of the live sessions in order to maximise the interactive opportunities of those sessions; and we follow up the sessions with comprehensive online resources – video recordings of the sessions, a webinar library, all the required readings, and a selection of past student work.
The course is 60 credits, which equates to 600 nominal learning hours. In practice, given that the bulk of this is your own self-directed study time, there is a lot of variation from student to student, but this should give you a reasonable idea of the overall commitment involved.
Workshop Schedule
Download the workshop schedule for this course below.
PGCert Workshop Dates - 2022-23.pdf
Learning and Assessment
What you'll learn
The content is very holistic, and the workshop sessions touch on multiple aspects of teaching and learning. We cover areas such as:
Fundamental principles and values in education
Theories of learning and theories of motivation
Approaches to facilitation
Working with groups
Creativity and pedagogical improvisation
Partnership and collaborative working
Reflective practice
Inclusion and use of language
Curriculum and assessment issues
Giving and receiving feedback
Professionalism and codes of practice
Discipline-specific approaches
How you'll be assessed
You will be supported throughout the programme with ongoing formative feedback. The major summative assignments leading to the qualification cover a range of elements, including:
Individual presentation on your core values and principles in teaching
Practical group workshop and presentation
Written critical reflection relating to your own teaching practice and observations of other teachers
Case studies of your teaching practice, incorporating lesson planning, feedback on your own observed teaching practice and the evaluation of your own teaching through feedback from your students
Learning, Assessment and Pathways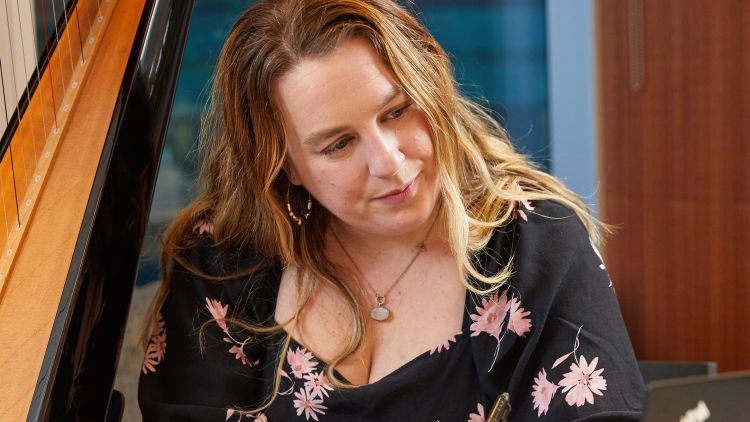 Pathways, Career and Highlights
Pathways
There are two pathways: PGCert and PGCert (HE). If you already have appropriate experience of teaching at HE level you may have the option of taking the PGCert (HE) pathway which will lead to additional professional recognition – Fellowship of the Higher Education Academy. In order to be eligible for the PGCert (HE) pathway, you need to be able to draw on at least 50-60 hours of authentic HE Learning & Teaching practice whilst doing the course.
Where can this lead?
Participants in the programme have been promoted in their existing working contexts as well as branching out into new teaching areas. Others have gone on to further study including PhDs and our coaching-mentoring programme.
Highlights
A strong focus on critically reflective practice, framed by professional guidelines such as the Higher Education Academy Professional Standards Framework
Interdisciplinary perspectives – bringing together teachers from performing arts disciplines, for a rich exchange of ideas
Robust formative feedback on practical work
Teaching delivered by an experienced team of educators, performers and researchers
An educational philosophy that celebrates professionalism, international perspectives, creativity, and innovation
Application and Fees
Applying to Guildhall
All applications are made directly to the School. There is a £37 application fee - see our Apply to Guildhall page for more information on the application fee. Please note that we will assess all applications following the application deadline.
Application guidance
Applicants must apply through the Guildhall School website by the stated deadline. The application form requires some basic personal details, the submission of a personal statement, and a written assessment. Further application guidance can be found below.
References
Applicants must offer at least one reference from a line manager in their current or most recent role. 
Personal Statement
Please be sure to include the following in your personal statement:
Why you want to do the course, what you hope to get out of it, and how you see it fitting in with your overall CPD journey.
Some of the key questions about your teaching practice that you want to explore while on the course.
Something about your personal approach to teaching, how this connects with other people's ideas, and how you might like to develop this.
Written Assessment
All applicants must complete a written assessment as part of their application. This should be uploaded as a pdf document in the 'supplementary material' section of the online application form. The essay task can be found here:
PGCert Written Assessment - Complete.pdf
Application Process
Tuition Fees
One year part-time = £3,490
Two years part-time = £4,195 (£2,800 in the first year, £1,395 in the second year)
There are no cash scholarships available for this programme. There are a limited number of partial tuition fee waivers, with priority given to Guildhall School staff (including CYM and partnership Music Services).
See our Fees and Funding page for more information about tuition fees and the tuition fee schedule.
Contact the Team
If you would like to discuss the PGCert, please contact the programme leader Carlos Lopez-Real directly.
For any other general questions or queries please contact Sophie Hills.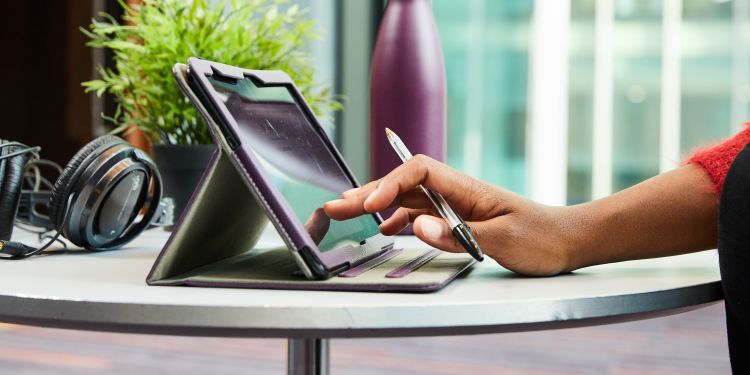 Open Evening
Our online Open Evenings are a great way to find out more about the PGCert Performance Teaching, hear from Programme Leader Carlos Lopez Real and ask any questions you might have about the training.
Our Open Evenings for 2021/22 have now passed. Dates for Open Evenings in the 2022/23 academic year will be announced in due course.