Guildhall School is delighted to announce that The Cosman Keller Art & Music Trust will support the expansion of Chamber Fellowships at the School from September 2021, in memory of Hans Keller.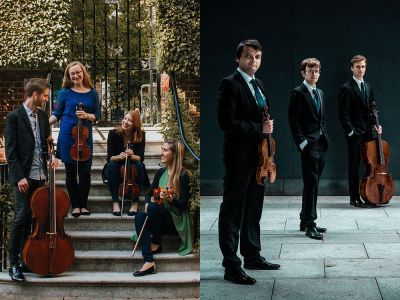 The Trust was established in 2006 by the artist Milein Cosman (1921-2017), wife of the musician and writer Hans Keller (1919-85). Her aims were the advancement of art and music education, the support of musicians and artists, and the preservation and promotion of her own work and that of her husband. Keller taught at Guildhall for several years, with his prime focus on coaching string quartets. His experience of the Adler Quartet in inter-war Vienna laid the foundations of his musical understanding, and he never forgot their "full-blooded, passionate Musikantentum" and "ever-inspired, ever-varied and ever-new interpretations".  He considered chamber music to be the most important form of music-making, inspiring individual creativity.
The essence of the
Chamber music programme at Guildhall draws parallels with Keller's insights. Matthew Jones (Head of Chamber Music) echoes Keller's sentiment: "We feel that in developing as chamber musicians we get to enhance every aspect of our musical selves. The skills that we learn through working in a variety of chamber groups will filter into everything else and prepare a student for the life of a performing festival musician, performing orchestral musician or soloist."
Guildhall created the Chamber Fellowship in 2018, providing the opportunity for a young professional group with a base at the School to inspire current students through performances and seminars, simultaneously assisting with their personal transition from student group to professional ensemble. Guildhall's current Chamber Fellows are the
Consone Quartet (BBC New Generation Artists from 2019) and, thanks to the support of the Cosman Keller Art & Music Trust, the School has been able to expand the scheme to offer a second Fellowship to
The Mithras Trio (who have also just been selected as BBC New Generation Artists). These ensembles will be the Hans Keller Fellows over the next academic year.
The support from the Trust will see the subsequent enhancement in the provision of coaching from visiting professors; sessions on Functional Analysis with Levon Chilingirian; extending invitations to guest artists to deliver bespoke masterclasses for Fellows and students alike; increased performance opportunities, notably the showcasing of our Fellows at the annual Chamber Music festival.
Don't miss The Hans Keller Fellows performing at the
Chamber Music Festival on 22 July – you will be able to watch the performances on-demand.