BA Production Arts
Our BA Production Arts programme equips you with the skills you need to succeed in the professional arts industry, with pathways in Costume, Design Realisation, Stage Management, and Theatre Technology, and graduates going on to work in theatre, events, television and film.
Applications for 2024 entry open in September 2023.
You are viewing:
About the programme
Key information:
Art form:

Production Arts

Fees:

Application Fee: £35 GBP; Tuition Fees: See Fees section below

Deadline:

31 January 2024 for September 2024 entry (applications open on 29 September 2023)

Level of study:

Undergraduate

Mode of study:

In-person

Contact details:
About the programme
The Production Arts undergraduate programme equips you with the skills you need to succeed in the professional arts industry, with graduates going on to work in theatre, events, television and film. We strongly believe that your training should be tailored to your individual career aims.
For this reason at, application stage, you will select one of four pathways, each with a different emphasis:
Within each pathway you can study elements of the other three. For example, if you want to learn about props and scenery construction but retain an interest in lighting, or gain experience in sound while focusing mainly on stage management, you can choose accordingly. The programme is flexible enough to allow for a wide range of interests, or a more specialised approach.
Programme Structure
The first year of the programme brings all students to the same threshold of knowledge. In addition to your chosen pathway classes and project work, you will study a broad range of core subjects including:
History of Theatre
Contextual Studies
Contemporary Theatre
Health & Safety
Stagecraft & Production Process
Associated Studies
Classes are project-based and you will be encouraged to enhance and inform your work by engaging with the profession externally. For example, when studying trends in contemporary theatre you will see a wide range of shows, including leading international productions at the Barbican Centre. When studying Contextual Studies, you will visit galleries and museums to look at examples and gather ideas.
In this first year, you will also take a core module called Associated Studies, which allows you to take three short taster courses in areas of interest from one of the other three pathways.
From the second year onwards, you will be immersed in Guildhall School's extraordinary productions, films and events, working alongside professional directors, designers and lighting designers on a full-time basis. Work on productions is complemented by talks delivered by industry professionals.
The final year provides you with true exposure to professional theatre, film projects and live events and the opportunity to make essential future contacts. All students are encouraged to undertake leading roles in their chosen fields, and some go on to lead a whole team in a Production Management role. You will also complete a personal graduation project as well as work experience with a professional company or practitioner.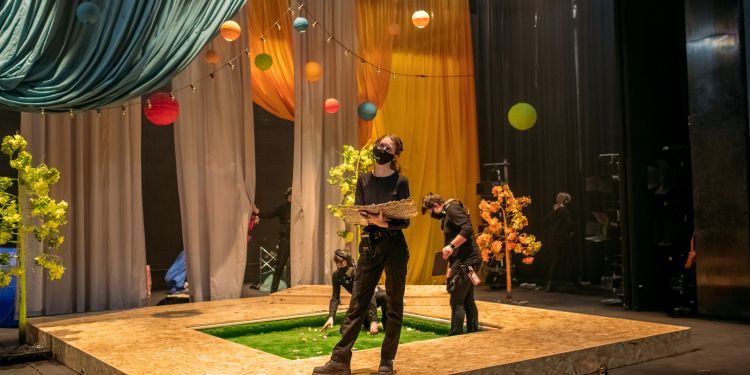 Our Facilities
Our professional-standard performance venues with state-of-the-art equipment allow our programmes to keep in line with current practice and new theatre technology. Students use the School's on-site theatres, rehearsal rooms, workshops and costume department to collaborate on major productions and a range of smaller projects and events.
Preparing for work
Career preparation includes lectures, masterclasses and advice on how to apply for work, CV preparation, working as a freelancer, invoicing and self-employment, and interview preparation.
Throughout the programme you will have the opportunity to collaborate with actors, singers and musicians from other programmes to generate your own projects.
Key development areas which are essential for employment include:
Learning to be part of the team of technicians, designers, stage managers, costumiers, actors, singers and musicians, working alongside professional directors, designers and conductors to participate in the creation and public performance of acclaimed dramas and operas 
Using information technology in planning and managing productions, developing transferable skills in the latest software and using specialist packages 
Gaining detailed knowledge of current industry developments and trends 
Developing core transferable skills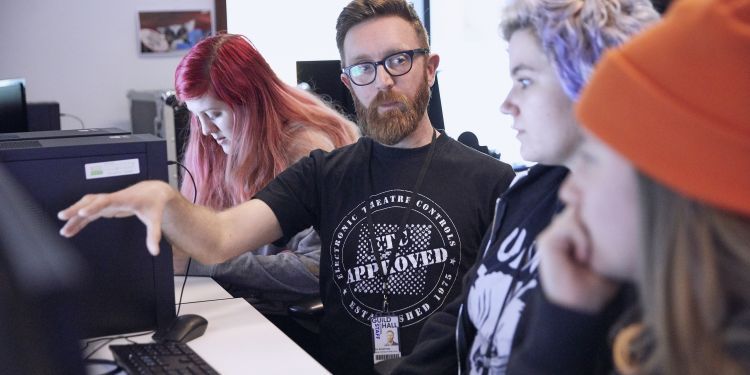 Your tutors
A particularly high staff-student ratio is one of the strengths of the programme. As you progress, staff will shift from formal teaching roles to empowering and supporting your production work. This allows you freedom to demonstrate and develop your professional standards and skills.
A member of the teaching staff will also be your personal tutor and will follow your progress and act as a mentor for your personal and professional development.
Regardless of their year, all students work together on all productions. Peer learning is an essential element of the programme.