Guildhall School Trust
The Guildhall School Trust is an independent charity dedicated to advancing the education of students - current and prospective - of Guildhall School of Music & Drama. It works closely with the School and its Development & Alumni Relations Office to raise and steward financial and in-kind support which helps talented young people of every background to get the best possible training.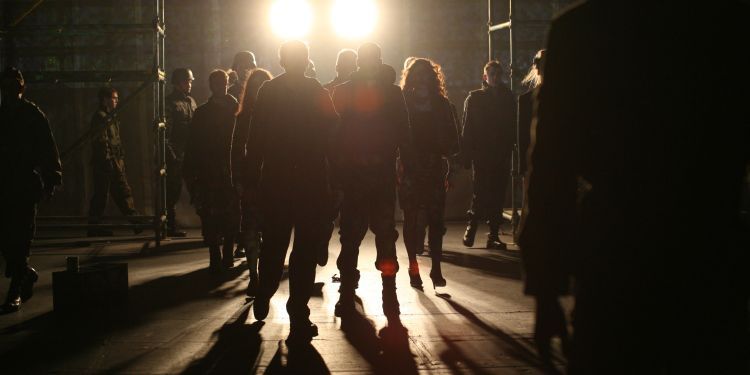 You are viewing:
Introduction
Introduction
Music and drama entertain and inspire and have the power to transform lives. Each year, nearly half of the School's students receive some kind of scholarship support, made possible thanks to the generous donations of individuals, organisations and companies. Many more young people need that same support to take up a hard won place or to share their talent with local communities and audiences here and around the world. 
Please join us in giving what you can to help us provide scholarships for the current and future students of Guildhall School of Music & Drama alongside support for other essential projects at the School - all aimed increasing access and fulfilling artistic potential.
Annual reports & policies
Trustees
Amer Al-Baho is the Director of FAS Family Office based in Mayfair that he established in December 2014. He studied at Oxford University and received his PhD in International History from the London School of Economics and Political Science in 1997. After a successful 10-year career in the oil & gas industry, the entrepreneur in him decided to change career paths, moving from Italy with his young family and returning to London to enter the world of banking and finance with UBS in 2007. It was a move that proved well worth the many challenges he faced as it established him as a reputable wealth advisor and strategic relationship manager for high net worth individuals. 
Stephen worked for 31 years at the Bank of England and the Financial Services Authority, for seven years as a director. In that time, he worked mostly in financial supervision, particularly of banks. He led and managed up to 300 staff at a time. He was also heavily involved with chairing international committees on the policy of bank regulation. His main specialisms were in governance and in risk management. He revels in London's musical scene, being a long-term Prommer and going frequently to Wigmore Hall and to various opera venues. 
Appointed Chief Executive of Shakespeare's Globe in October 2010. Welcoming over 1 million visitors, Shakespeare's Globe is a unique international enterprise and educational charity dedicated to the exploration and understanding of Shakespeare through education and performance. In 2017, Neil was named alongside Emma Rice, the Globe's then-Artistic Director, as the joint 10th most influential people working in theatre and the performing arts in The Stage's Top 100.
Neil trained in Stage Management & Technical Theatre at the Guildhall School of Music & Drama and has worked extensively in the theatre and arts industry for over 35 years, latterly running cultural organisations. He is a Governor, Trustee or Member of a number of other organisations, including the Chartered Management Institute, Society of London Theatre, the Shakespeare Birthplace Trust and the Royal Theatrical Support Trust. 
Educated at Windsor Grammar School and St John's College, Oxford, David trained and qualified as a solicitor with Lovell, White & King (Hogan Lovells since 2010) from which he retired in 2017. A litigator with experience of civil disputes and product liability litigation. Qualified as a Solicitor Advocate for Civil Proceedings. 
A past Governor with the City of London School for Girls and the City of London School for Boys and currently of the Emanuel School. Governor of the Guildhall School of Music and Drama (2009 -18, Chairman 2012-15 and Fellow from 2015) and of the St Paul's Cathedral Chorister Trust (2010-19). Since election as an Alderman he has served on most of the City Corporation's principal Committees and Boards either as a full member or ex-officio. President of the Cripplegate Ward Club, Master of the City of London Solicitors' Company 2017 - 18 and a Governor of the Cripplegate Foundation.
David has sat as a Magistrate since 2009.
Managing Director, Ninety One plc (previously Investec Asset Management)
Ms Huo is the Managing Director, Head of International Business and Head of Investment Institute at Ninety One plc, an asset management business which is dual-listed on the London Stock Exchange (FTSE250) and the Johannesburg Stock Exchange. Ninety One is a founder-led global investment manager.  
Prior to joining the firm, she spent 12 years at HSBC within its investment banking. As co-Head of Sustainable Finance within Global Banking and Markets, she was responsible for green and sustainable product innovation across financing and investment. She was also Global Head of RMB Business, where she led the overall China and RMB internationalization strategy, revenue growth, product innovation and wider strategic client execution.
Ms Huo is a Visiting Fellow at Tsinghua University in Beijing. She has recently graduated from Harvard Business School and is an Alumni there.
She chairs the international workstream at for City of London's Green Finance Initiative and leads overall China engagement. She sits in the Senior Steering Group for the UK Government's Green Finance Institute. She is also the Chair of the UK's ESG Leadership Forum. In 2021, Ms Huo has been appointed as a Board member/trustee of both the City of London Guildhall School and its Investment Committee.
Ms. Huo was recognized by Financial News as one of the 100 most Influential Women in Finance for three consecutive years and has also won the Chinese Business Leaders Award for Excellence in Banking. Ms. Huo has been awarded as a Freeman of City of London in recognition of her contribution in Finance and cross border business collaboration.
Ms Huo also holds a Master of Science degree with Distinction from The Business School (formally Cass) in London, UK.
Barbican resident and Chair of Art in Perpetuity Trust Gillian has supported the Guildhall School of Music and Drama for many years and, through the Guildhall School Trust, contributes annually to a scholarship for a postgraduate voice. She used to sing seriously as an amateur and believes that those embarking on such a competitive career deserve encouragement and support.
Gillian's early career was in marketing and advertising with several major international organisations, including ICI, Max Factor and Ogilvy and Mather. Following a Sloan Fellowship at London Business School she joined a management consultancy start up, Kinsley Lord, whose speciality was facilitating behavioural and cultural change in complex organisations. She contributed to the growth which enabled it to become the leader in its field and worked at the highest level in organisations in the private, public and not for profit sectors. 
Deborah Lincoln is a Communications, Public Affairs and Corporate Responsibility professional working across the private, public and voluntary sectors. She was SVP, Corporate Communications and Public Affairs International, Warner Bros. Entertainment (2007-2020), and before that, headed Communications for Pearson (then owner of FT and Penguin Books). She was Political Advisor to Patricia Hewitt, Secretary of State for Trade and Industry, and previously led The Labour Party's women's organisation, developing policy and campaigns to increase the representation of women.
She also worked in senior roles for national charities including MacMillan Cancer Relief, The Prince's Trust and Prince's Foundation (HRH The Prince of Wales) and Friends of the Earth. She is Finance Committee Chair and Trustee for Oxford School of Drama and was Chair of Watford Palace Theatre (2015-2022). She is a co-opted Board member of political Quarterly (PQ), representing PQ as a Trustee on The Orwell Foundation. She has an MSc Econ in Politics from the LSE.
Educated at Ampleforth College and St Benet's Hall, Oxford, Philip has been an independent theatre producer for over 20 years. Prior to that, he spent many years in the insurance industry, where he still retains an interest as a partner and consultant in a private clients insurance broker in West London.
Philip's production company, Nicoll Entertainment, is one of the UK's leading producers of children's theatre and the company's current productions include "The Tiger Who Came To Tea" (which was nominated for an Olivier award in 2012), "Dinosaur World" and "Dragons and Mythical Beasts" (which was nominated for an Olivier award in 2022). These productions have toured the UK (including seasons in the West End), the Middle and Far East, China, Australia and the United States.
From 2013 until early 2022, Philip was a member of the Development Board at RADA and, prior to that, held a similar role at LAMDA (2002 – 2011).
Away from the theatre, Philip has been a school governor at two schools in Hampshire and Kent and is, currently, the Chair of Trustees of The Duchess of Leeds Foundation For Boys and Girls, a charity which provides bursaries to children in secondary education.
Philip's other interests include horse racing, tennis, cricket, cinema and travel.
An ex-officio Trustee and Chair of the Board of Governors of Guildhall School of Music & Drama.
Graham is an IT specialist who has spent most of his working career in international roles with Mars Inc. and latterly PwC. Graham has lived and worked in the City since 2003, and established the Residents' Association for the development where he lives, and serves as its Chair. Graham has a degree in Physics and his interests include current affairs, astronomy, classical music, jazz, opera, cryptic crosswords, watching most sports and playing golf. Graham is an active member of the Castle Baynard Ward Club and is the Club's Public Relations Officer and the current Deputy Chair.
Caroline Stockmann was Chief Executive of the Association of Corporate Treasurers from February 2017 to April 2023. 
Prior to that Caroline had 20 years' experience in senior finance, commercial and strategic posts at a number of not-for-profit and commercial organisations. These included British Council, Save the Children International, Southbank Centre, Novartis Pharmaceuticals (Switzerland), Cadbury Schweppes, Granada plc and Unilever/ Bestfoods (Thailand, Netherlands and UK). Much of her working life has been spent overseas.
Caroline trained with KPMG and is a Fellow (FCA) of the Institute of Chartered Accountants of England and Wales (ICAEW).  She has an ICAEW Diploma in Charity Accounting and has filled numerous roles on boards over the years, current roles including Board member and Chair of the Audit and Risk Committee of the CIPD (Chartered Institute of Personnel and Development), member of the Finance and Investment Committee of the Elton John AIDS Foundation and Deputy Chair of the International Group of Treasury Associations.  
Caroline is a linguist, musician, trained coach and passionate bell ringer, and is married with two children. She has an LGSM (Teacher's) in Flute, a commissioned work by Northern Arts, and gave the first performance in the UK of Schwindl's Flute Concerto.
Caroline has travelled the world running seminars on leadership and strategic influencing, often with a focus on diversity and inclusion, and has written courses on leadership for a number of organisations.
An ex-officio Trustee, Interim Principal Jonathan Vaughan joined Guildhall School in 2007 as Vice-Principal & Director of Music. After studying double bass and piano at the Royal College of Music he became a member of the London Symphony Orchestra for ten years. He was elected Chairman of the LSO in 1999. Three years later he became Director of the National Youth Orchestra of Great Britain for five years before joining Guildhall.  
Jonathan is studying for a PhD and is researching "Artistic Citizenship and Performance Excellence in Music Conservatoires". A Fellow of the Higher Education Academy and a Fellow of the Guildhall School. Jonathan was conferred the title of Professor of Music at Guildhall in 2021. He has been a Governor and board member for many arts organisation and currently sits on the Young Classical Artist Trust and the Mendelssohn Boise Scholarship Foundation.