Introduction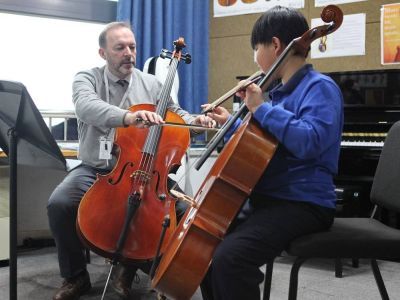 In 2019, Richard Ward-Roden graduated from Guildhall's PGCert Performance Teaching programme and went on to teach in China, at Wycombe Abbey International School, Changzhou. Eight months in, he was promoted to Head of Strings Faculty & Chamber Music Lead. Find out how his Guildhall training helped him to secure a new role and what he found most rewarding about the course.
Why did you decide to study PGCert Performance Teaching?
In 2019 I had been working as a professional musician and teacher for almost 27 years and I felt a little jaded, and like many of my colleagues at the time, somewhat disillusioned by the state of music provision and support in our schools. I wanted to reconnect with my passion for teaching, and to plug gaps in my pedagogic knowledge. I felt that I had been teaching the way I had been taught, and I had identified that that may not be the most effective, inspiring or motivating way. 
I attended a PGCert open evening at Guildhall, hosted by Carlos Lopez-Real, mainly out of curiosity, but I quickly felt I had found a course that would not only answer my teaching questions, but would challenge and expand my practical and theoretical knowledge, but would also facilitate opportunities to share best practice and experiences with my peers and colleagues from various arenas within the music and arts professions. 
Why did you choose to study at Guildhall?
I had done a lot of research into institutions offering further pedagogic courses, but none of them were able to offer what I wanted or needed for my practice. Guildhall's PGCert is unique in that it brings together working professionals from all aspects of the arts where they form a melting-pot of experience, ideas, solutions and challenges. Added to this, I felt strongly that any course that I was going to commit to for a year, would have to not only satisfy my practical needs, but also serve me well in the progression and achievement of my career goals. Guildhall is perfectly placed as a respected institution internationally, but I also felt that it was important that I was guided by experienced, successful tutors who would hold my respect and admiration. 
What did you find most rewarding, and challenging, about your training?
The training is very well balanced to suit the diverse cohorts of students that take part in the course. This diversity and wealth of different approaches and experience creates a vibrantly creative atmosphere, and I found enormous value in the "between-classes" conversations that took place with my cohort peers. 
For me, the most rewarding and challenging part of the training, was the teaching observations. Looking at your practice honestly and acutely through video recordings, analysing, and finding solutions to issues or more expansive ways to think about issues, was mind-blowing at times. I can't emphasise how much value this kind of scrutiny has brought to my teaching and how freeing it has been to discuss openly the challenges faced in the classroom, practice room or rehearsal space. To hear others echoing those issues, and to find people who had solutions grounded in proven pedagogical theory was fascinating, exciting and inspirational.
How did your teaching practice develop during the course? 
My practice changed so definitively throughout the course it is hard to identify any one thing. But what inspired me the most was realising that I am a good teacher, that I could be even better, and that I could aspire to be great. Finding more grounding and foundation by reading, researching, discussing and putting into practice proven pedagogical theory was liberating. Being given permission and support to develop my own theories, particularly around my specialism in string teaching, opened-up a whole new world for me. 
I particularly resonated with the ideas behind self-directed learning and have gone on to advocate and teach this methodology within my own team of string teachers and colleagues in China with great success.
Did the course help to further your teaching career?
Definitively yes. Part of my motivation for taking time to undertake further study was with the aim of elevating my teaching to a higher level, and to gain a recognised qualification from a respected institution so that I could work towards teaching within a specialist junior music department or conservatoire. 
Six months into my PGCert, I applied for a post as a cello specialist within an international school in China. I was offered the post very quickly and the deciding factor for the interview panel was my participation in the course and the value the experience gained from that course would bring to my role within the school.
After eight months at the school I was promoted to Head of Strings Faculty and Chamber Music Lead, and I can honestly say that I utilise what I learned and assimilated from the PGCert on a daily basis.
What does your current role involve?
I work in a western-style international school in China that has around 1,200 international and Chinese students from primary grade1 to secondary year 13. The music department is the largest department in the school, with just over 500 music students. As Head of Strings Faculty, I am responsible for the strategic development of the department, the mentoring and development of my string teaching team and the expansion and retention of the students learning string instruments within the school. 
I also conduct/organise and program the orchestra and have instigated a chamber music programme at the school which is now thriving, with string quartets, cello ensemble, piano trios and cross-discipline ensembles performing regularly within school and at external concerts. Due to the current pandemic, which meant we were unable to perform live to parents, I organised a live-streamed concert which had an audience of over 3,000 people.
How do you use your Guildhall training in your practice?
I think what you take away from the training is a more expansive, solution oriented and 'can do' attitude and approach to teaching. Reading, researching and being challenged within a course situation is only the start. Implementation of the ideas, expanding on the best practice learnt and having an open mind and an adaptive approach is what has really given me the confidence to do my role well, and has gained me the respect and support within my team and colleagues.
Applications for PGCert Performance Teaching are now open. Find out more on our website, or email programme leader Carlos Lopez-Real at carlos.lopez-real@gsmd.ac.uk