Guildhall Young Artists Access Bursaries
Guildhall School's Access and Participation Plan commits significant funding to music training bursaries in our under 18 centres, awarded annually to ensure that children are able to access sustained, high quality music training, irrespective of their financial circumstances.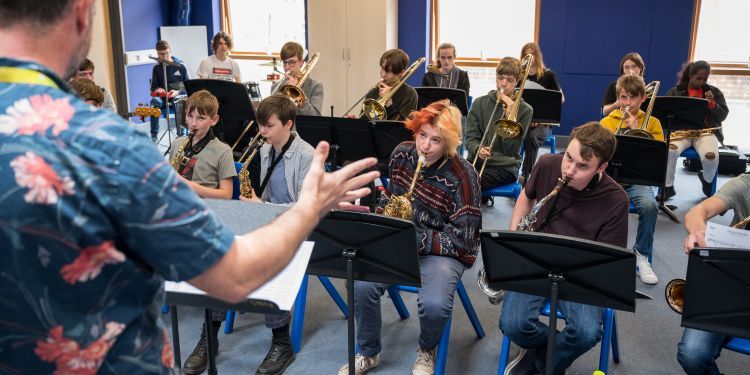 GYA Bursaries
Guildhall Young Artists comprises the centres which offer under 18 training. You can find out more here.
In 2022/23, we will offer Guildhall Young Artists Access Bursaries in:
Centre for Young Musicians Saffron Walden
Centre for Young Musicians Peterborough
The cost of training varies depending on the centre, and as such the bursaries have different monetary values. Bursaries are awarded on a percentage of fees basis, using the following household income levels for means-testing:
| | | |
| --- | --- | --- |
| Household income - Greater London home postcode | Household Income - non-Greater London home postcode | Expected level of award |
| £0-33,000 | £0-30,000 | 100% |
| £33,001-37,000 | £30,001-35,000 | 75% |
| £37,001-43,000 | £35,001-40,000 | 50% |
| £43,001-50,000 | £40,001-45,000 | 25% |
For the majority of bursary recipients, only the basic training package is covered, to ensure that we can offer bursaries to as many children as possible. Exceptions to this are only possible for students with significant potential, and in agreement with the Director of Guildhall Young Artists.
Bursary recipients must be UK Domiciled:
1) they normally live in the UK, the Channel Island or the Isle of Man for at least three years before starting the course AND are a UK national or have 'settled status' or an EU citizen.
OR
2) they have formal refugee status in the UK
We do also prioritise students in years 9-13 who are further along in their training, where demand for bursaries is high. However, in some centres there is funding available for younger students.
| | |
| --- | --- |
| Centre | Preferred Age |
| CYM London | Year 9 or above |
| CYM Peterborough | Year 6 or above |
| CYM Saffron Walden | Year 6 or above |
| GYA King's Cross | Year 7 or above |
| GYA Norwich | Year 6 or above |
| GYA Online | Year 9 or above |
| GYA Taunton | Year 6 or above (although potential for younger years if available) |
| Junior Guildhall | Year 9 or above (although available for younger years on the string or brass training programme) |
Bursaries will be offered for one term only in the first instance (cost of £450). They can be allocated to those aged 14 or over, meeting the following criteria:
Any student already receiving a GYA Access Bursary for their training with an in-person centre, any banding.
Any other GYA student with a household income of under £33k per year.
Young musicians elsewhere in the UK, who can provide evidence of a household income below £33k per year.
Priority for these bursaries will be given to those from the lowest income households. The application process for these Bursaries aligns with the application process for the course.
All bursary recipients, and their parent/carers are expected to sign the Parent and Student Agreement, which outlines our expectations of bursary-holders.
This agreement also explains where the funding for the bursaries comes from, how we will evaluate the impact of it and how we report annual outcomes.
GYA Access Bursary 202223 - Recipient Contract.pdf
Please speak to your Head of Centre if you are interested in applying for the Guildhall Young Artists Access Bursary.
Direct support from the Access and Participation team.
Invitations to concerts and events at Guildhall School.
Priority for places on GYA Next Steps, which helps year 12 students consider their higher education options.
We are also exploring further support, to be introduced in September 2023.
What parent/carers have to say
"The bursary my child receives so they can attend GYA means that they are able to fulfil their passion and love for music, and watching them be able to do this and know they have been given this opportunity has been amazing"
"The bursary has enabled my son to develop his musical skills at a wider level whilst continuing to develop what he already has access to outside of the centre"
"The help from the bursary has encouraged my son to love music and now he has a passion for writing songs and playing all types of guitar. He also loves playing in an orchestra."