Institute for Social Impact Research in the Performing Arts
The aim of the Institute is to understand and communicate the ways in which performing artists achieve positive impact in society.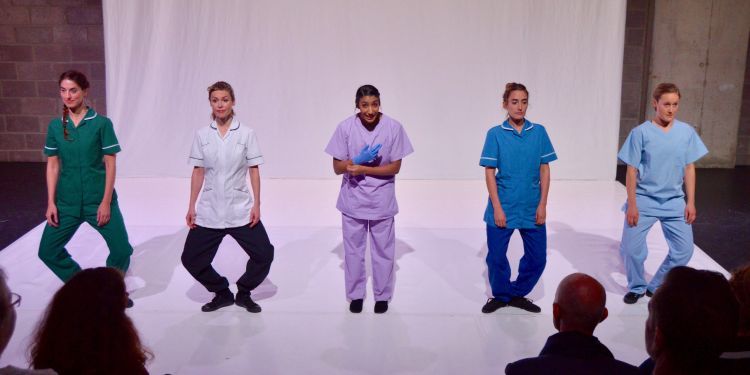 You are viewing:
About the Institute
Institute for Social Impact Research in the Performing Arts
Performing arts can have a positive impact on a wide variety of social issues, including health and wellbeing, inclusion, empowerment, community building, and activism. Socially-impactful performing arts projects often benefit marginalised or excluded groups, such as those in poverty, conflict or social disruption, people in prison, or those who are homeless. Community participatory projects play a particularly important role in delivering these outcomes. The Institute identifies Social Impact Research as a core part of Guildhall School's future research output. 
Institute Objectives
To undertake rigorous peer-reviewed research studies and dissemination through open-access routes, freely available to all.
To support members from Guildhall School (and partner organisations the Barbican and LSO) to develop as independent researchers into social impact issues, through mentoring or formal supervision (e.g. Master's and doctoral research).
To develop productive relationships with those undertaking or supporting research in the social impact of the arts, in the UK and internationally, potentially leading to collaborative activities.
To act as Higher Education Institution (HEI) host for research projects involving the artistic or social practice of Guildhall/Barbican practitioners.
As part of Guildhall School's 'ResearchWorks' series, to curate regular public events where issues relating to social impact research, practice, and pedagogy may be examined and debated by a wide constituency of interested parties.
To host internal (non-public) seminars/consultations where members of the School and its partner organisations may forge new potential collaborative relationships, contribute ideas to the shaping of the Institute, and develop their own research ideas in a supportive multi-disciplinary forum.
To offer private developmental consultations to groups or projects operating within the Guildhall School, the Barbican, or the LSO, seeking evaluations of their work in order that appropriate methodologies, partnerships, and evaluation research projects may be developed.
To create routes and mechanisms for ensuring that socially-oriented practice and pedagogy within Guildhall School and its partners is informed by the best research available, so that over time the creative alliance between Guildhall School and Barbican is able to increasingly demonstrate itself as a leader in research-informed artistic practice and pedagogy.
Events
Institute events are a chance for researchers working in the social impact field to meet and collaborate with like-minded colleagues, both within the School and around the globe
Members
Full Members are members of the Guildhall School, Barbican, or LSO, active in a relevant area of research at postgraduate level or above. Associate members are members of these organisations who define themselves primarily as artistic practitioners and teachers, but who are involved in artistic activity with an explicit social focus, and who seek a mutually reinforcing engagement with research and researchers. External members are researchers or advisors collaborating with internal members. 
The membership is also organised into several working groups focused on particular agendas, meeting regularly to discuss and further research initiatives and ideas. More information on the groups can be found below.
The Institute has a management/advisory Board, chaired by Jonathan Vaughan (Principal).
Our current members are: 
Projects
All full members are conducting research in topic areas relevant to social impact. Current and recent funded projects include: 
Careful: Uses of drama to explore themes of compassion, care and empathy through the perspective of nurses. Principal Investigator: Alex Mermikides.
Raising a Voice: A Rebellious Songbook for Our Time (NERC Grant). Principal Investigator: Toby Young
Creative approaches to learning for community cohesion: Teaching music and language through a new children's opera Henny Penny. Principal Investigator: Julian Philips.
Music for social impact: Practitioners' work, contexts, beliefs.  Principal Investigator: John Sloboda.
Finding a voice: The art and science of unlocking the potential of adult non-singers.  Principal Investigator: Karen Wise.
Enquiries about the Institute should be made in the first instance to research@gsmd.ac.uk.
Working Groups
Members of the Institute have organised themselves around specific topic areas of interest, operating as semi-autonomous working groups each with a named convenor. It is hoped that every Institute member could find a home in one (or more) of these working groups, and that they can serve as reference points for others wishing to engage with the Institute. 
There are currently four groups, but over time this number may change, and the focus of individual groups may shift to reflect emerging research interests. For more information about working groups and their activities, please contact the group convenor by email.